Top Mobile Casinos in Ireland
As technology has progressed, so too has the Gaming industry. In recent years more and more players are taking to their mobile devices for everything they do from shopping through to banking, socialising through to other forms of entertainment, and online gaming is no different. Because of this, many Irish online casinos have made sure that they now offer a mobile platform to their players, or are even mobile-only sites, so that their customers might be able to access their games no matter where they are. With this in mind, it is important to check out the features of a mobile casino to ensure that it is offering the very best service.
When it comes to playing at a mobile casino, there are several aspects you should check when making your decision. It's important that the casino is offering a secure environment in which to play. This involves checking if the casino is licensed and whether they have secure encryption protocols in place to protect your data. It's also important to make sure there's good customer support and that the payment options can be trusted. With these aspects out of the way, it's time to look at the gaming selection and the bonuses that are offered to supplement your play. We use this same format when finding and reviewing the top mobile casinos Ireland has to offer.

Getting Started: How to Start Playing in a Mobile Casino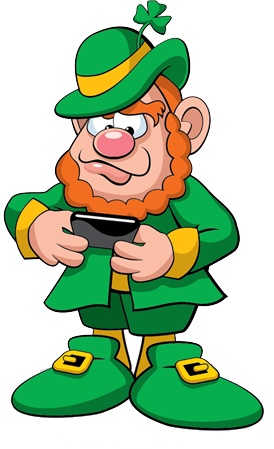 Getting started on a new mobile casino is not dissimilar to using one on a desktop platform. The main difference here is that if you are choosing a mobile-only casino site, then you will have to download either the software or an app onto your phone, tablet or another mobile device. This means you'll need to make sure that your device has enough memory, not only to download the app but also to run it and take on further data as you play. Once you have downloaded the casino software or app though, everything else follows a few familiar steps. The first being to create your account.
Similar to desktop casinos, mobile casinos require Irish players to be over the age of 18, and to use your real name, date of birth and a valid email address in order to begin the setup process. Once the verification procedure is complete, you can then start playing. Usually, these mobile casinos are scalable and intuitive to the screen size, matching the screen perfectly. In addition, if using a phone, they will tell you when you need to turn it vertically – best for when you're scrolling through the long list of games before making a choice – or when to turn it horizontally – the best way to hold the phone when playing many of the slots and some other games.
Which Online Casino Games are Available at Mobile Casinos?
When mobile casinos were first developed, they were only able to offer a relatively small number of games, and those were mostly slots. Thankfully though, those days are long gone. Now, thanks to the new HTML5 technology prevalent across the industry, mobile casinos can offer almost the same range and types of games as their counterparts, both desktop and land-based. Most gaming providers realised the importance of mobile casinos and have transitioned many of their older games into this newer, updated technology. As a result, mobile players won't miss out on some of the golden oldies, nor be stuck with only playing the latest releases.
When it comes to the specifics of the games available, Irish players can try virtually any genre they can think of. As with desktop casinos, mobile casinos tend to be made up predominantly of slot games. However, there are numerous table games such as roulette, baccarat and blackjack available, as well as some video poker games. A few mobile sites will provide keno, bingo and scratch cards as well. The icing on the cake for players in Ireland playing at mobile casinos is that they can now play live dealer games too. This means that it's possible to interact with real dealers, play a bit of blackjack or a high stakes poker game, all whilst commuting to work.
What Makes a Good Mobile Casino?
Similar to desktop casinos, there are a number of aspects that help a mobile casino stand out. The level of security and safety they offer will always be of paramount importance. Being registered and licensed always helps to put our minds at ease when playing online. It's also important that the casino offers a comprehensive gaming selection. As we've mentioned, this shouldn't be too hard, so if a mobile casino does appear to have limited options, they're not doing something right, and we suggest looking elsewhere for your entertainment. Good mobile casinos will also offer welcome bonuses that provide players with great chances to get ahead, and they'll also keep those players updated on their latest offers.
As all this is being played on a smaller screen, it's important to look at the layout and design of the site. Using a small screen means that everything on the site needs to be clean and clear. Something that's too cluttered is going to make it very hard for the player to read, play or even find anything. Many players will give up in frustration if this is the case. Finally, there also needs to be excellent customer service offered to the players. Most of the time, everything is plain sailing, but there are times when things go wrong, which means that you'll need someone on hand to help you out.
Depositing and Withdrawing Money at a Mobile Casino
When it comes to transactions, mobile casinos tend to offer much the same options as other online casinos do. Depositing money is usually very simple with mobile casinos providing players with a similar range of payment options to those offered on their desktop counterparts. Many offer the likes of PayPal and Skrill, which make instant deposits possible. There are usually card options too, which enable you to fill in your details and save them, or not, as you wish. As you're on a mobile device, often these mobile-only casinos will also require your mobile phone number in order to complete the setup and give you the option of making deposits through your phone bill making things even easier.
Whilst all these deposit methods will occur instantly, the same cannot be said for withdrawals. Withdrawals can use most of the same payment options as deposits, except the mobile bill payment option which cannot process withdrawals. Withdrawals tend to take a bit longer, although this will depend on each mobile casino and how long their processing time is. It also depends on the payment method used as eWallets are generally the fastest method, with something like a bank transfer easily being the slowest. It's also prudent to check out the minimum withdrawal amount, as many mobile casinos will have a set limit and charge a fee if you withdraw less than that.
Best Mobile Devices and Tablets for Online Gambling
When it comes to choosing the best mobile devices and tablets for online gambling in Ireland, it does all come down to personal preference. These types of sites are designed to work on a variety of different screen sizes, with most mobile casinos fully optimised to iOS, Android, Windows and even Blackberry software. Generally, though, it does seem that most cater to iOS and Android as their go-to devices. With this in mind, it's important to note that some sites don't support Blackberry, and many do not support Kindle devices. However, you'll soon find this out yourself if you try to download the app and it doesn't work!
When it comes to weighing up between using a phone or a tablet, well, that choice is really up to you, and probably comes down to how big you like your screen to be. Too big and you might as well play on a desktop, too small and you're not going to see any of the details and might have issues reading all the fine print. Generally though, these days most smartphones have a screen size that is ample for the job at hand. So there you have it. It is up to you to choose. Although what mobile devices you own will play a part when it comes to choosing which device to use.