Best Golf Betting Sportsbooks Ireland ⛳
Rank
Sportsbook
Bonus
Pros
Secure Link
The history books will tell us that this is a very difficult thing to win twice, with Tiger Woods and Rory McIlroy being the only people achieving this feat. When you consider the competition of this current crop of players, this looks like something that will continue to be very hard to repeat. This makes the PGA Championship very exciting to bet on. If you bet on other sports, it might be difficult to locate a bet that you feel is worth betting on, speaking in terms of risk and reward. In golf, there are no such problems as whoever you back, even if it is the tournament favourite, will see you return a handsome amount.
The Format Of The PGA Tour Championship
The format of this competition is very different from what you would normally expect to see from a traditional golf tournament. This is because the format has been designed in such a way to reward players for their performance over an entire season. So much so that when the players begin this tournament they will start with a score that takes into consideration their place on the leaderboard throughout the entire season. 
If you're familiar with golf, you will be aware that all competitions start with everyone equal. In this competition, this will not be the case. For example. If you are 30th on the leaderboard, you will start about 10 shots behind the leader. Making it extremely unlikely that you will mount a serious challenge to win this golfing competition. Even with this, some would argue that someone 30th over the course of the season shouldn't have any opportunity to overtake first by winning just one tournament. But this is the way the PGA have decided to format their season. Even though the format is flawed here, it has been designed to make the climax of the season as thrilling as possible.
Regarding tee times, the schedule for the first two days will be random with all players playing one round in the morning and the other in the afternoon over the course of the first two days. After that, however, the tee times will be situated by where the golfer is on the leaderboard. This is great for television, as, in the end, the only golfers playing will be those who are competing for the title.

Where Will The PGA Tour Championship Be Held?
We will focus now on where this tournament will be held. The East Lake Golf Club will be staging this event with the current dates scheduled for the 24th - 27th of August. The two previous events will be held in Memphis and Wilmington and these two prior events will help whittle the field down to 30 players. Making this the event with the fewest number of players. This is great for the golfing audience as all of the action will be relevant to the outcome of the entire season, so every shot will hold some meaning.TOUR Championship Executive Director Allison Fillmore, when speaking about the event, said this. "Having experienced hosting this tournament over the same week in 2019, we feel strongly the final week of August is a more beneficial position on the calendar for our fans, partners, volunteers, and all those associated with the TOUR Championship."
The golf course itself was established in 1904 and is the oldest golf course in the city of Atlanta. This course has now been the place for the PGA Tour season to reach its conclusion since 2004 and its setup is popular with fans and players alike. It was first home to this tournament in 1998. Despite being a tough course to play, Zach Johnson holds the course record of 60, a feat he achieved in 2007. The yardage of the course is officially registered at 7,346 yards, which is just above average when compared to other courses on the PGA Tour. For us, watching from the comfort of our TV homes coverage will not begin until about 3 pm our time and the climax to this tour is expected to finish sometime around 10 pm. A perfect way to end your weekend, some might say. Depending on your love for golf, you could choose to watch it from the very beginning or decide to watch the end as the tension really heats up.
Who Was Victorious in 2021?
Patrick Cantlay might not be a household name, but golfing fans were not so surprised to see him walking away with the title last year. Although this event is largely centred around the last few events, it also rewards consistency for the entire season. And there are few more consistent than Patrick Cantlay. The championship came to a thrilling end and was a well-deserved reward for Cantlay who, up til now, has been more of a bridesmaid, but on this occasion, he was the main man.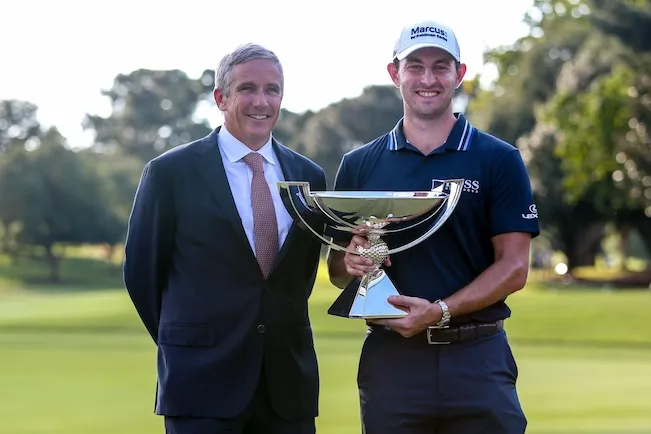 Atlanta, Georgia, USA. 5th Sep, 2021. Patrick Cantlay (R) and Jay Monahan, Commissioner of the PGA Tour, with the trophy after winning the 2021 TOUR Championship at East Lake Golf Club. 
Credit Image: © Debby Wong/ZUMA Press Wire
If you want a game to stand up to the scrutiny of so much pressure, you would like to have a swing like Patrick Cantlay. If you consistently make top 10 finishes, it is great for your bank account, but it doesn't mean you will become a golfing superstar, as that is not what catches the attention of the public. So for golf fans, it was not such a shock that this player emerged victoriously, but we can see why this might have caught some off guard.
What It Takes To Win The PGA Tour Championship
With so many top players in full flow, it can be difficult to make a prediction as to who is most likely to win the PGA Tour Championship. In other sports, you can probably pick a handful of players who are capable of going for the sports' biggest prize, but in golf, there are so many players capable of winning a tournament of this size on their day. As already alluded to, Patrick Cantlay is not a household name, but this didn't stop him from walking away with $15 million in 2021.
Having said this, although many golfers are capable of winning this competition, there are a few golfers who you can trust to stand up to scrutiny when the heat gets turned up. I am not sure about you, but there are certainly some players I would back more to hold a 10-foot putt for this amount of money than others. Players who have experience in winning major trophies are great players to back as they have proved that when the competition is at its highest level they are not afraid to stand up to the scrutiny. Golfers like Brooks Kopeka and Collin Morikawa have shown that they are more than capable of holding everything together.
The Different Types Of Golfing Bets
Betting on golf might seem straightforward, but there are several types of bets that seasoned gamblers can take advantage of. A golf tournament lasts four days and even for golf lovers, things might fall a bit flat if the game is not panning out as well as one might like. Therefore, these different types of bets can add a bit of spice to the whole occasion. More importantly, we as gambling experts can use them in a way to win money.
This is the most common type of golfing bet. With this bet, the aim is simple, as you are betting on who you think the winner could be. The bet will indicate who you are backing to win the entire golf tournament over the four days. At the start of these four days, the odds will appear to be very generous for the reasons we have alluded to throughout this article. Therefore, you can go ahead and pick a few golf players you feel stand a chance of winning the tournament and, with some hope, luck will be on your side.

Betting on golf before a tournament is a risky business. There is an expression in golf that says 'you can't win a competition on day one but you can certainly lose it. Therefore, often golfers focus on being in contention on day one as opposed to ruling themselves out of the running. If you decide to bet after day one has been completed, you can get a much bigger understanding of the bigger picture.

These types of bets are not so common, but in our experience, they are some of the most satisfying to bet on. Prop bets indicate that you are betting on a more obscure incident happening. Betting on a hole in one occurring used to be a common bet, for example, before bookmakers realised that these were too common of an occurrence. The most ridiculous ones might include what colour trousers a player might wear or if a player will break one of their clubs. These bets can also be a bit more obtuse, such as how many rounds will Rory Mcilroy post a score above even par. This is not something you can develop a strategy for, but it can certainly make the viewing experience more enjoyable.
Top Tips For Betting On The PGA Tour Championship
The aim of all betting, apart from having fun, is to make money. With golf betting, you will need to think differently than you would with other sports. In sports like tennis, for example, you will need to be rather consistent with your selections as, since it is a head-to-head sport, you will never receive odds that are too high unless you are betting on an overwhelming underdog. Golf is fascinating and some non-golf fans often make terrible calls when betting as they expect the leaderboard to play out as it would in other sports. Below is a list of a few of the things we think you should consider.
Back Several Players To Win The Event
Since the odds of each selection are high, you don't have to back just one golfer to win an event. Golf is a game of many variables and any golfer is capable of having a bad day and ruling themselves out of the running before the competition kicks into second gear. Therefore, what you can do is back several players to give yourself a better chance of winning and also a better chance of seeing the player you backed be in contention come the final day. If you decide to back a few players, you can still be well in profit. Maybe you want to back three of the favourites or maybe you want to back 10 long shots. Either way, if just one of your selections is successful, you will be in the money.
Pay Attention To Form
The form for the PGA Tour Championship is arguably more important than it would be for any other tournament throughout the season. This is because the two tournaments that proceed determine the field for this competition and at this point players will be playing more competitive golf than they would be at any point of the year, so all players will be game ready. Therefore, if it looks like a particular golf player is playing nicely, it is safe to presume that they will be full of confidence going into this week.
The flipside to this, though, is that experience is key and there are those players who only need to play one good round to turn their entire season around. A prime example of this would be when Phil Mickelson won his major last year. Although he was not considered a contender as soon as he was in a position to win an event, you have to back him since he knows how to win and that is something you cannot buy, even with the prize money on offer for this event. 

Wait To Place Your Bet
Since golf is an individual sport, players have a lot of freedom to spout about whatever is on their minds. Sometimes you can tell by a player's demeanour that they don't believe they can win this week or you can tell after a few shots that their game is not up to the standard that it needs to be. Having the ability to make these judgements will significantly improve everyone's golf betting game. The more knowledge you have of the game, the better. You can always tell when someone is really fighting to get a good score out there and, although this doesn't rule them out of the competition, they are not showing signs that they are someone who you would like to back for competition.
Don't Create Expectations
Tiger Woods is a sporting freak. When he was in full flow, it was more of a surprise when he didn't win a major as opposed to when he did. These days, the opposite is true and it is hard to imagine a player dominating the game in the same way he did. When you back a player, do not be disappointed if they have a terrible week. If your thought process was solid and you can reasonably justify why you placed certain bets, then don't be afraid to place them again. The odds are 10/1 for a reason. If you win every bet, people will start thinking you are making use of your time travel machine again. As the odds suggest, if you are right more than 10% of the time you would be in profit.
Consider The Layout Of The Course
While it is true that an elite golfer should be able to perform anywhere, it is also true that some golf courses are better suited for some golfers than others. A golfer such as Jordan Spieth, for example, would rather play a course that suits his clutch short game, instead of a ripping long course that would play into the hands of bigger hitters such as Dustin Johnson. 
The PGA Tour Championship has been played at this venue for years now and all the elite players have a history with this course. Everyone who has played some level of sport will be aware of the degree to which good memories and feelings impact performance. This is why we don't mind sticking our neck out by saying that we won't be surprised to see Patrick Cantlay repeat his heroics from last year. His record here is as good as anyone and his consistency should put him in a good place to compete again.
Who Will Win This Year's PGA Tour Championship?
With the risk of repeating myself, who can pick the winner of such an event? The standard is high and, by this point, there are so many elite golfers who are looking in great form it is hard to pick just one player who we think might emerge victorious. Having said all of that, there are still those that we think might prove hard to beat this year and we will back these 3 golfers now.
Rory Mcilroy
Here is one for all of you Irish golfing fans out there. Rory can frustrate, but only because we know how good he is. His final day performance at the masters might be a springboard for further success. This is what we are hoping for at least. He has the potential to be an all-time great and already holds four majors and has won this tournament twice. I still believe that one day it will all click again for Rory and he will be unbeatable for a period of time.
Brooks Koepka
Golf is a game of high skill, but it is also a game of bottle and no player has shown that more in recent history than Brooks. He is a four-time major winner and appears to wake up when he knows the eyes of the world are on him. He is a simply stunning player and someone we personally back to win a lot more titles. If there is someone we think might hold their nerve when walking down the 18th on Sunday, we would pick Brooks Koepka.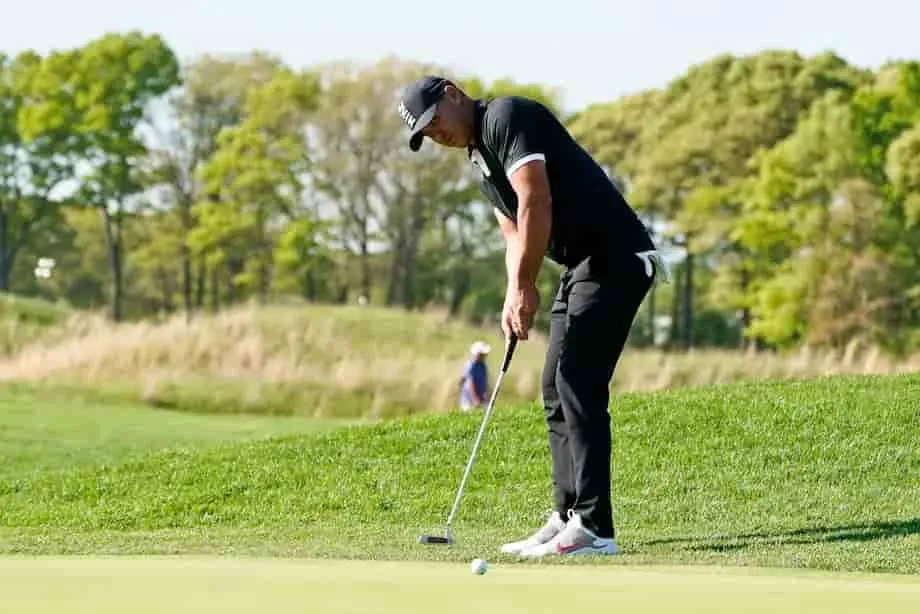 Brooks Koepka during his third round of the 101st PGA Championship hosted at Bethpage Black, New York, USA. 18th May 2019. Credit: Debby Wong/ZUMA Wire/Alamy Live News   
Partick Cantlay
Winning this tournament back to back is extremely hard to do but we expect Patrick Cantlay to be fighting come the final day. With respect, he is not the most exciting golfer to watch as efficiency is his number one skill, but that is exactly what you want when you need to have a steady final day round to win $15 million. His previous success will give him all the belief he needs that he can do it again this year.
Other Golfers To Look Out For
There are so many players who we can back for this tournament and we could create an endless list of players who will be in contention from the tournament start. Instead of this, though, we will list a few players who should be listed over 30/1 to win the event who we feel are completely capable of winning such an event. Why not back a few of these underdogs? 
Justin Thomas
Matthew Fitzpatrick
Tommy Fleetwood
Paul Casey
Tyrell Hatton
Bubba Watson
Louis Oosthuizen
Viktor Hovland
Shane Lowry
None of these is expected to win the event, but golf throws up surprises all of the time. These players are typically consistent and if you back all of them you will be in massive profit if any of them are successful. We have also chucked in three British players and an Irishman who are certainly going to be worth monitoring.
This Will Be Fun
Thankfully, the days of the pandemic are now fully behind us and it's competitions like this that should remind us all of what we have missed. Sitting on our sofa watching the game's great battle it out, for our entertainment will never get boring and if we are watching a player we have backed all the better. Now you need to decide what type of golf bet you want to place. Are you the type who wants to find consistency in betting or are you the type that is always chasing that big win? Either way, it is our opinion that there is nothing more fun to bet on than the PGA Tour. 
As with all things betting, a good strategy is crucial for success and the number one priority needs to be to have fun. If you feel that you are no longer having fun while betting, I urge you to seek out some help.
PGA Tour Championship Betting FAQs
Here are some of the most frequently asked questions we receive on the subject of the PGA tour and betting. Betting on golf can be easy but as stated throughout this article there are several things we need to take into consideration.
You can certainly make money while gambling on golf, but your success will ultimately be determined by the quality of your decision-making. With golf, the odds of a player winning a tournament are very high when considering other sports, so you don't need a high success rate to be in profit.
The good thing about golf is that the odds will be high. Meaning that your frequency of success does not need to be that consistent. For example, if you bet on long shots you might only need to win a few bets per season to be in profit. Therefore, with golf betting, patience should be valued and considered a valuable trait.
In golf, there are four majors played every season and these still remain the benchmark for all players. The Masters at Augusta and the British Open are regarded as the most significant golf tournaments on everyone's schedule. Having said this, the golfing calendar has expanded so much and the PGA Tour Championship is now considered on par in some people's eyes for winning a major.
Unless there is some unusual caveat to a competition, a professional golf tournament lasts four days and takes place from Thursday to Sunday.