Best Golf Betting Sportsbooks Ireland ⛳
Rank
Sportsbook
Bonus
Pros
Secure Link
The tournament was cancelled in 2020 due to the Covid-19 pandemic, but the following year, in 2021, it came back in full swing. Lucas Glover emerged as the winner by 2 strokes, with Kevin Na and Ryan Moore being the tournament runner-ups. In 2022, the tournament was held two weeks before The Open Championship, Jun 30–Jul 3, and this year, the championship will be held between July 5-9 at TPC Deere Run. In 2022, John Deere's Classic broke the record through its Birdies for Charity program by distributing $13.9 million to 481 charities. The purse of $7,400,000 is significant, and tickets will be available to the public from April 2023. There are quite a few different passes available for the public, and you can even get an entire sponsored table if you book soon enough.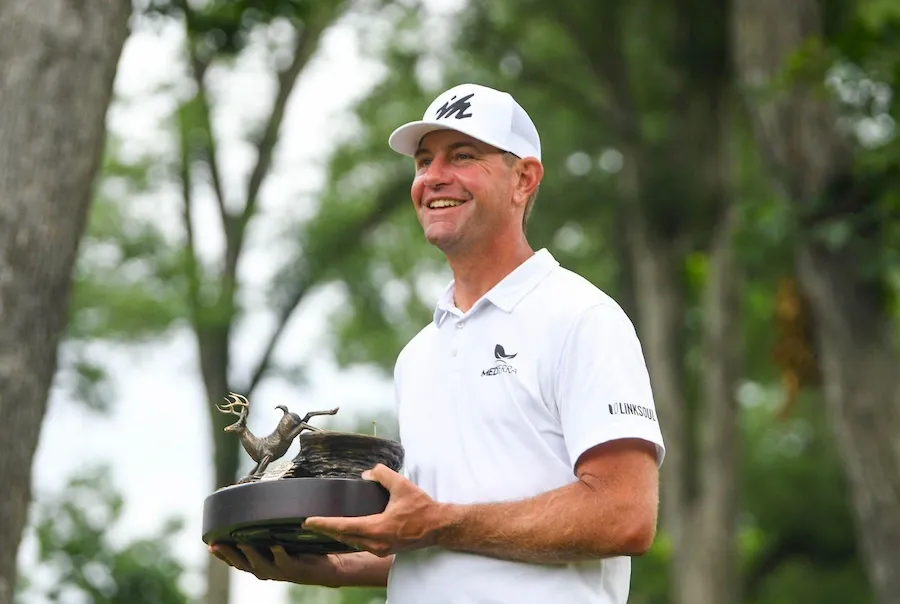 Silvis, IL, USA. 11th July, 2021. John Deere Classic champion Lucas Glover poses for a photo with the trophy at TPC Deere Run Sunday, July 11, 2021 in Silvis. Credit: Meg Mclaughlin/Dispatch Argus/ZUMA Wire/Alamy Live News
PGA John Deere Classic Golf Course
TPC Deere Run is an 18-hole golf course situated in Silvis, Illinois, found along the Rock River. It is run by the PGA tour, being a part of their Tournament Players Club Network. This award-winning championship golf course has been hosting the tournament since the year 2000. 
The land the golf course is built on has a rich history, i.e., from its time being a Native American settlement to recently becoming a husbandry and cattle farm. TPC Deere Run offers everything you would expect in an award-winning golf course: beauty, challenge, intrigue, and playability. The course allows golfers of all experience levels to undergo the challenge of a golf course that tests the abilities of Tour professionals. For this week, though, we will see how the best players in the world fair.

Golf course architect and former PGA Tour pro golfer Donald Albert Weibring skillfully utilized the land's naturally rolling landscape to design a course that runs along the breathtaking ravines of the notable Rock River. It truly is one of those courses you watch on the TV and you end up feeling a lot of envy for those who get to witness it in person.
The golf course features five sets of tees, once again, meant for golfers of all experience levels. What's more, the championship course has been deemed by Golf Digest one of America's 100 Greatest Public Golf Courses. It also came fifth in Illinois, courtesy of GolfWeek Magazine. The weather is set to be very fair though and, since the season is in full swing, I don't see this week being a low-scoring affair. With this in mind, this course might suit those with the ability to really rip up a course. Stick around for some of my tips later in this article.
The chances are you have just watched the US Open and, after that thrilling finish, you are now golf hungry. I have been a golf fanatic for more years than I would like to admit but that finish had a real significant impact on me and I was straight on the golf course the next day. The golfing schedule is packed so it can be difficult to decipher which events have the highest prestige, but there is no such thing as a bad PGA tour win.
Is Betting On The PGA Tour Fun?
All forms of betting need to be fun. If anyone's betting experience becomes too money-orientated, then this is a real problem and one should seek help immediately. Betting on the PGA Tour can be a lot of fun and, if done with control, can make the whole experience a lot more fruitful. With golf tournaments, you are likely to have a favourite player or at least a preference for who wins a tournament such as the John Deere Classic. Due to the nature of golf, the leaderboard might not always shape up exactly as you would like it to and this is one reason why a bet can actually spice things up a little.
Some people occasionally ask me if I have an outside bet for a tournament that could make me some money? And my reply is yes, I have maybe 50. This emphasises the strength of competition that exists these days. Sometimes, when trying to back a winner, you would be better off putting all of these famous names on a board and throwing a dart at them and seeing what happens. Instead of doing this though, you should follow some of my tips as they will definitely best serve you. After all, there is a difference between people who win a tournament and people who are born winners.
Tips For Betting On The PGA Tour
Many gamblers make mistakes when they are betting on golf. This is likely because most presume that golf will work in a similar way to every other sport. In golf, however, the dynamics are very different, and predicting what will happen over the course of four days is very difficult. The success rate of betting will be super high in one on one sports as the odds will dictate that maybe you will have to win 70% of the time to break even, for example. However, with golf, you can sometimes be right 5-10% of the time and still be in profit. If you follow some of these tips I am about to give, you will begin to understand the subtle nuances of betting on PGA tour events.
Don't Just Bet On One Golfer

Putting all of your eggs into one basket while betting on golf can only be considered a bad idea. There is nothing wrong with backing your hunches but golf doesn't work like other sports. There are so many variables and only Tiger, at his peak, was considered a good favourite for a particular tournament. Select a few golfers you can back for the week and stay true to your decision.




The thing that will be entirely up to you is the strategy that you would like to implement. For example, are you going to bet on the 10 best golfers in the world or are you going to mix up your bets a little and bet on a few long shots? In most sports, returning to someone with odds of 50/1 would be reckless and seem futile. In golf, however, if a golfer won at these odds, it really wouldn't be that surprising.

Bet While The Tournament Is In play

There is a great expression in major golf. You can't win the major on the first day, but you can certainly lose it. Therefore, your bet might be worth throwing in the bin before any fun has been had. Therefore, you can solve a lot of problems by betting once the first round is shaping up, so you know that a player hasn't written himself out of contention before the real competition has begun. If you were watching the Masters this year, you might have been shocked to see how so many of the golfers believed to be in contention were already out of the race after day 1.




You might be thinking that your odds would be far less appealing if you adopted this strategy and, although the odds will change drastically, there is still great value to be had. Unless the first day is really extraordinary, you will still receive a great payout if your bet is successful and, once again, you still don't have to be right that often to achieve success. Some people say it is not how a golfer starts, it is how they finish. This sounds lovely, but in truth, a golfer has to start and end well to win one of golf's biggest tournaments.

Consider Players Form

Form and injury are very important things to consider when backing a player to win a golf tournament. I will admit in the past I have been too eager to place a bet on someone like Bryson Dechambeau because my eyes jumped out of my head when I saw the odds, but then I remembered that he was nursing an injury and wouldn't be the best bet. To be honest, this mistake would have been easily avoided if I had taken a few seconds and realised why the odds were so attractive.




If you look at the betting odds for this tournament, they would reflect the state of play and who are currently the most informed players on tour. They will also take into consideration the player's suitability for the course they are playing on. The PGA tour is famous for providing courses that provide plenty of birdie opportunities. Therefore, some players who have a more steady game will not win that often on this tour.

Why Not Back A Long Shot?

You might come across a well-respected name and see that some player who is highly respected in the game appears to have some very strange odds. How come Ian Poulter is 250 to one to win this tournament, you might be asking yourself. This is a little bit of a fallacy, as odds are there to reflect the likelihood of someone achieving success and with golf, this is no different than with any other walk of life.




If you were going to back a long shot, my advice would be to back someone who has a great pedigree and has proven they can win the biggest tournaments over an extended period of time but are simply not on form. If you placed a bet of this nature, you will then just need to hope that everything clicks for the player you have backed and really hope that this is their week. There are small longshots like Patrick Cantlay, who is a superb player but hasn't really got going this year, and longer shots like Justin Rose, who only recently shot a 60 on the final day of the Canadian Open, so everything is wide open and who knows what might open.




To go back to our previous advice, don't just back one golfer. You can back many of these golfers and if any of them emerge victorious you really would be well within profit.

Don't Get Upset If Your Bet Is Not Successful

Did you know that Tiger Woods is the only person in golfing history to start a tournament at evens or worse? When you see the odds for all golf tournaments these days, this fact really is mind-bending. Therefore, it should make sense that if your 20/1 bet doesn't come off, you shouldn't start thinking that you know nothing about golf. It is an amazing game and because a golfer has a bad week, that doesn't mean your selection was a bad one. You should focus on the logic of your selection and if you feel that your logic is sound, you can't be too deterred by short-term results.
Who Will Win This Year?
Predicting the winner of the John Deere Classic Championship is not easy due to their being such a strong field. No one can say for sure which player will secure the John Deere trophy, but we have listed a few players that we think have the highest chances of emerging victorious. There are some players who seem to have more potential than implied by their odds. Check out this list for our predictions of the players who have the highest chances of winning.
Scottie Scheffler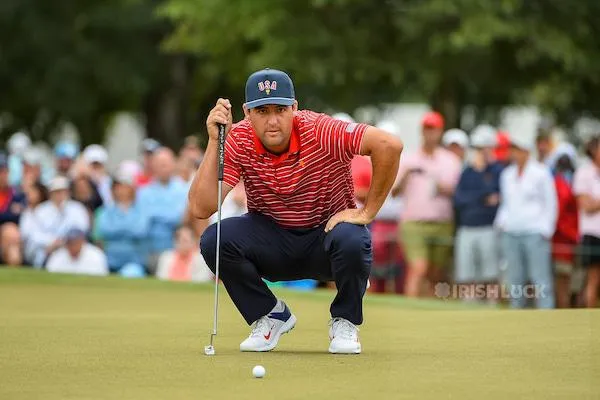 Charlotte, NC, USA. 25th Sep, 2022. Scottie Scheffler lines up a putt during the Presidents Cup at Quail Hollow Club in Charlotte, NC. Source: Brian Bishop/CSM/Alamy Live News
Scottie Scheffler has been a fan favourite for several years now and has won several events on the tour, including a green jacket. He has a lot of fans in Vegas, and his achievements and skills make him one of the most consistent golfers in the world.
This year, he won the WM Phoenix Open in February, which gave him the fifth victory of his career. Despite his success in the PGA Tour, Scheffler has not been very successful in the Players Championship and has finished T-55 or worse, which is why some people become sceptical to bet on him. 
When it comes to total putting strokes, he was ranked 75th or worse, which further reduced the confidence of some people. Still, Scottie Scheffler is one the most consistent golf players, and in our opinion, still in his prime. For this reason, he has a high chance of winning the John Deere Classic Tournament.
Viktor Hovland
Viktor Hovland is an underrated player, which is why few people like to bet on him. We believe that he has a higher chance of winning than what his odds imply, and betting on him could prove to be a great decision.
Due to him not being a household name yet, not a lot of people will opt for this player making him the ideal player to bet on. Hovland has made the cut in all of the eight tournaments that he has played and has remained quite consistent throughout his career. He finished T-9 at the Players Championship in 2022 and secured a tie for 10th at the Arnold Palmer Invitation this year.
Jon Rahm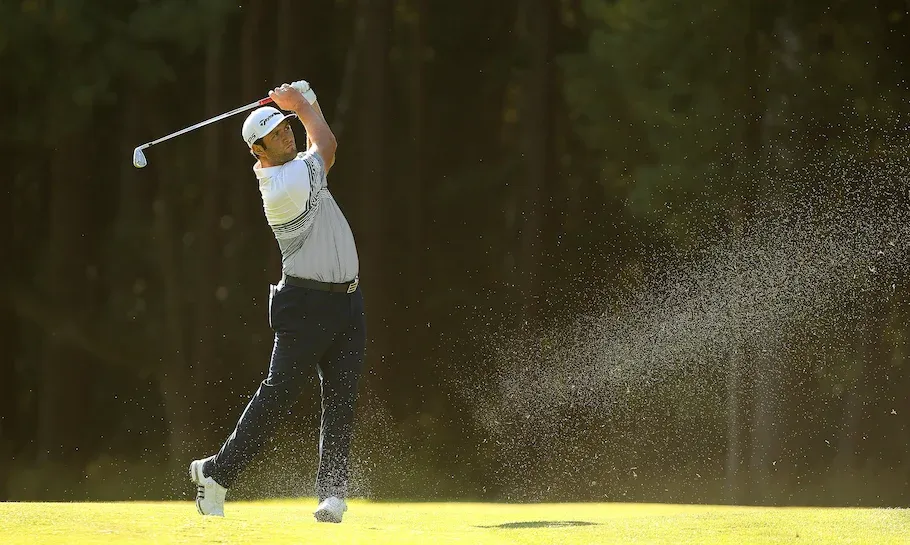 Jon Rahm during his first day at the BMW PGA Championship, 19th September 2019. Wentworth Golf Club, Virginia Water, UK. Credit: Paul Terry/Alamy
Jon Rahm during his first day at the BMW PGA Championship, 19th September 2019. Wentworth Golf Club, Virginia Water, UK. Credit: Paul Terry/Alamy
Jon Rahm is another fan favourite due to his swinging technique and excellent performance. He finished on top of the leaderboard at the 2023 Sentry Tournament of Champions, the Genesis Invitational, and the American Express. He was number one in the World Amateur Golf Ranking for sixty weeks in 2020, which means that many people are confident in his performance at the John Deere Classic Tournament this year. 
The odds are in Rahm's favour this year, and many people are likely to bet on him. He also won the Acciona Open de Espana and DP World Tour Championship in 2022. 2022-23 have definitely been the year for him, and in my opinion, he has a high chance of securing the John Deere trophy in 2023. His Master's win, of course, now means he can play with an added sense of freedom.
J.T. Poston
At the 2022 Connecticut Travelers Championship, he finished T-2, leaving everyone shocked. After this victory, he managed to win the John Deere trophy as well, and many fans are planning to bet on him. His commitment and refusal to give up are skills that have brought him to the top, and he is not going down any time soon.
He is a great golfer to back, as the odds suggest he is a rank outsider, but considering his pedigree for such events, he is certainly a golfer worth backing.
What Types of Bets Are Available For Golf Tournaments?
Betting on golf might seem straightforward, but there are several types of bets that seasoned gamblers can take advantage of. A golf tournament lasts four days and even for golf lovers, things might fall a bit flat if the game is not panning out as well as one might like. Therefore, these different types of bets can add a bit of spice to the whole occasion. More importantly, we as gambling experts can use them in a way to win money.
Outright Winner
This type of bet is very common and is one that most of you will probably be familiar with. A golf tournament is held over the course of four days. Almost always, a tournament will start on Thursday and end on Sunday. The winner will be determined by who has shot the lowest and best score over the course of the four days. Therefore, an outright bet will only see a return if the golfer you have backed wins the tournament.
The best thing about this type of bet is that you will always receive a very good payout, even if you were to back one of your favourites. An example of this would be that for the last tournament you could have placed a bet on Mcilroy winning that tournament at odds of 10/1. This just once again goes to show that betting on the PGA tour is not like betting on any other sporting event.

PGA Prop Bets
This will not be for everyone but we personally think that prop bets are a lot of fun and let you use your golfing knowledge. You could bet on a golfer getting a hole in one, but these have now become too common and very few bookmakers offer this type of bet these days.
These bets are not something you can develop a solid strategy for so we would like to make it very aware that these types of bets are purely for fun although if do win the payout can be significant. An example of a legitimate prop bet would be the number of eagles to occur during a week or it could be something even more obscure, like the number of times a player will end up in the bunker.
Conclusion
If you weren't looking forward to this tournament, we certainly hope you are now. Some of the best players in the world will be fighting it out to see who emerges as the victor and what makes this event so exciting is that it is very difficult to pick a winner. Wherever you watch this tournament, we hope you enjoy it and wish you all the best with your betting selections.
Are you going to go for form and pick Mcilroy or Fitzpatrick, or do you feel it's about time Spieth and Koepka stepped up and showed their true class again? Maybe you feel Will Zalatoris will try and make up for the heartbreak of the last two majors. Either way, if you win, you bet you are quids in. 
References
PGA John Deere Classic FAQs
Here is my response to some of the most frequently asked daily questions regarding golf betting.
Is Golf Worth Betting On?
Betting on golf can make matchups and tournaments all the more exciting for fans all year round. A fair percentage of the field has a decent chance of winning. However, betting on the sport goes beyond choosing the tournament winner. What's more, you will always get good odds. Even the favourites have high odds, based on the size of the field.
How Does Betting On The PGA Work?
Betting on the PGA Championship commonly constitutes placing the most popular bet on who the bettor thinks will win the tournament. At that instant, the bettor would be betting on the likely winner of the PGA John Deere Classic.
Is Golf Betting Profitable?
Similar to other forms of betting, it's easy to lose money. Nevertheless, if you make informed decisions and try to apply a solid strategy, you may turn it profitable. If you believe in the strategy you have implemented, you should give it a considered period of time to see if you can become successful.
What Do Extra Places Mean in Golf Betting?
Successfully predicting the winner of a golf match can be difficult. However, predicting who will end up in the top 5 is easier. Although the odds will be lower, you will still have a higher chance of winning. This option can be found in most sportsbooks.
What Is The Best Way To Bet On Golf?
While it isn't easy to think of just one golden strategy in golf betting to make you successful, you do not need to have a high success rate to profit. Moreover, if you bet via the extra places feature, you will find it easier to apply a solid strategy. It's impossible to get it right constantly.
Other Golf Tournaments
Have You Found What You're Looking for?
Your feedback is paramount!