Best Golf Betting Sportsbooks Ireland ⛳
Rank
Sportsbook
Bonus
Pros
Secure Link
Last year produced what will go down as one of the most iconic moments in golfing history as 50-year-old Phil Mickelson became the oldest major winner in history. Tears were shed as this felt like something that belonged to a Hollywood movie rather than a golf course. By his own admission, this was not supposed to happen, and if you were backing him for this tournament, you were probably lying to yourself or probably had some huge fandom for the left-handed Wizzard. In the end, he won by several strokes, which made his victory even more impressive as the legend of golf won his 6th major. Hopefully, this year will bring us the same amount of fireworks, and if it is as close to being as memorable as last year's PGA Championship, we are due for one hell of a viewing experience.
Where Will The PGA Championship Be Held?
The PGA Championship is set to be the 104th PGA Championship and will be held from May 19–22 at Southern Hills Country Club in Tulsa, Oklahoma. The event was originally scheduled to be played at Trump National Golf Club Bedminster. The entire purse for this event is a whopping $12,000,000. Hard to believe there was so much talk of a breakaway Saudi tour when these types of numbers exist in the world of professional golf. Victory will see one golfer walk away with over $1 million in prize money.

The Southern Hills Country Club was opened in 1936 and this will proudly be the 5th time they have held this event. The last time they hosted this tournament was in 2007 when the best golfer of all time, Tiger Woods, emerged victoriously. In its illustrious history, the course has also been the venue for three U.S Opens. The average length of the golf course for professional play is about 6,800 yards, which is pretty standard for professional golf tournaments. It is a course that might suit a strong all-around game like Cameron Smith, for example. The PGA Championship field is often considered the best in professional golf, with the tournament often receiving the highest "strength of field rating" of the year. The tournament will consist of all of the best players in the world as well as some quality pros who don't always qualify for other majors such as The Masters and The British Open.
All You Need To Know About The Scheduling Of The PGA Championship
More than 25 linear TV partners will broadcast the PGA Championship coverage in more than 180 countries and territories. GOLFTV, powered by the PGA TOUR, also broadcasts live coverage and/or highlights in every country except the United States, China, and Korea. For Irish citizens, the coverage of this championship can be best followed on Sky TV. The PGA tour calendar is packed full of exciting action this year and almost all of it can be followed on these streams. 
| DATE | TOURNAMENT | LOCATION | COURSE | PURSE | NETWORK | DEFENDING |
| --- | --- | --- | --- | --- | --- | --- |
| May 18-21 | PGA Championship  | Kiawah Island, SC | Kiawah Island - The Ocean Course | $12,000,000 | ESPN/CBS | Phil Mickelson |
The tee times have yet to be officially confirmed but the first pairings are likely to come out around 2 pm Irish time. The end of this major will typically finish around midnight Irish time, so it could be a great way to bring your weekend to a close. The format of this event is pretty simple. There will be pairings of three in contrast to other majors that have pairings of 2. After 2 days, if a player is not in the top 50 or within 10 shots, then they will not make the cut. For the last two days, players will be in traditional pairings of 2 as they look to fight it out for the title.
Will The Defending Champion Be There To Defend His Title?
What a difference a year makes. This time last year, Phil Mickelson was the toast of the game, but now his reputation is in tatters. So much so that we believe he is not even going to turn up to defend his trophy. He did not attend The Masters and his public apology suggested that he was going to take some significant time away from the game. I, for one, think it is very unfortunate that he doesn't feel in a fit enough state to play, especially when you consider the historical significance of his win and, although things look bad now, this is likely to be forgotten about with time.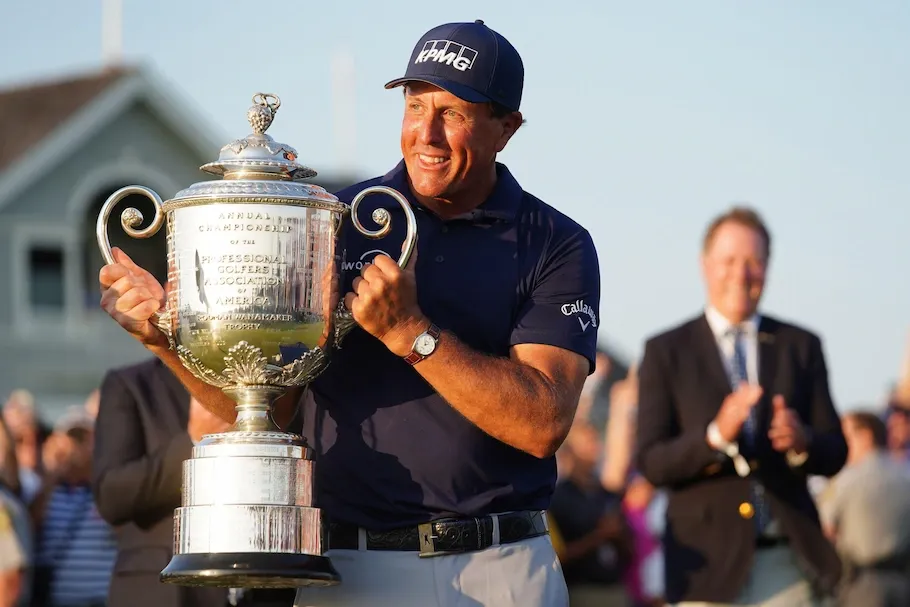 Phil Mickelson proudly showed off the Wanamaker Trophy after winning the 103rd PGA Championship at Kiawah Island Golf Resort Ocean Course in South Carolina. 23rd May 2021. Photo by Richard Ellis/UPI Credit: UPI/Alamy Live News  
It is important to recognise his words for what they are, but whether his words will continue to tarnish his reputation remains to be seen. His absence, though, does mean that there are no unwanted distractions, so golf fans can just focus on who will play the best golf throughout the four days. Golfing news has been mainstream news recently, so it is a great opportunity for the world's best players to put on a fantastic spectacle.
Who Is Our Pick To Take Home The Trophy?
Picking a winner for a major these days is tougher than it ever has been. There is so much said about how it is impossible to have one overpowering force such as Tiger Woods in this modern era and when you see the quality of players on display it is easy to understand why. Having said all of this over the past few years, we have four picks who you have to consider as favourites when they play a round of major golf. There are many more who will have their intentions set on being victorious, but these are four players we have a special feeling for.
Jon Rahm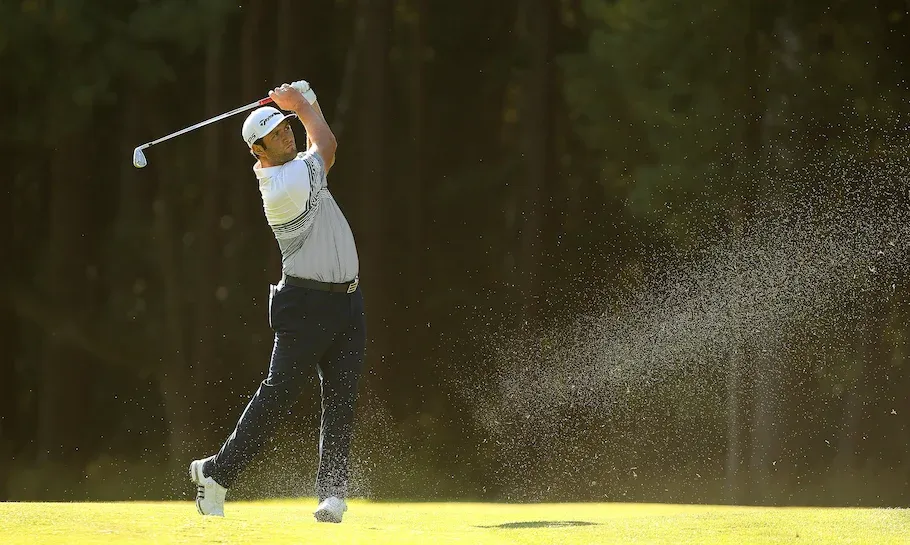 Jon Rahm during his first day at the BMW PGA Championship, 19th September 2019. Wentworth Golf Club, Virginia Water, UK. Credit: Paul Terry/Alamy
Rahm is one of our favourite players to watch. His trademark simple technique and fiery attitude in some ways make him relatable until you see how good the man is at golf and then you realise that this man is special. Although still a very young man, he has competed and come close to many majors to date and could perhaps be a bit disappointed that he only holds one major at this moment in time. This could all change though, at the PGA Championship. 
Collin Morikawa
Just when we thought golf was full of young and talented golfers, Collin Morikawa came along and might prove to be the best of the bunch. This man's iron play is simply outstanding and this is what has contributed to him being a two-time major winner at the age of just 25. Like all special champions, Morikawa gives the impression that he was destined to win golf tournaments and something would have to go very wrong for him not to win many more. For this tournament, he would be as good a pick as any and we wouldn't mind spending another week marvelling at his extraordinary talent.
Brooks Koepka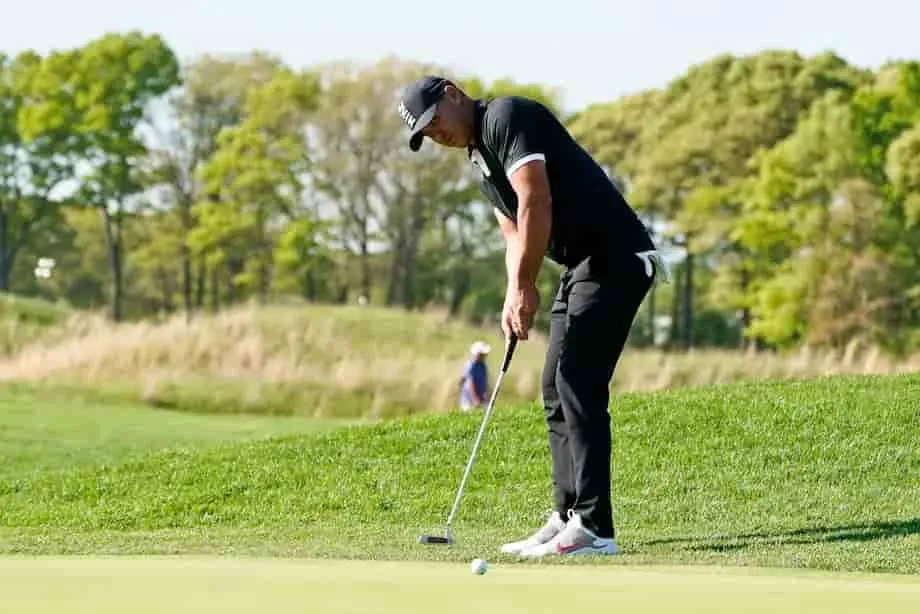 Brooks Koepka during his third round of the 101st PGA Championship hosted at Bethpage Black, New York, USA. 18th May 2019. Credit: Debby Wong/ZUMA Wire/Alamy Live News  
Koepka, when judged by his highest standards, has been a bit cold in recent years. But this is because, at one point, he was making winning majors look like child's play as he amassed 4 of them within the space of 2 years. He once told reporters that he believes that when he steps onto a golf course he has half of the competition beat as they are not mentally prepared to win majors. This becomes difficult to argue with when you consider that his record in tournaments outside of the big four is not that special. For every major in the foreseeable future, you would be mad to look past Brooks Koepka!
Rory Mcilroy
If you are a golfing fan, you are probably wondering how a guy with Rory's talent hasn't added to his 4 majors. More shockingly, he hasn't really competed that hard for one in a long while and is often ruled out of contention early on, only later to recover and finish in a respectable position. So why are we picking him on this list? Because when it's his day, he can really destroy any golf course and you can never rule out somebody with his talent. He only needs to be in contention for the other golfers to feel a bit nervous about who is coming for them. His final day at the Masters got golf fans thinking if this could be a catalyst for better things.
Tips for Golf Betting During The PGA Championship
Spread Your Bets

The number one tip I would give for betting on this year's PGA Championship is to spread your bets so you have more than a few chances to win. If you are going to choose an outright winner, maybe you should select 5 people who you think might win this prestigious tournament and then spread what you were going to stake across these 5 bets. The list of players who have multiple majors to their name is very small, so it is good to know that the likelihood of your selection coming off isn't as likely as you might think. So, in short, select a few players you think might win supposed to just one.

Take Conditions Into Consideration

The second tip I would give would be to consider the conditions of the golf course. Short courses can really suit those metronomic players who don't make many mistakes and know how to keep the ball away from hazards. Meanwhile, there will be courses that will be best suited to long-range hitters such as Dustin Johnson. There are also plenty of players on tour who might be in great form, but their record on a particular course is underwhelming. Once you have crunched all of these numbers together, you will get a better understanding of what can be expected when the players hit the course.

Pay Less Attention To Form

My third tip would be to pay less attention to form. Sometimes you can get great odds on a player who has been cold of late but has shown that they have the potential to turn the switch on when the competition gets tough and when there is something on the line. Brooks Koepka will be a great example of this as his record is sublime in majors, but his form recently hasn't been much to speak about. But who would be really surprised if he turned up and won another major? Scottie Scheffler has broken the mould of late but stats show that is extremely hard for golfers to replicate success week after week, so unless a golfer is in such bad form, we suggest that a player's history in big tournaments needs to be considered a bit more before placing a bet.

Have Fun

My final tip would be to have fun. Golf is a sport that lasts four days and a bet can add an extra spice to the game when your favourite player is not in contention or there is no one from your country who looks like they might win. A lot of people prefer to have a preference about who might win a tournament when they watch on T.V, so play responsibly and make sure you only bet on what you can afford. That way you have a great time doing it also.
How To Choose The Right Bookmaker
When deciding what bookmaker you will use to bet on the PGA Championship you need to consider a few things. First and foremost, you should address if the site you are using covers several golfing markets and how big of a deal it appears to be for the bookmaker in question. Golf is a very popular sport throughout the world but not every bookmaker will prioritise it even when we feel like they should, so these are important things to take into consideration.

For example, the PGA Championship is one of the biggest sporting events on the golfing calendar, so if you feel that a bookmaker is not giving it the attention it deserves, then maybe you will need to think twice about placing a bet with them. By all means, if they are offering great odds on a player winning outright, it is worth the bet all day long, but we like to see some sites that offer a wide variety of bets for their golfing fans. Also, if a bookmaker doesn't prioritise golf, it is unlikely that they will offer as many golfing bets as they possibly can. When betting on golf, you should want many options at your disposal.
Types of PGA Championship Offers
Golf is an interesting sport as even the favourites for the competition that might be firing on all cylinders will have long odds when compared to almost every sport in the world. Why is this? Well, with golf you have a large field of players and, in this modern era, there are so many golfers that are capable of winning the PGA Championship. How many times have you been sat at home watching a major and you look at the leaderboard and some relatively unknown golfer is in contention? This just goes to show that predicting who might win a major is very difficult to predict.
This is why it is important to know all the different types of bets that are available on the golfing markets, so you will have more of a concept of which offer you should use to stand the best chance at making some money. The shortlist below consists of some of the most common types of offers that will be available at the PGA Championship.
Outright Winner
An outright winner bet, as the name suggests, is a bet where you will be betting on the overall winner of a golf tournament. Most of us love to bet on the outright winner of a tournament like the PGA Championship because it gives us an added interest besides watching brilliant golf unfold. The great thing about backing a winner at this tournament is that the favourite is likely to have long odds that can be 10/1 plus. When compared to other sports where the favourite is odds on to win an event, this might come as a surprise to non-golfing fans. 
Another reason this type of bet is so effective is that it is possible to back multiple players and be in profit if one of them wins. So, maybe you want to place a bet on all of the people you consider favourites or place a bet on a few long shots and if one of them emerges victorious you can brag to all of your friends that you have a crystal ball and your 80/1 shot was, in reality, a certainty.
Group Winner
On the first two days, golfers will be placed in groups of three for the PGA Championship. It is possible to bet on which golfer you think will fair better over the course of a single round. These bets can be fun to make as you are betting on the outcome of one day so you don't have to wait so long for the outcome of a match. Additionally, these are typically a lot easier to predict as there are not as many players involved. Betters tend to like these bets as they give them a side interest when they are watching golf.
Prop Bets
When you are using a prop bet, you are effectively betting on something that might or might not happen. Supposed to other bets where you will be betting on the outcome of some sporting outcome. Golf is played over four days and all sorts of peculiarities can happen, so with this in mind, there are some fun things you can bet on at this year's PGA Championship. For example, you can bet if Rory McIlroy will hit an eagle on the 15th or if Justin Thomas will find the lake on the tricky 7th hole. These prop bets are not so common among seasoned gamblers but they are extremely fun to use nonetheless.
In-Play Betting
As alluded to a few times now, golf is a game with a lot of variables, so many bets will effectively be over on day one. This makes in-play betting so attractive, as you have some time to see who looks like they will be in contention and you can act accordingly. An example of this would be if someone like Brooks Koepka was a few shots behind and you didn't fancy the players above him to hold on to the lead. You can use your knowledge of golf to place a cheeky bet on Koepka and then step back to see if your instincts are a good one. Even if you act just after day 1 you will get a much better understanding of how the tournament might play out. After all, there is the expression that you can't win on day 1 but you can certainly lose it. 
Let The Fun Commence!
Hopefully, after reading this preview of the PGA Championship, you are excited and, like us, can't wait for the event to start. Golf has always had the habit of making our weekends golden. Will 2023 do the same?
PGA Championship Golf Betting FAQs
Are you new to betting on golf or just want to learn a little more about it? Here are some of the most frequently asked questions that often get thrown our way. 
Golf is a great sport to bet on and unlike other sports, you will always receive attractive odds. Because of the size of the field, even the favourites have high odds. Only in the days of Tiger Woods and Jack Nicklaus has one golfer been such an overwhelming favourite.
Like all types of betting, you can easily lose money but if you apply good knowledge and a solid betting strategy towards PGA golf betting then you can be profitable.
When betting on golf the most popular type of bet by far will be that placed on the outright winner of a golf tournament. For this example, you would be betting on who will the PGA Championship.
As mentioned, predicting who will win a golf tournament is difficult. Predicting who will finish in the top 5 however is a lot easier. The odds will be lower but you have a lot more chance of winning. Most bookmakers will give you this option.
It is difficult to suggest one golden strategy in the world of golf betting that will make you successful but the good thing about golf betting is that you don't need to have a high success rate to be profitable. Also, if you bet using the extra places feature it is a lot easier to implement some sort of strategy this way.