JetX is an innovative and unique arcade-style crash game that offers a one-of-a-kind gaming experience. The game is the brainchild and flagship game of Smartsoft Gaming, a fast-rising software developer taking the iGaming industry by storm with a range of excellent slots. JetX does not offer reels or paylines. Instead, it features pretty straightforward gameplay that involves players boarding and exiting a jet at the right time before it inevitably crashes.
JetX Gameplay
Most slot enthusiasts would be confused about what to do when they load up the JetX game at first. This is because the game is an arcade-style slot, unlike the regular slots that most are used to. Thus, it is important to understand how the game works before you play it. Fortunately, we have an insight into how JetX's gameplay works. The game is straightforward and is probably one of the easiest games you will find online as soon as you understand what you need to do.
During every game round in JetX, a jet plane takes off and flies for a few seconds before it inevitably explodes. Simply put, your task in this game is to escape from the flying jet before it explodes. Players familiar with crash games will find this game easy to learn and adapt to.
Multiplayer Game Every 15 Seconds
One important thing to note is that JetX is a multiplayer game that you involve yourself in. Unlike other RNG-generated games where every game round starts afresh for each player, every player playing the JetX game plays on the same platform. 

This means you won't be the only one placing bets in a game round in JetX. Instead, multiple players will be playing the game simultaneously, and it is up to each person to decide when they pull out of the round. Also, you should note that a new jet plane takes off every 15 seconds without a break. This means that you can log into the game at any time to try your luck, and you won't need to wait a long time before you can bet on the game.
Setting the Initial Bet
Like any other casino game, you will need to place a stake when playing the JetX game. You are to use the "+ and -" buttons to alter the bet size to your preferred value. Once the you've set the amount you want, you need to place the bet swiftly before the jet takes off. In the event that your bet happens after take-off, you will need to wait for the next game round for your bet to count. Note that the game allows players to place two different bets on any game round in the JetX game. This is a feature that experienced players use to maximize their winnings while minimizing their losses.
Collecting the Winnings
After the initial bet has been placed and the jet is on its way, the game's minimum coefficient (i.e., multiplier) starts accumulating. The longer the jet flies, the higher the multiplier grows, and the bigger your potential winnings will be. So, how do you go about collecting your winnings in JetX?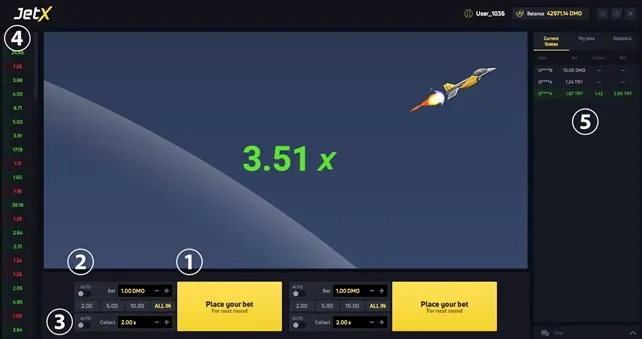 As we have mentioned earlier, each player has the freedom to choose when they escape the plane, which is the same as when they will collect their winnings. The player's main objective is to try and collect the winnings before the plane explodes. And this can happen at any time, whether before the jet fully takes off or after it has flown for a long time. The actual payout that you will earn after initiating the collection of your winnings will depend on the accumulated multiplier and the bet size for each round.
Auto-withdrawal and Manual-withdrawal
Unlike regular slot games where the random number generator determines whether or not you win any game round, you more or less have control over your winnings in the JetX game. As mentioned earlier, your primary task in this game is to collect the winnings accumulated as the jet keeps climbing the air before it explodes. Naturally, the time to cash out depends on you. 
When it comes to cashing out, you have two options. You can do it manually when you feel like the multiplier has gotten you enough winnings. Alternatively, you can activate the auto-withdraw mode. With the auto-withdraw mode, you can specify a target goal multiplier at which you will automatically cash out on the current round. This means that if the jet reaches the target multiplier before it explodes, you will get the accumulated winnings at that point. Naturally, you will lose the round if the jet explodes before reaching the target multiplier. Also bear in mind that activating auto-withdraw does not exclude you from being able to withdraw manually. Thus, if you feel like the plane is likely to crash before it reaches your set target, you can easily cash out at any point.
RTP and Volatility
As the return to player percentage (RTP) and game volatility determine its overall winning potential, it is always important to know them when you play a game. The RTP determines how well players will fare while playing the game in the long run, while the volatility is the risk-to-reward indicator that tells how often players will get winnings and how big the winnings will be. 
Sadly, Smartsoft did not publish the volatility of this game. This is probably because of the unique gameplay of the game. You either win a small amount by cashing out early or keep waiting and risk losing your entire winnings when the plane crashes. As for the game's RTP, Smartsoft acknowledges that it ranges from 96.7% to 98.8%. This is above the usual average for slots and any slot-like casino game. However, you should note that due to the game's unique gameplay, the odds of winning are always 50/50. You have equal chances of winning or losing any round.
Minimum and Maximum Bets
Another essential aspect that we must talk about in any casino game is the minimum and maximum allowable bets that players can place on the game. The minimum bet that players can place on the JetX game is €0.10, while the maximum is €100. This wide betting range makes the game perfect for casual players who don't have much to wager with and makes it an ideal option for high-rollers looking for a game to spend a lot of money on.
JetX Features
As mentioned earlier, the JetX game is unique and different from regular slot games. As a result, the game does not have the usual bonus features that we expect from slot titles.

However, the game has a special feature known as the Galaxy Jackpot. This is a random progressive jackpot that pays out at random intervals given that certain set conditions are fulfilled (i.e., bet size must be at least 1, and the minimum coefficient must be 1.4 or higher before cashing out).
Our Playing Experience on JetX
After taking the JetX game for a spin, we have to say that Smartsoft Gaming outdid itself with its flagship game. The game features an old-school vibe with retro looks and aesthetics that gives players a nostalgic feeling of classic games. As for the gameplay, we quite enjoy JetX. The random number generator determines how far the jet will fly before it explodes. It is up to each player to decide where they get off the jet and collect whatever winnings have accumulated. For the most part, when we got off the jet early, we collected some decent winnings, though in little amounts. On some occasions, we also tried going all the way to get a much higher minimum coefficient (multiplier), a decision that saw us lose more often than not. Overall, this is an exciting game that guarantees players win on every round as long as they get off before the jet crashes.
JetX Pros & Cons
A simple truth about any online slot or arcade game is that while many people might see a game as their go-to option to play, not everybody will be crazy about it. 
This is because most games come with both pros and cons. Naturally, the JetX game is not an exception, as the game has a fair share of positives and negatives to it. So, here are some of the hits and misses of the JetX game:
Pros
Offers unique and fresh gameplay
Mobile-friendly
Earn a lot of wins within a short time
Galaxy jackpot offers incredible winnings
Interesting graphics and design
Wide betting range is perfect for casual players
Cons
No bonus round of any kind
No interesting feature in the gameplay
It can be highly volatile
Where Can I play JetX?
Unlike providers like Microgaming, NetEnt, Pragmatic Play, and dozens of others, Smartsoft is not very well-known. As such, not many online casinos offer games from the provider. However, since its launch, JetX has garnered a lot of attention from casino enthusiasts in different circles, and a few online casinos incorporate the game into their lobbies. CBet is one of our favourite crypto casinos that also offers this crash game.
The Bottomline
To sum up, we have to say that JetX is an exciting, innovative casino game that will delight players looking to enjoy a fast-paced game where they can win a lot of money within a very short time. The game has a great overall layout and features unique gameplay that gives players complete control over how they play and how much they earn when playing. Overall, JetX is a fantastic arcade-style slot game that offers something different from what players are used to.
More Slots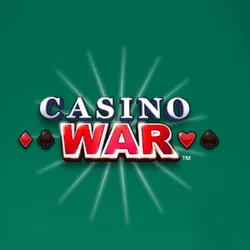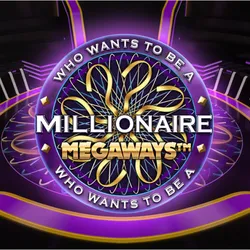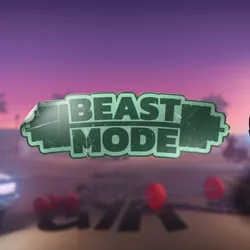 Have You Found What You're Looking for?
Your feedback is paramount!