Top Horse Racing Sites undefined 2023
Rank
Sportsbook
Bonus
Pros
Secure Link
The History of Greyhound Racing
Greyhound racing is a popular sport that has had a long history in many countries across the world. The first recorded attempt at greyhound racing on a track took place beside the Welsh Harp reservoir, Hendon, England, in 1876, though this didn't develop.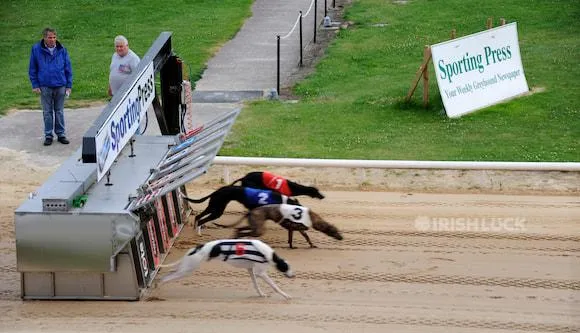 Departure of Greyhound racing, Shelbourne Park Greyhound Stadium, Dublin, Ireland 
Although the sport had its downs over the years, it slowly but steadily developed into a popular sport in Ireland, the UK, the United States, Australia, New Zealand, and other countries. Each country hosts different greyhound events daily at greyhound racetracks, many of which are available for bet online. This usually includes normal races and handicapping races.
The Different Types of Bets Available in Greyhound Racing
As you can already infer, greyhound racing is quite similar to horse racing – they are both fast-paced sports that involve breed animals racing each other. 
That being said, there are many types of bets that you can place on greyhounds. Let's take a look at some of the most popular ones.
Straight Bets

(Single Bet or Win Bet)

A straight bet involves placing a bet on a particular dog to win the race. You will only win the race if the hound you choose ends up as the winner of the race. This is the most straightforward bet and a good starting point for any Irish punter new to wagering on greyhounds.

Place Bets

The "place bet" is another popular bet type in greyhound races. It involves placing a bet on a dog to finish in "places", which means the first or second position in the conventional six-dog greyhound races.

With the place bet, it doesn't matter if the selected dog finishes in first or second place: you will get the same winnings.

However, you should note that due to the higher chances of winning this bet compared to the straight bet option, the odds offered by bookmakers on these bets are usually lower, resulting in lower returns.

Show Bets

The show bet is quite similar to the place bet. However, it involves betting on a dog to finish in first, second, or third place instead of the two third positions of the place bet. Here, all the top three positions are winning bets and will yield the same return if the selected runner finishes in one of them. Since the chance of winning this bet is quite high, the return is usually lower than the straight and place bets.

Each-way Bets

(Win-Place Bet)

Each-way bet combines two separate bets: a win bet and a place bet. Essentially, with an each-way bet, you are wagering on a horse to win the race or place.

Should your selection win the race, both bets will yield a return. If the dog doesn't finish first but manages to finish second, you will only get a return on the place bet. However, you lose both bets if the dog doesn't finish first or second.

Across the Board Bets

The Across the board bet is a combination of the first three bets: a win bet, a place bet, and a show bet on a single dog.

If your selection wins the race, you collect the returns on all three bets. Should the dog place second, you will get the return on the place and show bets.

But if the dog finishes in third place, you will receive a payout for only the show bet.
Apart from the common bet types we have just explained above, there are also a variety of other bets that Irish bettors can place on greyhound racing events. These bets usually involve combinations of multiple possibilities. Here are a few of them:
Quinella (Reverse Forecast): Quinella involves picking two greyhounds to finish in the first and second positions. It doesn't matter what order the two selections finish as long as they finish in the top two positions.
Exacta (Perfecta or Forecast): Exacta bet is similar to the Quinella bet. But with this bet, the finishing order matters: you have to pick which dog will win first place and which one will win second place.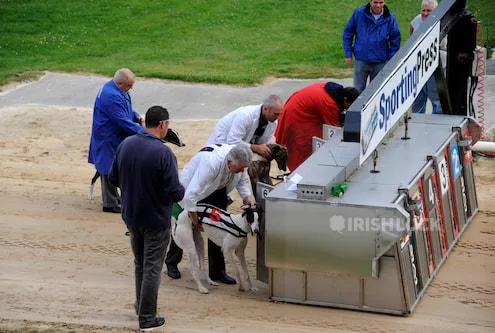 Departure of Greyhound racing, Shelbourne Park Greyhound Stadium, Dublin, Ireland.
What to Look Out for When Betting on Greyhound Races
Once you have become familiar with the greyhound betting market and want to join in on the action, the next step is to find the right sports betting site.
After you have settled that, you can start betting on greyhound races. However, before you start, there are some essential tips and tricks to keep in mind to maximize your betting experience.
While these tips will not guarantee a win, they will improve your chances and reduce the loss on your bankroll purse.
Get information on the greyhounds: Getting well acquainted with the greyhound you are banking on is essential to improving your chance of making an accurate prediction while betting. So, do your due diligence by researching and obtaining complete information on the hound, from age to track record, recent performance, etc.
Check out the box draw and track: Some dogs perform better on some tracks than others. So, before you place your stake on any particular greyhound, ensure it is well adapted to the track on which the race will take place.
How Do You Bet on Greyhound Racing?
Betting on greyhound racing online is pretty straightforward. All you need to do is follow the quick steps highlighted below, and you will be well on your way to joining the fun.
Find the right sportsbook: There are hundreds of sports betting sites out there, but there is no denying that some are better than others, especially when it comes to greyhound betting markets. So, ensure the site you choose has a large market for greyhound bets and provides competitive odds.
Sign up: Once you find the right site, go ahead to sign up with the site. Remember to take advantage of the rewards and the bonus and promotion offers the site provides, and when you're done, add your stake to the bet slip ticket.
Closing Thoughts
Wagering on greyhound races online is a fun and exciting form of gambling, favoured in Ireland, the UK, the United States, and many other countries worldwide. 
Similar to horse race betting, sportsbooks provide their customers with a wide variety of betting options that they can place on greyhound races. 
From simple straight bets on which hound will win the race to combinations of bets across multiple races and even tote bets, greyhound betting has something for every class of bettor.
FAQs
Where can I find greyhound racing betting?
Many online sports betting sites offer odds on greyhound races to Irish punters. You can place a bet on greyhound races on any of such sites.
What is the best strategy in greyhound racing betting?
When placing your bet on greyhound races, you need to consider a few things, including age, breed, running style, track record, recent performance, and a few other things.
How to predict greyhound winners?
Sadly, greyhound betting is similar to every form of gambling, meaning that while knowledge and skills can go a long way, there is no guaranteed way to predict the race's outcome accurately. You can, however, look at our 'What to look out for when betting on Greyhound Races' section as a guide to help maximise your betting strategies.
Have You Found What You're Looking for?
Your feedback is paramount!