Coin Master is one of the most popular free single-player mobile games that has taken the world by storm in recent years. In fact, the mobile game has recorded over 100 million app downloads on Google Play Store alone. Interestingly, although Israeli Studio Moon Active, the game developer, launched it in 2010, it only became popular a few years ago after a trailer went viral on social media channels, especially Facebook.
One of the reasons why the game is so popular amongst millions of players worldwide is that it embeds many features within its gameplay that make it all the more exciting to play, including a slot machine where players can spin for coins. To spin the slot machine, a player needs to have Coin Master free spins, which can be earned in several ways.
If you are wondering how and where you will get the spins to play Coin Master, you have come to the right place. On this page on Coin Master free spins, we will look at how Irish players can get the free spins they need to play the game's slot machine for coins. We will also look at how the game works and some exciting tips and tricks that can prove useful when playing the game.
Coin Master Free Play
Unfortunately, we couldn't locate a game demo for our Irish players, but we do have a sneak peek into the game for you to check out!
Coin Master Game Explained
Before we look at how to get free spins in the coin master game, we should first consider what the game is all about. One of the biggest appeals of Coin Master lies in its uncomplicated mechanics, making it a simple game that is suitable for all users. Essentially, anyone who picks up the game can learn how to play it in minutes.
The objective of Coin Master is to collect stars by building as many villages as possible using gold coins. And you can do this by building and levelling up buildings, pets, transportation, and other essential items within the villages. 
To build up a village, you will need to spend coins on each item, and you can get these coins by spinning the game's slot machine. To spin the slot machine, you will need free spins, which you can get in many ways. We will be looking at those ways on this page.
Each player will have to build close to 400 uniquely themed adventure villages in the game, starting from a Viking Village. Players advance to the next village as soon as the previous one is built. Naturally, the levels continuously get more difficult as a player advances, leading to the need for even more coins and free spins to progress.
The Slot Machine
Unlike most mobile games, Coin Master centres its gameplay on getting coins from a slot machine. Like the usual mechanics of online casino slots, this one also comes with various symbols that spin on its reels, including a hammer, pig, coin bag, shield, coin, etc. 
As soon as you press the spin button, the machine will start spinning, and you will get a reward based on what symbols align on the reels. The reward could be coins, shields, raids, attacks, and free spins.
By Connecting to Facebook Accounts - Free Spins to Start your Adventure
Players can play the Coin Master Game one of two ways. The first way is to directly link the game to your Facebook account, which allows you to invite your Facebook friends, brag about your achievements, and do many other exciting things. The second way is to play as a guest and not connect to your Facebook account.
One of the biggest advantages of connecting the game to your Facebook account is that you will get 50 extra free spins to start your adventure in the Coin Master game.
Daily Spins Collection - 5 Free Spins Every Hour
One of the best ways of earning free spins on the Coin Master game is passive, without doing anything. By default, the game generates five free spins per hour for every player. However, the generated free spins can only store up to 50 spins. As a result, the player will not get any more free spins until after some of the accumulated free spins have been used.
After Village Completion - Free Spins Reward
Another way Irish players can get more free spins in the Coin Master mobile game is as spin rewards for completing the Villages. By default, each time you finish building a village, you will receive free spins and coins as a reward.
Invite a Friend Free Spins
Coin Master is a social game that capitalises on social media channels, especially Facebook. Hence, it is no surprise that the game also incentivizes players to invite their friends to play. By sending your invite link to your friends via Facebook and Whatsapp, you can earn some free spins gifts to spin the Coin Master slot machine.
The best part about this feature is that there is no fixed number of spins that a player will get when they invite their friends to play the game. If your invited friend downloads the game and logs in using Facebook, you will get the referral spins according to your level. 
The higher your level in the game, the more spins you will get for every friend you refer to the game.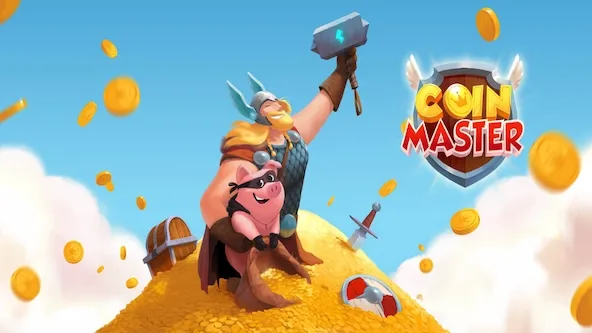 Free Spins on Slot Machine - Free Spins Gifts
As we have mentioned earlier, there are many things you can get when you spin the Coin Master slot machine. You can win coins or get the right to go on raids and attacks on other players' villages.
Ironically, you can also get a bunch of free spins on the Coin Master slot machine. You will get extra free spins if you land three energy capsule symbols on the slot machine's reels.
Receive Free Spin from Facebook Friends
Another exciting thing Irish players can look forward to in the Coin Master Game is the "send and receive" feature. If your Coin Master game account is linked to your Facebook account, you can send free spins and coins to your Facebook friends who are also playing the game. 
Naturally, you will also be able to receive free spins and coins from such friends, up to 100 per day. The best part about this feature is that it is within the "Gifts" section of the game, which means that the free spins you send will not be deducted from your balance. Instead, it is a gift from the game. 
However, the catch is that the number of spins a player can send to another player at a time is very small and can only be sent every 48 hours. Depending on the number of your active friends, this can be a great way to enjoy many extra spins.
Participating in Coin Master's Daily Quizzes
If you frequently visit or at least follow Coin Master's official accounts on Facebook and Twitter, you will find daily quizzes where you can stand the chance of winning free spins or coins. By giving the right answers to the quizzes, retweeting the tweets, and doing whatever is asked, you may be the lucky winner of several free spins.
Free Spins from Tournaments
Another chance to get Coin Master free spins is through tournaments. The game always has ongoing tournaments that Irish players can compete in. If you get a good placement in any active tournaments, you will get a gift, inside which you might find a lot of extra spins.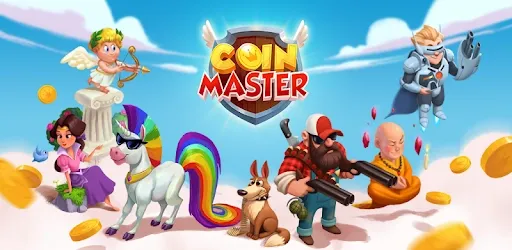 Exclusive Events
Coin Master has several limited-time events where participating players can multiply their free spins to get more extra spins than usual. You can save up your Coin Master spins for these events, so you can get even more spins when you do.
Watch Video Ads
When you run out of free spins, you may also get the chance to get a limited number of extra spins by watching a video ad.
Complete Card Sets
One of the many ways to get a huge amount of free spins on Coin Master is by completing card sets. Whenever you get all the cards of a set, you will also receive a big spins reward.
Sign up for Email Gifts
While playing the Coin Master game, if you sign up for email gifts, you will stand a chance to get a handful of free spins every day. You need to enter your email address and click submit when this prompt randomly pops up while playing the game.
Buying Coin Master Spins in the Store
Another way Irish players can get extra spins to play the slot machine is from the Coin Master Store. Unlike the other methods on this list, you cannot get extra spins at the Coin Master store for free. You will have to pay some money based on how many spins you want.
Coin Master Free Spins Daily Links
Another easy way to get free spins to play Coin Master is by grabbing daily rewards links. Every day, the team behind Coin Master provides links that players can follow to grab extra Coin Master free spins. 
You will usually find these links on the game's official social media accounts, including Facebook, Twitter, and Instagram. If you keep track of these free spin links, you can get a steady stream of free spins in your pocket daily.
Coin Master Tips and Tricks
Much like any other mobile game online, there are tips and tricks that Irish players need to take note of to be successful while playing Coin Master. If you want to increase your advantage as a player while playing this game, then you should check out some of the biggest tips you need.
Don't store gold:

Unlike what you will find with most mobile games, storing up coins is not a good idea in Coin Master. This is because attacks and raids are common in the game, and your village, like any other player's, is exposed to attacks and raids from other players. As such, stockpiling your wealth can lead to you finding that you have lost millions of coins to looters.

Participate in events:

Coin Master features many different events from which players can enjoy incredible incentives. These events can help you get awesome rewards quickly, especially if you don't want to consider alternatives like buying spins or coins from the store.

Try to keep a pet active:

After successfully unlocking the fourth village, Coin Master will allow you to hatch some pets (Foxy, Tiger, and Rhino). Each of these pets has unique attributes, like blocking attacks and offering more rewards for attacks and raids. You can only have one active pet at a time, and the pets level up in power as you use them. The crux of this feature is that the pets require food, or they will sleep and become inactive. However, getting food for the pet is a difficult endeavour.

Use the right pet for the right occasion:

As we have mentioned, you can only use one pet at a time, and each pet has its distinct attribute. Foxy will help you get the maximum amount of coins possible on raids and even let you dig up to the fourth hole, making it best for raids. Tiger will give you a decent amount of bonuses on attacks, even if you hit the shields, making it best for attacks. On the other hand, Rhino can block attacks even better than shields and is best for when you want to stop playing.

Take advantage of all the free spin channels:

As we have mentioned, you can get free spins to play Coin Master in several ways, including inviting friends, participating in tournaments, receiving free spins from Facebook friends, and free spin links. Taking advantage of these channels can help you get more free spins, which will let you progress more in the game.

Don't forget the daily bonus:

Like most mobile games today, logging in daily to play Coin Master leads to some benefits, one of which is the daily bonus. You spin a wheel and get a prize. However, you should note that this feature is only available later in the game when you have moved up a few levels.
Take Coin Master for a Spin
With this, we wrap up Coin Master free spins. You will find all the ways to get extra free spins in the game, from hourly in-game free spins to the free spins links. Coin Master has proven to be a fun and exciting game that can provide entertainment for Irish players. So, if you want something fun to try out, don't hesitate to give this mobile game a try. You will find it on Google Play Store for Android smartphones and tablets and Apple Store for iPhones and iPad.
More Slots
Have You Found What You're Looking for?
Your feedback is paramount!