Big Bass Bonanza Slot
Big Bass Bonanza is a classic slot game amongst the best online casinos in Ireland. This online slot game was released at the end of 2020 by Pragmatic Play partner Reel Kingdom. It quickly became an unexpectedly successful game thanks to its ability to strike just the right chord with a group of online anglers. The thing that surprised me the most was the fact that in many respects, it didn't accomplish a whole lot that slots like Fishin' Frenzy already offered. Though, it did offer a much more complicated bonus game, which might award multipliers as high as x10 to improve scatter wins. The maximum success, however, was a touch underwhelming, so it was a little bit of a letdown. Despite this, Big Bass Bonanza attracted sufficient players to warrant a continuation of the series. This has led to the creation of Bigger Bass Bonanza, which, in a prudent move, has not significantly altered the primary gameplay but has added a few elements to transform it into a bigger game.
Play For Free
How about giving the Big Bass Bonanza slot game a go? Try it out in demo mode!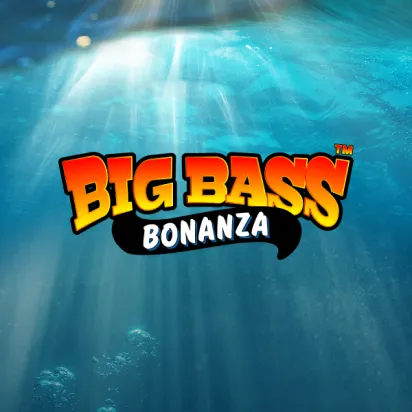 Play Big Bass Bonanza for Real Money
Want to try playing Big Bass Bonaza with a chance to win real money? Take a look at our top Irish online casinos and start playing! 
Rank
Casino
Bonus
Pros
Secure Link
Big Bass Bonanza Pros & Cons
Pros
⭐ Very high RTP rate of 96.71%
🤑 Free spins can award a multiplier of up to ten times the bet
🎣 Excellent fishing-oriented concept and design
Cons
😓 The maximum victory is capped at 2,100 times
🥱 There are no animations in the backdrop
Features
The Big Bass Bonanza slot machine has 5 reels, 3 rows, and a total of 10 paylines on which the action takes place. If you get three matching symbols on any one of the game's 10 paylines, beginning on the reel to the leftmost, you will win the prize associated with that line.
At stake levels that range from 10 pence to 250 pounds every spin, you have the opportunity to compete for massive wins. In the event that it is necessary, autoplay can be accessed. You have the option of running anything from 10 to 1,000 auto spins. There is also the option for a rapid spin, as well as a turbo spin. When you adjust the level of your investment, the corresponding cash amounts that represent the payout levels will also change. This ensures that everything is straightforward and easy to monitor at all times. The Return to Player percentage for Big Bass Bonanza is 96.71%, which is extremely good for an online slot game. When it comes to its level of volatility, the game is likewise considered to be among the highest possible. If we had to rate the variance on a scale from 1 to 5, we'd give it a 4.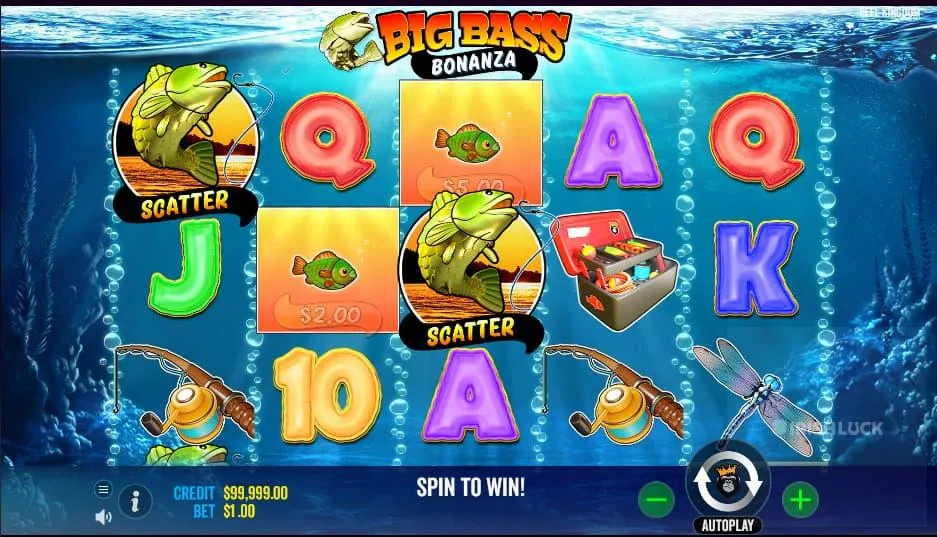 Theme
The Big Bass Bonanza slot machine has an aesthetic that is straightforward and cartoonish, and its theme is centred on fishing. The pictures in this section are done in a simplistic style, which is to be anticipated given the "back to nature" vibe. It all comes together really nicely thanks to the peppy backing track that is playing in the background.
The reels, which are blue and set against an aquatic background, show brilliantly coloured royals from A to 10 as well as a collection of higher-value symbols relating to fishing. Fish, a tackle box, a dragonfly, and a fishing route are, from least valuable to most valuable, in that order. The most valuable symbol is the kaleidoscopic float with so many colours. If you get five of these on a payline, you'll win an amount that is equal to 200 times your total bet if you're lucky. The wild person is the fisherman who appears to be having a good time. Only during the bonus round does he make an appearance, and he can replace any symbol other than the scatter.
How To Play
Place your wagers and see if you can reel in the largest fish you ever imagined was attainable.
When you hit the +/- buttons, a panel will pop up where you may adjust the number of coins that are wagered each line as well as the amount of each coin that contributes to the total bet. Alternatively, you can just increase the total value of your wager.
The instant you hit the Spin button, the reels will begin their movement.
When Autoplay is on, a panel will appear from which you may select between Turbo Spin or Quick Spin, as well as the number of automated spins.
Symbols
If you see a fisherman, you can consider him a wild card. Only present during free games, it can substitute for any other icon aside from the scatter.
Free games can be triggered by seeing at least three of the fish on a hook scatter symbol.
The value of money is represented by a green fish symbol.
Make a fish pile as a representation of wealth. The Money symbol's value is determined at random and can be used to win in both the main game and the Free Spins bonus.
About Pragmatic Play
One of the most prominent software providers in the iGaming business, Pragmatic Play is responsible for providing fan-favourite games to the industry's most prominent names. They provide a variety of gaming options in all major regulated markets, in a variety of languages and currencies, and all powered by a single application programming interface (API)
Their professional team is relentless in their pursuit to design games that players love over and over again, and they provide best-in-class services to their partners around the world. When it comes to Big Bass Bonanza's features, Pragmatic Play has wisely kept things on the straightforward side. Free spins are the only bonus feature. However, there are bonuses associated with your free spins that make it worthwhile to trigger this feature.
RTP & Volatility
The RTP is determined by the casino, and not many people are aware that playing the same game at a different casino could result in a lower RTP for you, even though you are playing at the same casino. The difference in return to player (RTP) amongst casinos is rather astounding, with the highest being 96.71% at All British Casino and the lowest being roughly 90.5%, which is a whole 6% lower. In the grand scheme of things, it does not signify very much for ordinary short playtime. However, there is no question that you are getting less value if you play at casinos that have a lower RTP, and this is something that will typically be the case for many games.
Bonuses
Online casino bonuses are a central part of slots. The wild symbol is present in the game, but you won't see it during the regular gameplay; instead, it will make an appearance during the bonus rounds. You will need to land at least three scatter symbols before you can activate the free spins bonus round. These show the fish that the game is named after attempting, unsuccessfully, to swim back into the water where it belongs. If you are fortunate enough to hit more scatter symbols, you will be awarded a bigger number of free spins. If you land five scatter symbols, you will receive a maximum of 20 free spins.
During the bonus round, there is a possibility that you will see miniature greenfish with monetary values shown on them. When the wild fisherman makes an appearance, he will collect all of these totals to ensure that you win. Because each fisherman's wild has the same impact, it is possible for you to have a multiplier in effect if you land more than one wild in a single round. The jovial fisherman is not yet finished handing out gifts; he still has more to give out. You will receive a credit in a meter that is located above the reels each time that he makes an appearance. You will earn a retrigger that will grant you additional spins and an additional multiplier every time the feature appears for the fourth time.

It is necessary to have ten wild symbols on the reels in order to win the maximum multiplier of x10. In addition, you can accumulate a maximum of fifty free spins, but no more than that.
The free spins round is when you have the best chance of winning the top reward, which is x2100. If you collect this, your turn to receive free spins will not be awarded, regardless of how many rounds you still have remaining. You won't have to worry about it too much, however, because you'll get a large reward, which is sure to make you pleased. The round of free spins will be activated once you have collected three or more scatter symbols. The number of free spins earned is determined by the total number of Scatters that triggered the feature; based on this information, you might win 10, 15, or 20 free spins. During this round, each Wild will collect all of the values from the Money symbols that are displayed on the screen. Additionally, each 4th Wild collected will retrigger the feature and award 10 additional spins, with the multiplier for the money symbol increasing from x2 to x3 and then x10 for the third time the feature is retriggered.
Once the feature has been retriggered a total of three times, it will no longer do so when it hits the cap. You can expect to see Fish Money symbols appear in random spots when there is just one Wild left on the screen at the end of the round. These symbols will appear at random.
Paylines
Big Bass Bonanza is a relatively straightforward slot machine, as it only features 10 pay lines for the entirety of the main game plus the bonus round. Even though you only need two of a kind of higher premium symbols to win, you will typically require three in a row in order to do so, as this is the industry standard. Although full lines appear to be uncommon, they are typically more likely with the fish itself and pay exceptionally well.
Highest payout
There is a theoretical maximum multiplier of 2100x, however, this has been hit several times in practice, making it less "theoretical" than other slots with much larger multipliers. Payouts can be as much as 2,100 times your initial wager on a single spin. This will occur during the bonus rounds where a multiplier of up to ten times will be in play. If the 2100x multiplier is reached during the free spins bonus, the game ends immediately.
Maximum bet
The most you can win while playing Big Bass Bonanza is 2100 times your total wager. When playing at the highest level possible, the highest possible total winnings are €525,000.
Minimum bet
The least wager that can be placed is €10.
IrishLuck's Expert Verdict
Even if there is nothing particularly noteworthy about the game, Big Bass Bonanza manages to cram an impressive number of features into its framework. The visuals are serviceable without being particularly captivating, and veterans of the genre will recognize all of the individual components. In spite of this, it's a delightful play that will keep you coming back for more in the hopes of winning those free spins. After you finish this game, do you think you'll give fishing a try? If you win a significant award, it's possible that you are!
Big Bass Bonanza FAQs
What is the Big Bass Bonanza RTP?
There is a very high return to player percentage of 96.71% in Big Bass Bonanza. Free spins are where the real money is at in this fishing-themed slot machine.
What is the Big Bass Bonanza max win?
In theory, you may earn up to 2,100 times your initial wager on a single spin. This will occur during the bonus game's free spins, where a multiplier of up to 10x may be awarded.
Are there any Big Bass Bonanza free spins?
When you activate the Free Spins feature, you can get up to 20 free games to play. Look out for the fisherman's wild, which accumulates all the cash values tied to the fish symbols. Getting a wild symbol in a winning combination can give you more free spins and multipliers of up to 10x.
Can I play the Big Bass Bonanza free slot?
Yes! Scroll up to try our free play demo version.
Can I win real money on the Big Bass Bonanza slot?
Yes. If you want to play Big Bass Bonanza for real money and cash out any winnings you might make, you will need to sign up for an account with one of our recommended casinos by scrolling up.
Can I play the Big Bass Bonanza slot on my mobile phone?
Yes. This game is compatible with any mobile device.
How to win playing Big Bass Bonanza?
The only thing you need is a little bit of luck because this is a legitimate video slot machine that produces completely random outcomes.
More Slots
Have You Found What You're Looking for?
Your feedback is paramount!