Top Horse Racing Betting Sites for Irish Players 2023
Rank
Sportsbook
Bonus
Pros
Secure Link
Bet Calculator
| Total Outlay | Total Return | Total Profit |
| --- | --- | --- |
| - | - | - |
For many years, the meeting has been dominated by Willie Mullins. In 2022, for example, he won 14 races at the Festival, including nine Grade 1 contests. It's not just about the racing at Punchestown, though, as tens of thousands of people will gather at the famous racecourse for one of the most hotly-anticipated festivals on the calendar. The 2023 renewal promises to be extra special as it will be the 200th staging of the famous event.
When and where is it on?
The 200th Punchestown Festival starts on Tuesday, 25th April, and finishes on Saturday, 29th April 2023. Punchestown Racecourse is in the parish of Eadestown, between the R410 and R411 regional roads near Naas, County Kildare. The racecourse itself is a right-handed track that is regarded as one of the best in the country.
What races are on?
The race events for the 2023 meeting are yet to be announced, but they will be very similar to the cards employed in 2022 below:
Tuesday, April 26
3.40 pm: Punchestown Mares Novice Hurdle (Listed)
4.15 pm: Bective Stud Champion Novice Hurdle (Grade 1)
4.50 pm: Killashee Hotel Handicap Hurdle (Grade B)
5.25 pm: Champion Chase (Grade 1)
6.00 pm: Goffs Land Rover Bumper
6.35 pm: Champion Novice Chase (Grade 1)
7.10 pm: Cross Country Chase
7.45 pm: Punchestown Flat Race
Wednesday, April 27
3.40 pm: Adare Manor Opportunity Series Final Handicap Hurdle
4.15 pm: Red Mills Irish EBF Auction Hurdle Series Final
4.45 pm: Louis Fitzgerald Hotel Hurdle
5.20 pm: Irish Mirror Novice Hurdle (Grade 1)
5.55 pm: Punchestown Gold Cup (Grade 1)
6.30 pm: Punchestown Champion I.N.H. Flat Race
7.05 pm: OMC Claims Handicap Chase (Grade A)
7.45 pm: Irish EBF Mares Flat Race (Grade 3)
Thursday, April 28
3.40 pm: Specialist Joinery Group Handicap Hurdle
4.15 pm: Pigsback.com Handicap Chase (Grade B)
4.50 pm: La Touche Cup Cross Country Race
5.25 pm: Champion Stayers Hurdle (Grade 1)
6.00 pm: Conway Piling Handicap Hurdle (Grade B)
6.35 pm: Barberstown Castle Novice Chase (Grade 1)
7.10 pm: Mares Irish EBF Handicap Chase
7.45 pm: JP&M 70 Years In Business (C&G) Flat Race
Friday, April 29
3.40 pm: Punchestown Chase For The Bishopscourt Cup
4.15 pm: EMS Copiers Novice Handicap Chase (Grade A)
4.50 pm: Hanlon Concrete Irish EBF Mares Chase (Grade 2)
5.25 pm: Paddy Power Champion Hurdle (Grade 1)
6.00 pm: Champion Novice Hurdle (Grade 1)
6.35 pm: Irish Daily Star Champion Hunters Chase
7.10 pm: Salessense International Novice Hurdle
7.45 pm: Avison Young INH Flat Race
Saturday, April 30
2.35 pm: Dooley Insurance Group WFA Cross Country Chase
3.10 pm: Punchestown Handicap Chase
3.50 pm: Coolmore Kew Gardens Irish EBF Annie Power Mares Champion Hurdle (Grade 1)
4.25 pm: Champion Four-Year-Old Hurdle (Grade 1)
5.00 pm: Pat Taffe Handicap Chase (Grade B)
5.35 pm: Punchestown Handicap Hurdle (Grade B)
6.10 pm: Buggyman Flat Race
Betting Advice
Cheltenham Festival factor
One of the key factors to note when betting on Punchestown is its proximity to the Cheltenham Festival. While Punchestown offers huge prize money and prestige, it can't be denied that Cheltenham has turned into the Olympics of national hunt racing. 
Trainers will try to have their horses primed for Cheltenham, which can sometimes mean that they don't perform to the best of their abilities at Punchestown, owing, among many reasons, to their exertions at Cheltenham or the toll of a long season. But is this a myth?

The below shows how Cheltenham Festival winners fared at the 2022 Punchestown Festival:
| Horse | Cheltenham  | Punchestown  |
| --- | --- | --- |
| Sir Gerhard | 1/9 in Ballymore Novices' Hurdle (8/11) | 3/5 in Bective Novices' Hurdle (4/7) |
| Energumene | 1/7 in Champion Chase (5/2) | 1/5 in the William Hill Champion S´chase (1/5) |
| Bob Olinger | 1/4 in Turners Novices´ Chase | Pulled up in Dooley Insurance Novice Chase (6/5) |
| The Nice Guy | 1/16 in Albert Bartlett Novices´ (18/1) | 1/11 in Irish Mirror Novice Hurdle (15/8) |
| Allaho | 1/7 in Ryanair Chase (4/7) | 1/9 in Punchestown Gold Cup (6/5) |
| Facile Vega | 1/20 in Champion Bumper (15/8) | 1/9 in Race & Stay At Punchestown Flat Race (8/15) |
| Elimay | 1/8 in Mrs Paddy Power Mares´ Chase (9/4) | 2/4 in Hanlon Glencarraig Lady (M) S´chase (8/11) |
| Honeysuckle | 1/10 in Unibet Champion Hurdle (8/11) | 1/6 in Paddy Power Champion Hurdle (1/5) |
| State Man  | 1/26 in County Handicap Hurdle (11/4) | 1/5 in the Alanna Homes Novice Hdle (11/10) |
| Billaway  | 1/19 in the Hunters´ Chase (13/8) | 1/5 in the Irish Daily Star Hunters Chase (8/11) |
| Marie's Rock | 1/12 in Mares´ Hurdle (18/1) | 1/9 in Coolmore Mares' Champion H´dle (10/1) |
| Vauban | 1/12 in the JCB Triumph Hurdle (6/4) | 1/6 in Ballymore Four-Year-Old Hurdle (4/11) |
What is evidently clear from the above is that Willie Mullins knows how to freshen up his Cheltenham champions. While Sir Gerhard and Elimay did disappoint at Punchestown, Mullins' other seven Cheltenham winners (Energumene, The Nice Guy, Allaho, Facile Vega, State Man, Billaway and Vauban) all obliged once again. 
It's an extraordinary 77% strike rate that shows you should always trust the Closutton handler to get a horse ready for Punchestown. Punters who took on the Mullins hotpots, thinking that Cheltenham might have left a mark, were left with burnt fingers. 

Right-Handed v Left-Handed
Take into account that Punchestown is a right-handed course, meaning the horses turn right when rounding the bends. This can be significant, as some horses prefer left-handed racecourses, such as Cheltenham. 
For example, trainer Henry de Bromhead has decided against running the reigning Cheltenham Gold Cup hero A Plus Tard at Punchestown in recent seasons because he seems to perform markedly better going left-handed. With this in mind, look out for those horses who seem to be hanging to their right at Cheltenham, as they may improve significantly for going the other way around at Punchestown. 
Course specialists
It has been the case with many horses over the years that they perform much better on a track like Punchestown than Cheltenham, for instance. Three-mile chaser Kemboy has a horrible record around Cheltenham but always seems to run with great credit at Punchestown. 
In this sense, be open to the possibility of Cheltenham's form being reversed. In 2022, Gordon Elliott's Mighty Potter was pulled up at the Cotswolds before winning impressively at the Kildare site. While many favorites do win at Punchestown, a host of them are beaten. 
How To Place A Bet
If betting on the Punchestown Festival, you have many options. For a beginner, it can often be very confusing. To break down how betting on horse racing works, let's first consider what we mean by the odds. 

The Odds
Simply put: the odds are the expected probability of something happening. If a bookmaker prices a horse at 4/1, it means that they think that 1 in 5 times it will win the horse race. If the horse is 6/1, they think it will win 1 in 7 times. 
The odds tell punters how much they will make if their horse wins the race. So, for example, let's say we stake a €10 bet on a horse with odds of 3/1. These odds tell the punter that for every €1 they stake on this horse, if it wins the race, they will win €3. So, if they put €10 on this winning horse, they will win €30 (€10 x 3) while they will also get their stake back.

If someone exclaims that they had a 25/1 winner, it means that for every €1 they put on the horse, they won €25!
The odds can look more complicated sometimes. For example, if the horse is 7/4 it is not as straightforward to calculate. It means though that if you stake the denominator (4) you will win the numerator (7) if your horse wins the race i.e. stake €4 on this horse and you will win €7. If you stake €8, for example, you will win €14, and so on. 
This is the fractional odds format that is the most commonly used in Irish horse racing. There is also Decimal and American format, which present the odds differently but use the same principles. 
Betting Types
The win bet: this is the most simple and common betting type used in horse racing. It is all-or-nothing. You are betting on your horse to finish 1st in the race, but if the horse doesn't win, you lose your stake. Whether the horse finished second or last is irrelevant to your bet as they didn't win the race. 
The each-way bet: Oftentimes people want to hedge their bets and have more chance of winning money or getting their stake back. The each-way bet is used for this reason. 
It is made up of two parts, the "win" bet and the "place" bet. To best understand this, it might work best to take these two parts in isolation.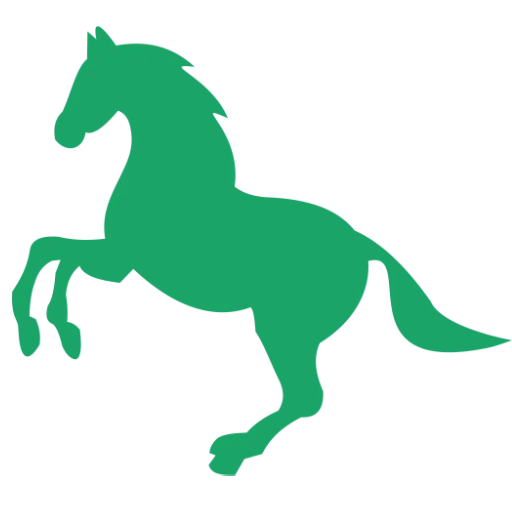 The "win" bet is exactly the same as the win bet described above. You win money if the horse wins the race but lose all your money if it doesn't win the race.
The "place" bet is when you think the horse will be placed 1st, 2nd or 3rd, although this does complicate on occasions. If there are lots of runners in the race, bookmakers might pay out on the horse finishing 4th and even 5th or 6th. Whereas if there are less than eight runners, it is common that they will only pay out on the 1st and 2nd places. It is important to know these terms and conditions before placing a bet.
An example: You stake €5 each way on Red Rum at odds of 8/1. This means you are placing a €5 'win bet' and a €5 'place bet' on Red Rum. The race itself has 10 runners, so bookmakers are counting the 1st, 2nd and 3rd horses as being placed. They are also offering a quarter of the odds for place bets. 
Here are the three different scenarios for the bet:
Red Rum wins the race:

The €5 'win bet' you placed means your profit from this part of the bet is €40 (€5 @8/1).




You also won the 'placed bet' of the bet as your horse finished in top three. However, there was a greater probability of Red Rum finishing in the top three than there is of him winning the race, so you get shorter odds for the place part of the bet. In this case, you get a quarter of 8/1 which is 2/1. Therefore, for the place part of the bet your profit is €10 (€5 @ 2/1).




In total then, for the each-way bet, your profit is €50 (€40 from the 'win bet' and €10 from the 'place bet'). In addition, you are also given your stake back of €10, so the total return is €60.

Red Rum finishes 2nd or 3rd:

The bad news is that you lose the stake from your €5 'win bet' as the horse failed to win the race. The good news is that you won the €5 'place bet' as Red Rum was placed i.e. he finished in the top three.




As above, you get a quarter of 8/1, which is 2/1. Therefore, for the place part of the bet your profit is €10 (€5 @ 2/1). It breaks down as follows:




Win Bet: - €5

Place Bet: +€10

Your total profit is €5.

Red Rum finishes outside the top three:

This event is the worst result. You have lost both the 'win bet' and 'place bet'. You have lost the 'win bet' because Red Rum didn't win the race, and you have lost the 'place bet' because Red Rum did not finish in 1st, 2nd or 3rd.




In total, you have lost €10 on the bet.
Punchestown Races Betting FAQs
Here are some of the most frequently asked questions we receive about the Punchestown Festival.
Yes, but, as with all forms of gambling, there is risk involved. With nearly eight races a day for five days, it is wise to pick your battles and not feel compelled to have a bet on every race.
Tickets are not available for purchase at the time of writing, but they will become available on the racecourse website.
By bus: During the Festival, Marathon Coaches operate buses from Aston Quay in Dublin City taking crowds to the racecourse.
There is also a shuttle service run by Andy's Cab from outside Lawlors on Poplar Street and Ulster Bank South Main Street, both in Naas, each day of the Festival.
Customers can also take a Dublin Coach from the airport to Naas via the Red Cow Hotel.
By train: Irish Rail operate a service from Dublin's Heuston Station to Sallins, which is just outside of Naas.
Live coverage of the race will be available to watch for Irish viewers on RTE 2 and for Sky TV viewers on Racing TV. You can also follow all the news, details, updates, information, content, highlights and results from the track on Punchestown's Racecourse's social media channels, including Twitter, Facebook, Instagram, and Youtube.
Other Horse Races To Bet On