''The Truth'' Fight - What Really Happened
Jake Paul vs Tommy Fury was arguably the biggest celebrity boxing bout so far, with two cancelled dates in 2021 and 2022 setting up a mouthwatering clash between the YouTube personality and Love Island star on the 26th of February. Billed as "The Truth", the match-up took place in Saudi Arabia's Diriyah Arena, generating 800,000 PPV buys across BT Sport Box Office and other global sports channels. Fury was the better fighter on the day, winning by split decision after going the full eight rounds. 
Paul was hardly admirable in defeat, with the YouTuber since coming forward with several excuses. Nevertheless, nobody can deny his business acumen, as the young celebrity continued to rake in millions via his boxing and promoter business. Stay with us for an in-depth exploration of Jake Paul vs Tommy Fury. We'll go into detail regarding both fighters' careers before the fight, a comparison of their styles, and a comprehensive rundown of how the fight transpired in Saudi Arabia.
Check out the fight below:
Background information on Tommy Fury
Although Tommy Fury shot to fame due to his appearance on Love Island, and subsequent coupling with social media influencer Molly-Mae, he is also Tyson Fury's brother, lending significant weight to his overall boxing prospects. Born on the 7th of May, 1999, the Mancunian has had to deal with living in the shadow of one of history's best boxers over the past two decades. In many ways, his decision to take part in the 2019 edition of Love Island was something of a masterstroke. Fury had only had two professional bouts before he appeared on the hit TV show and was a relative nobody apart from his family connections. 
Tommy "TNT" Fury's first professional bout was against Jevgenijs Andrejevs, a seasoned journeyman with an outrageous 113 losses to his name. Not exactly the best match-up for a boxer looking to kick-start his career. The 18-year-old debutant won on a points decision before securing his first knockout against Callum Ide in his next fight, slowly gaining steam in the professional boxing world. Nevertheless, Fury was still far from being on most boxing fans' radars. An off-the-cuff remark about his good looks by trainer Ricky Hatton is said to have alerted ITV's Love Island bosses, who called the boxer after one of his gym sessions. He wasn't convinced, but after his upcoming fight got cancelled, the road was clearer to get involved.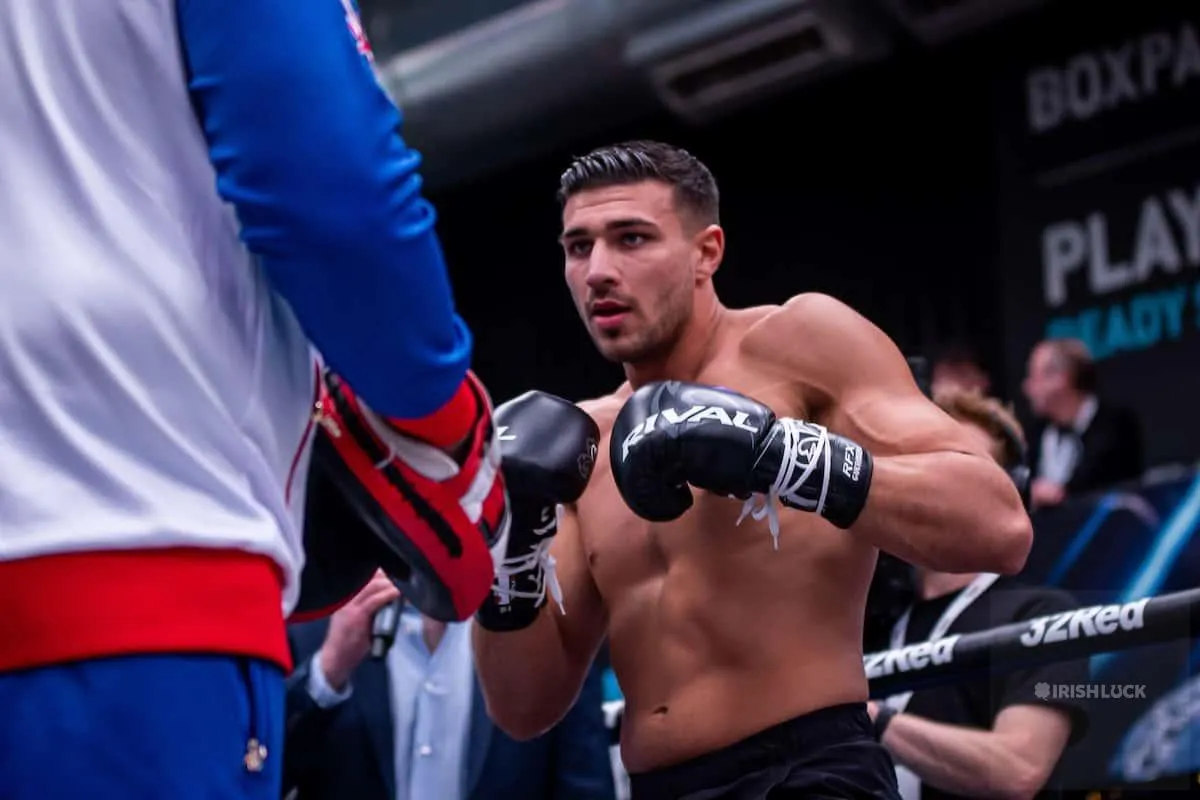 Tommy Fury prior to Fury vs Whytw for the WBC Heavyweight Title on April 19,2022 at Wembley Stadium in London. 
Suddenly, the Brit had access to millions of viewers, building up a loyal fanbase and striking up a romance with Molly-Mae Hague, his girlfriend and mother to his daughter. It well and truly thrust him into the limelight, generating untold opportunities in the social media and showbiz worlds. Interviews on programmes like Good Morning Britain followed, and Fury now has a reported net worth of well over £1,000,000. But it's a credit to him that he carried on with the boxing dream, although his father, John Fury, and half-brother Tyson, would have had a thing to say about that. This family was seemingly made for the sport, with skill not just in fighting, but also in making lucrative match-ups and gaining legions of fans. Tommy has already struck up a 9-0 record on the way to a dream World Champion opportunity somewhere down the line. 
Background information on Jake Paul
Jake Paul doesn't come from a boxing family like Fury, nor was he in any way associated with the sport before 2018. The Ohio-native shot to fame together with his brother on Vine before acting in the Disney series Bizaardvark for two seasons. Paul has also been through his fair share of controversies, with various criminal trespassing and unlawful assembly behavioural charges to his name. The YouTuber is undeniably one of the industry's most successful, ending 2018 in Forbes' list of the richest YouTubers in second position. An ill-fated foray into music after he left Bizaardvark in 2017 made way for other endeavours, but vlogging and comedy shorts have always been at the top of Paul's agenda. 
Or that's what everybody thought. His brother and popular YouTuber KSI competed in a boxing match in August 2018, with Jake appearing as the undercard fighting Deji, KSI's brother. "The Problem Child" (Jake Paul) won by fifth-round TKO with a damaging left uppercut to the jaw, although nobody really expected Paul to carry on with boxing. It took him more than a year to return to the ring, but this time it was a professional bout on the table, confirming the American's commitment to genuine cruiserweight boxing. Paul won by TKO inside the first round against AnEsonGib, a fellow YouTuber. By now, he had a taste for it, going on to fight six more times so far against a varied cast, including the retired UFC legend Anderson Silva.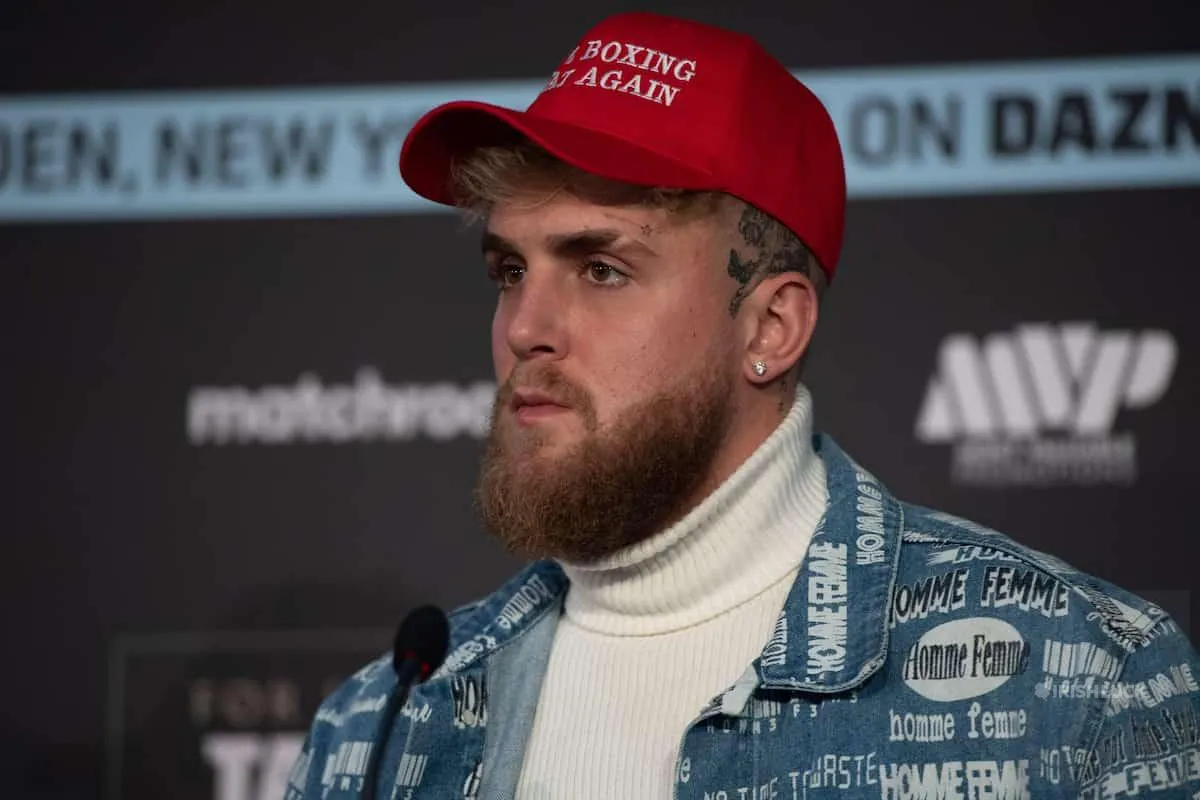 Jake Paul during a press conference ahead of Katie Taylor v Amanda Serrano fight at Madison Square Gardens in April 2022. 
Paul's feud with Tommy Fury has been going on for a few years now, originally starting after the Mancunian beat Scott Williams on the undercard of a Canelo Alvarez championship fight at the Copper Box Arena. The pair traded insults back and forth for the next year or so, also arranging two bouts that each had to be cancelled due to problems on Fury's end. Paul was, as you might imagine, quick to take advantage of the events, repeatedly accusing Tommy of ducking. It set up a highly entertaining grudge match, which was even recognized by the WBC. 
Comparison of Tommy Fury and Jake Paul
The Tommy Fury vs Jake Paul predictions were generally in favour of the professional boxer, although many people, including bona fide boxing legends, were quietly appreciative of Jake Paul's career so far. He definitely knew how to score a knockdown and was evidently putting his all into training during the build-up to the showdown. 
Both fighters are approximately the same height, with just one inch in it. Fury and Paul are also both orthodox boxers with just a few inches between their respective reaches. Apart from the obvious differences in their heritages and careers, the two were very finely matched. Still, with the Furys saying Tommy would effectively be disowned and have to give up the family name had he lost, there was far more pressure on the Brit to succeed. Check below for a more in-depth comparison of the highly anticipated Tommy Fury vs Jake Paul date.
Careers of Tommy Fury and Jake Paul
Fury went on a run of five knockouts between his second and fifth fights, gaining vital knowledge and a deeper understanding of how to start climbing the ranks of the professional boxing circuit. He fought three times in 2021, a year that proved to be his breakout, especially after appearing in the United States for the first time. After beating Anthony Taylor in Ohio, Fury made his Wembley Stadium debut in April 2022, winning on points against Daniel Bocanski. 
By now, the stage was set for the orthodox fighter's career to go to the next level. Standing at 6 ft 0 in and with an 8-0 record at the time, Tommy was starting to gain a reputation. What better opportunity to cement his credentials in front of a worldwide audience than be the one to beat the boxing upstart, Jake Paul? The pair had traded insults over the past couple of years, with two fights before the 2023 bout getting called off. The contest finally went ahead earlier this year, and it was the Mancunian who got the upper hand. 
But don't write Paul off as a boxer, as he had some notable successes during his boxing career before losing to Fury. While this was his first match-up against an actual boxer, the American had beaten six opponents in the run-up. After dispatching AnEsonGib with relative ease, Paul knocked out Nate Robinson in the second round and beat Ben Askren by TKO in the first.  A match against Tyron Woodley followed, which Paul won on points. In the rematch, he scored a sixth-round knockout named "KO Of The Year" by DAZN and ESPN. His last fight before Fury was against the retired UFC legend Anderson Silva, winning on a split decision points outcome, further solidifying his credentials as an actual boxer.
Notable Achievements of Tommy Fury and Jake Paul
The Jake Paul Tommy Fury press conference was full of insults and exaggeration, with each fighter bigging themselves up over their career achievements so far. Whether it was about money, girlfriends, or punching power, there were many things for the two to argue about before their grudge fight. 
Here are some notable achievements of Tommy Fury and Jake Paul:
Tommy Fury 
ABA Novice Championships 2014
England Boxing Elite Championships 2017
Love Island 2019 
9-0 Boxing Record
Jake Paul
Acted in Bizaardvark 
Launched Team 10 2016 
Featured in Forbes Highest-Paid Athletes 2022
7-1 Boxing Record
Match Analysis: Who Won the Jake Paul vs Tommy Fury Fight?
The build-up to the Jake Paul and Tommy Fury fight on channels like Sky Sports was feverish, as more and more boxing fans couldn't help but get drawn into the media circus. A collective hatred for Jake Paul, at least among British supporters, was definitely one of the main reasons. However, there was also curiosity on the part of people wanting to see how far he could go. In the end, Tommy Fury won the bout, but it definitely wasn't one-sided. In fact, one judge actually scored the fight 75-74 to Paul. The other two had Fury as the winner by 76-73, demonstrating how close things were. Even though Paul gained a knockdown in the eighth round, the end result was never in any doubt. The jury is out on whether this should count as a knockdown as well, as Fury was already slipping before the punch made contact. 
The referee had to pull Paul up on clinching a few times throughout the bout, especially in the fifth round, where he started to visibly tire. This resulted in a point deduction, which Tommy also suffered from in the sixth. Fury put on a relatively impressive professional boxing display, but there were many who were disappointed he couldn't score a knockout. His longer jab was one of the repeated highlights throughout the match, as he succeeded in keeping Paul at arm's length for much of the fight. Ultimately, you could tell who was the genuine professional boxer from childhood and who had only entered the sport a few years ago. Nevertheless, all credit to Paul for putting on a good show and still displaying some slick boxing. 
His post-match comments also seemed to confirm that a rematch would be on the cards: 
"All respect to Tommy, he won. Don't judge me by my wins, judge me by my losses… We deserve that rematch. I don't know that I agree with the judges. I got a 10-8 round twice...So, this is definitely a humbling experience. I'll take it on the chin and we can run it back."

All in all, the Jake Paul vs Tommy Fury fight delivered on its potential in some ways but fell flat in others. Fans didn't get the box office knockout some were hoping for, being treated to a fairly standard event when compared to other fights. Still, the feverish build-up and victory for Fury was enough to keep millions across the world happy.
Public Reception of Tommy Fury and Jake Paul
The public reception for this fight wasn't particularly favourable, with many hardcore boxing enthusiasts lamenting the attention a YouTuber and fighter at the very start of his career were getting. 
Jake Paul was a particularly divisive figure due to his loud and arrogant social media presence. The American consistently lauded himself as one of the best new boxers on the scene, even going as far as calling out certified legends like Carl Froch and Floyd Mayweather. He would wear his, at the time, 7-0 boxing record with pride, even though none of the people he came up against were actual fighters. In fact, only a handful had any kind of fighting experience at all. 
On the other side, Tommy Fury would routinely be pulled up on his Love Island appearance. Fans of his girlfriend Molly-Mae were also angry at the fighter for not being around to take care of their firstborn child. Nevertheless, he won some people in this camp over with his "Bambi" adorned boxing shorts.
Potential Rematch: Tommy Fury vs Jake Paul Confirmed?
It looks as though Jake Paul is keen to enact the rematch clause in the fight contract, so we may well get a rematch confirmed soon. Fury has also gone on record saying he'd also be keen, so it's up to the two to get a new contract signed.
Have You Found What You're Looking for?
Your feedback is paramount!