About Nitropolis 3 Slot Game
Make your way to a tropical beach for another adventure in the fantasy online casino world run by gritty Nitro animals. Escape the grasp of Sergeant Nitro Wolf in the Nitropolis 3 slot game. The Nitropolis 3 slot game is the third instalment in the popular series, and the city has never been more alive. A product of ELK Studios – this version of the game series has received a makeover, complete with high-quality graphics and exciting animations. This time, the studio has created a game boasting 6 reels and offering 4096 ways to win. Moreover, its columns can expand, offering an increasing number of ways to win (up to a million).
The online slot game also has an RTP percentage of 95%, allowing players to score maximum wins of 50,000x their stake. This ELK Studios game also has some enticing built-in features worth enjoying, enhancing the gameplay even more. These unique features include the bonus game, avalanches, Nitro Reel features, and much more. Players also play with wild symbols on the reels that help form wins. At the same time, redrop symbols also offer some extra assistance. This unique slot pays from both directions, providing many ways to win. Other additions also include Nitro Upgrade and Nitro Match.
Players are treated to the same comical icons accompanied by some new upgraded cartoonish symbols, visuals-wise. Another thing worth mentioning is the matrix, which appears to be a machine of sorts with a backdrop featuring a beach with toxic waste. On top of this, the slot features a funky music score with funny animal sounds. Although the game seems complex, it is optimised for mobile play. Additionally, you play the game in demo mode to familiarise yourself with it and practice spinning on its reels before using real money.
Overall, Nitropolis has plenty of enjoyment to offer. Read our in-depth review to learn more about this fun game, from its release to its features.
Nitropolis 3 Free Play 
Try this slot game by Elk Studios for free today! The game's demo version is available for free play below: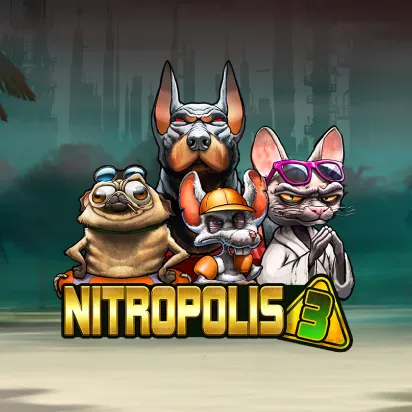 How to Play Nitropolis 3 Slot Game
To begin a round in the Nitropolis 3 slot game, head to the white circle featuring a pulsating arrow and select it. After this step, the 6x4 grid will begin to move. Of course, you might want to look at all your betting options before you begin. You may press the coins to the left to see these options – starting from €0.2 and ending with €50. To use the auto-spin feature, you will find the "auto" sign in the top right corner. That feature lets players choose the number of automated plays from ten to a hundred.  You may also refer to the paytable by clicking on the hamburger menu icon on the opposite side. That same button will also show you the game's settings, rules, promotions and whatnot.
Play Nitropolis 3 For Real Money
Ready to play for real money? Check the best online casinos rated by the experts at IrishLuck, where you can play the Nitropolis 3 slot game for real money.
Rank
Casino
Bonus
Pros
Secure Link
Pros & Cons of the Nitropolis 3 Game
Pros
✨ Popular Slot Game
🤑 Possibility To Win Big
💰 Bonus Rounds
Cons
💭 Might Be A Bit Overwhelming At First
Nitropolis 3 Theme
With a post-apocalyptic theme, as mentioned, the Nitropolis 3 slot game is the third game in the series after Nitropolis and Nitropolis 2. According to the story, the Nitro gangs were overpowered by Sergeant Nitro Wolf and were left with no choice but to jump into their trusty blimp and escape the city of Nitropolis. To continue their lifestyle, they have headed south towards a tropical beach with Nitropolis not too far behind. The backdrop features a deck chair, palm trees, a beach umbrella, a lifeguard's hut and a few nuclear waste barrels. The game features an upbeat soundtrack with a more cheerful feel compared to the ones featured in the previous instalments, with comical animal sounds in between.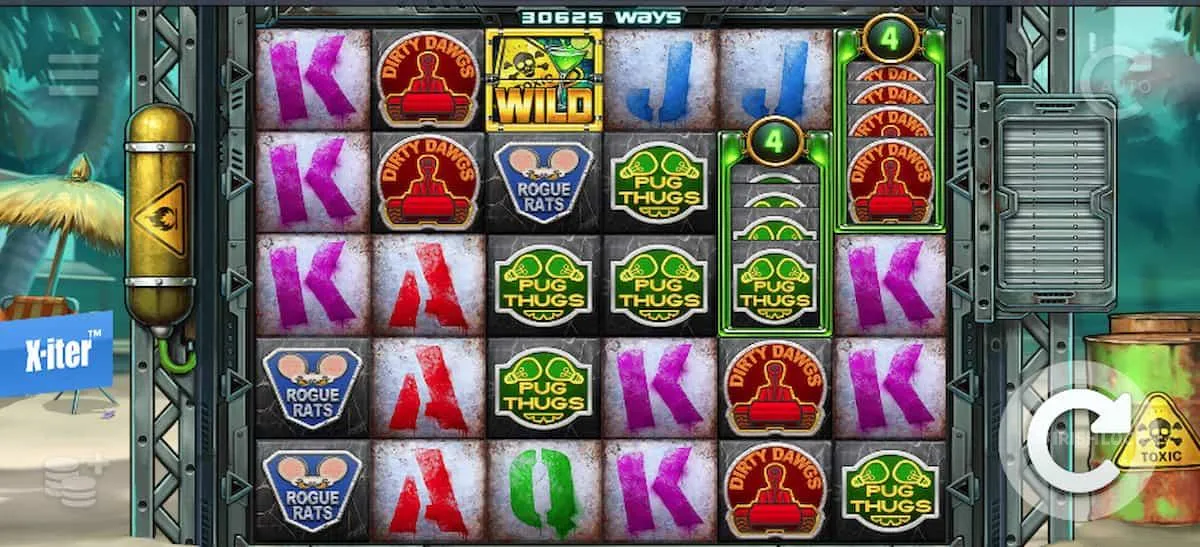 Symbols and Payouts
The slot comes with a paytable featuring twelve symbols. Although they appear different and their number is high, you can win with them the same way, i.e., by landing three to six identical symbols on adjacent reels. On the six reels of the slot, you will find various symbols. The first four are active and denoted by playing card additions with low-value red A, violet K, acid-green Q, and blue J royals. Next, come the medium value symbols, which are varying patches. These symbols include the logos for the Rogue Rats, the Pug Thugs, Gritty Kitty, and the Dirty Dawgs. Each division needs its own representative, of course.
The chief of the four clans symbolises the higher-paying symbols. Ascending in value, you will find the Rat Boss, the Pug Boss, the Kitty Boss, and the Dawg Boss. The Dawg Boss acts as the highest paying symbol, offering 1.5, 3, 4, or 5x your stake for 3, 4, 4, or 6 winning combinations. A wild symbol, denoted by a toxic sign and a poisonous-looking cocktail, replaces all the symbols except for the bonus and super bonus, redrop, both ways, and Nitro feature symbols.
| Symbol | Payouts |
| --- | --- |
| A | 3, 4, 5, 6 - 0.1, 0.15, 0.2, 0.3x bet |
| K | 3, 4, 5, 6 - 0.1, 0.15, 0.2, 0.3x bet |
| Q | 3, 4, 5, 6 = 0.1, 0.15, 0.2, 0.3x bet |
| J | 3, 4, 5, 6 = 0.1, 0.15, 0.2, 0.3x bet |
| Rouge Rats | 3, 4, 5, 6 = 0.15, 0.25, 0.4, 0.8x bet |
| Pug Thugs | 3, 4, 5, 6 = 0.15, 0.25, 0.4, 0.8x bet |
| Gritty Kitty | 3, 4, 5, 6 = 0.2, 0.3, 0.5, 1x bet |
| Dirty Dawgs | 3, 4, 5, 6 = 0.2, 0.3, 0.5, 1x bet |
| Rat Boss | 3, 4, 5, 6 = 0.5, 1, 1.5, 2x bet |
| Pug Boss | 3, 4, 5, 6 = 0.75, 1.5, 2, 2.5x bet |
| Kitty Bosss | 3, 4, 5, 6 = 1, 2, 2.5, 3x bet |
| Dawg Boss | 3, 4, 5, 6 = 1.5, 3, 4, 5x bet |
| Wild | Replaces all the symbols above |
| Blimp Bonus Scatter | 3+ activates the bonus game |
RTP, Details, and Wager Limits
As mentioned, the Nitropolis 3 slot game begins with 6 reels and 4 rows, offering 4096 ways to win. You can create wins by landing 3 or more identical symbols on adjacent reels, starting from the leftmost reel (reel one). Symbols may land on the reels in any position but must be on successful reels. Bets on this slot range from €0.2 to €50 per spin, with the maximum win lower than the usual €100 a spin ELK Studios offers.
The game features a "Coins" icon at the bottom of the screen, which displays all twelve available bet options. Head to the "Settings" tab to turn on Quick Play. As mentioned, there is also an auto-spin facility. The last two extras are not accessible to UK-based players. Like all the recent ELK Studios slot games, the Nitropolis 3 features an RTP is 95%. This is under the 96% slots average. The volatility for this slot is medium to high (7/10). Its wins land on average every 5.2 spins. The hit frequency rate for Nitropolis 3 is 19.2%. As far as payouts go, the max win/exposure for this slot is 50,000, the player's bet. That makes Nitropolis 3 the best-paying slot in the ELK Studios catalogue. The previous slot, Nitropolis games, offered 10,000x stake max wins.
Nitropolis 3 Mobile Play
ELK Studios is a mobile-friendly provider and their games are readily available on mobile to play on the go. That means players can play the slot game on iOS, Android, and Windows mobile devices. Metropolis 3 is also available for instant play via mobile browsers, so you do not need to install anything on your device to play it. It is also available on tablets, laptops, PC, and Mac gadgets.
Nitropolis 3 Bonus Features
Nitropolis 3 features eleven bonus features. With an avalanche feature and an increasing number of ways/rows to win, there are big symbols as well as Nitro Reels. Nitro Reels add additional 1x1 or 2x2 symbols that can boost the number of ways to win up to a million. With Nitro features improving your gameplay experience, free spins also cause the number of ways/rows to win to increase. The Super version lets you play the maximum 8 rows, and both ways pays. Below are the bonus features discussed in detail:

Avalanche Feature
The Avalanche feature is activated when you land a winning combination. All symbols in the winning combination explode, leaving room for new symbols to drop from the top. An extra row of symbols is added during this time, which continues to happen until the maximum of eight rows is visible. The more rows you get, the more ways the game offers to win, going up to 262,144 ways. Another winning combination can set off another avalanche, which continues until there are no more ways to win. The avalanche feature then continues you are left with no more winning combinations. After this feature round ends, you play on the default area, i.e., 6 reels and 4 rows with 4096 ways to win.

Big Symbols
All symbols may land in different sizes during your spins, i.e., 1x1, 2x2, 3x3, or 4x4. For instance, if you land a 4x4 Big symbol on the reels, it will be equal to 16 symbols. In another example, landing a 3x3 symbol will be equal to 9. This symbol increases your chances of landing a win. Other than that, the low, medium, high, and wild symbols may land within these big symbols.

Nitro Reels
Similar to the previous Nitropolis slot games, this instalment also has a Nitro Reels feature. While spinning, you can land small Nitro Reels that cover 2 symbol positions. These include 4, 6, 8, 10, or 12 1x1 paying symbols. You may also land big Nitro Reels, which contain 2, 3, 4, 5, or 6 of the same type of symbols where the symbols equal 2x2.

Once the super scatter symbol finally spins out, the number of ways to win will return to the previous amount. When a win consists of Nitro Reels, they respin to the incoming avalanche. Essentially, this offers more ways to win. You get up to a million ways to win. Furthermore, you can see the various ways to win above the reels for every spin.

Nitro Features
You can set off various Nitro Features during the game, where all the landed symbols activate them – but before the payout. Once a Nitro feature has been activated, it may turn into a wild. If this wild comes with a win, it will again turn into a Nitro feature. Below is some information on all of them.


Redrops: Redrop symbols cause the bonus and Nitro feature symbols to stick, while the Nitro Reels respin.
Both Ways: All the player's active winnings are paid from left to right and right to left (double payouts).
Nitro Match: Once the Nitro Match symbol lands, all the Nitro Reels on the same and the adjacent reels are matched with an adjoining paying symbol.
Nitro Upgrade: Once the Nitro Upgrade symbol lands, the Nitro reels, which are found on the same and adjoining reels, upgrade, and additional symbols are added to the Nitro Reels.
Nitro Wild: Once the Nitro Wild symbol lands, all symbols in the Nitro Reels on the same and adjoining reels get replaced by wilds.

Bonus Game
You can activate the Bonus Game feature by landing 3, 4, 5, or 6 Blimp Bonus Scatters. This offers 8, 12, 16, 20 free spins in that order. You can reactivate additional free spins during this game, and all Nitro Reels become sticky throughout this feature. They stack on top of one another whenever a new Nitro Reel appears. You can also participate in a Safety Level Feature where each winning spin causes the rows to increase by one, where they can go up to 8 rows and not reset in between the spins. This means the ways to win/number of rows will not drop below the "safety" level.
With a retrigger for up to 40 free spins available, activating the Bonus Game feature via the Blimp Bonus Scatters and the Blimp Bonus Scatters combined activates the Super version. This significantly improves your payout potential since you can play on 8 rows with the Both Ways feature activated.

X-iter
The X-iter feature lets you take advantage of any feature immediately. This may cost you between 2 and 500x your stake. Note that this feature is not available to UK players. Below are the options available:

2X (Boosted Bonus Chance): This more than doubles your chances of activating the bonus game.
10X (Big Nitro Reel): This guarantees 1 spin with a big Nitro Reel.
25X (Nitro Match and Both Ways): You can activate with Nitro Match, and Both Ways pays.
100X (Bonus Game): This lets you trigger the bonus game with sticky Nitro Reels and free spins.
500X (Super Bonus Game): You can use this to activate the Super Bonus Game with sticky Nitro Reels, Both Ways pays, and free spins.
Experts Verdict 
Overall, the Nitropolis 3 slot is more impressive than its two predecessors. With various modifiers, fantastic graphics, incredible bonus features, immersive gameplay, and much more, the game has great potential for those interested in playing. Moreover, the 50,000x your bet further proves that potential.
FAQs
Is Nitropolis 3 mobile-friendly?
Yes. This slot game comes from a mobile-first developer and is playable on any device.
What is the max win with Nitropolis 3?
The maximum win per spin playing Nitropolis 3 is 50,000x stake.
Metropolis 3 is a certified game that uses RNGs, ensuring random results.
More Slots
Have You Found What You're Looking for?
Your feedback is paramount!