Play MyStake Chicken Game For Real Money
Mini-games are one of the categories of casino games that have received much attention from online casino players in recent years, and the Mystake Chicken game is one of the latest additions to this collection. The Chicken Game is a popular intense action mini-game created by UpGaming exclusively for Mystake Casino. Play this game for real money by signing up by clicking on the visit button below.
Bonus Package up to €1,500
+ Special Crypto Bonuses & Cashback
Visit
Like most mine-like games, this one comes with simple yet exciting gameplay. In this popular "game of chickens and bones," uncovering chickens bring winnings while the bones mean game over. The game has a high RTP and a wide betting range, making it an ideal option for casual players and high-rollers.
Read on to learn more about this exciting game.
MyStake Chicken Game Basic Details
💸RTP
99%
➖Minimum Stake
€0.20c
➕Maximum Stake
€1,000
How the Chicken Game Works
As mentioned earlier, the Mystake Chicken game has simple gameplay and is easy to understand. You will immediately find a 5x5-format grid filled with 25 metal dome-covered plates when you first open the game. Under each of these 25 plates, you will find either a chicken or a bone. The goal of this game is to uncover as many chicken plates as you can without revealing any of the plates that contain a bone.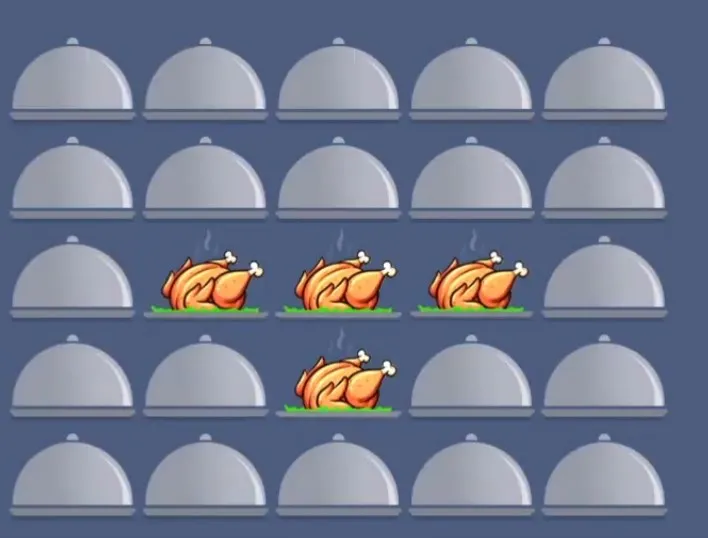 The more chicken you find, the bigger the winnings will be. Naturally, when you uncover a bone plate, the game will end, and you will lose any of the winnings you may have gotten during the round and the initial bet. So, you can either pick a few chicken plates and cash out your winnings or risk it all to try and find all the chicken plates without uncovering any bone for the maximum payout.
Multipliers
What makes this game all the more exciting is that players get to decide the difficulty level of each round by selecting how many bones will be included in the 25 covered plates. Before starting the games, you can choose between only one bone and having hidden 24 bones. As you might have expected, the number of bones that a player includes in any round affects the game's payout during that round, and the multipliers show this. 
These multipliers vary depending on how many bones and chicken are in play, from 1.03x for a single bone to 24.75x for all the 24 bonuses. The more bones you include in the game, the higher the multiplier used for your payout. Naturally, since the chances of uncovering a bone increase as you continue to play, the multipliers also improve to reflect that, with the potential winnings increasing with every chicken you successfully uncover. Hence, if you manage to uncover all the chickens without revealing any bones, you will win the jackpot.
Chicken Out at Any Time
Aside from having fun while playing, many players play online casino games to get as many winnings as possible. This game provides the opportunity to do just that. However, hitting the jackpot with this game is not a breeze. The more chicken you reveal, the higher the chances of revealing a bone, especially when there are many bones in play.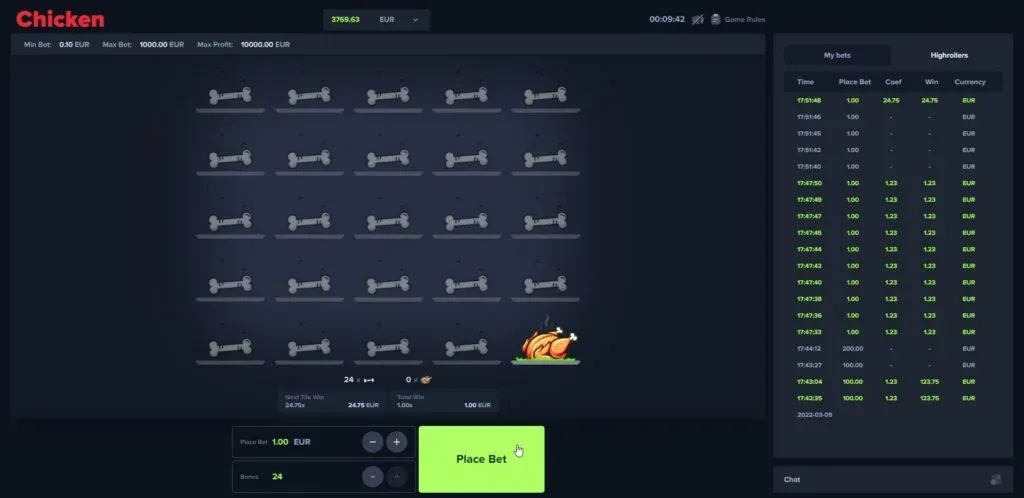 The beauty of this game is that, like most mini-games, it presents players with the chance to stop playing and cash out their winnings at any point in time. So, if you don't want to take the chances of uncovering a bone at any point in time, you can chicken out and collect your winnings.
MyStake Chicken Games Hits and Misses
No sooner did this game launch than it became quite popular amongst casino enthusiasts, especially fans of mini-games. This is because the game comes with many features that players can enjoy. This section of our review of the Chicken game will cover some of the hits of this game that make it so popular with players. We will also list a few of the disadvantages of the game.
Pros
Simple gameplay
Extremely high RTP
Players can determine the difficulty level of the game
Players can win up to €10,000 in one game round
A perfect betting range for casual players and high-rollers
Cons
Gameplay can be boring
No in-game features or bonus rounds
Exclusive to MyStake Casino alone
Minimum and Maximum Bet
One of the biggest advantages of this game is that it provides players with the opportunity of choosing from a wide range of betting options. The minimum bet you can place on each game round is €0.20, and you can play up to the maximum of €1000, which makes this game a great fit for casual players and high-rollers alike.
RTP and Volatility
Another important thing to note about the Mystake Chicken game is that its unique gameplay has a rather high theoretical return to player percentage (RTP) that ranges between 97% and 99%. As a result, this game has the potential to help players gain a lot of winnings consistently over time. 
When it comes to the game's volatility, the ball is in your court as the player. By deciding how many bones you want to be included in the game, you directly decrease or increase the level of intensity of the game, which also affects how often you will win and how big or small your payout will be.
Where Can I Play the Chicken Game?
Unlike most mini-games that you might have come across, the Chicken game is an exclusive Mini game created by UpGaming for Mystake Casino. The game is exclusive to Mystake casino and is not available at any other gaming site online. You can find the game in the casino's "Mini-Games'' section and a few other exciting mini-games that you can enjoy.
Mystake Chicken Mobile Gaming
As advances in mobile development keep improving, mobile casinos have become a must-have trend in the iGaming industry, and the Chicken game is not left out. You can easily play this game on any device you like, whether from your PC or mobile tablet/smartphone. The best part is that the game is compatible with all modern mobile devices, including Android, iOS, Windows, and other OS smartphones and tablets. All you need to do is load up the game on the Mystake Casino website through your device's web browser, and you will be good to go, anytime you like, no matter where you are.

Chicken Game Bonuses
Another exciting feature of the Chicken game is that Mystake casino provides bonuses and different promotional offers that Irish players can use to play the game. The casino currently offers an exclusive welcome bonus package of 100% up to €500 tailored towards the Chicken game and the other mini-games available on its platform.
Closing Thoughts
The Mystake Chicken game is an interestingly simple mines-like game that is absolutely fun. Besides being very simple and intuitive to play, the Chicken game can also be profitable, allowing Irish players to win big payouts. The ability to change the number of bones in play, which also makes appropriate adjustments to the game's intensity and win multipliers, is undoubtedly a big advantage to players. If you don't want to risk losing your winnings, you can chicken out at any time and collect the payout you have gathered at that point. Will you keep playing for bigger wins or chicken out? Play the Chicken game to find out.
MyStake Chicken Game FAQs
How to play the Chicken game
Mystake Chicken game is a fairly simple and easy casino game. Under 25 covered plates are chickens and bones. To increase your multiplier and payout, you must uncover as many chickens as possible. Once you uncover a bone, you lose the round.
Is Mystake Chicken Game a reliable game?
Yes. Like most online casino games, Mystake Chicken is built on a random number generator system, ensuring that every round's result is fair. As such, the game is not rigged and is based on chance.
Is it possible to play the Chicken game for free?
Sadly, no. The Mystake Chicken game was only available for real money play at Mystake casino at the time of this review. This means that it is not available in demo mode and cannot be played for free.
What is the RTP of the Chicken game?
The Mystake Chicken game has a theoretical RTP that ranges from 97% to 99%, depending on the intensity of your game.
Can I always win the Chicken game?
Although the Chicken game allows players to increase their winning chances by reducing the number of bones in the game, it is still a game of chance. Even if there is only one hidden bone, you can still end up uncovering it instead of a chicken.
What are the minimum and maximum bets for the Chicken Game
You can play the chicken game from as low as €0.20 to as high as a whopping sum of €1,000, making the game an ideal option for casual players and high rollers.
Where can I play the Chicken game?
The Mystake Chicken Game is available to be played exclusively at Mystake Casino, an impressive online casino that provides casino gaming services to players in Ireland and beyond.
More Slots
Have You Found What You're Looking for?
Your feedback is paramount!