Helloween Slot
Zombies, skeletons, bats, witches, and owls, Helloween takes the scary feeling from a jumpscare to losing your money. Playing Helloween slot machine online is a great idea because of all the bonuses it offers. This game is also great for an audience beyond Helloween fans thanks to features like free spins, stacked wilds, and multipliers. Play'n Go's Halloween slot machine was inspired by the German power metal band of the same name. Fans of the band should check out this slot machine since it is a wonderful tribute to their favorite band and it features some of its most popular songs.
Play for Free
How about test-driving the Helloween slot game? Try it out in demo mode now!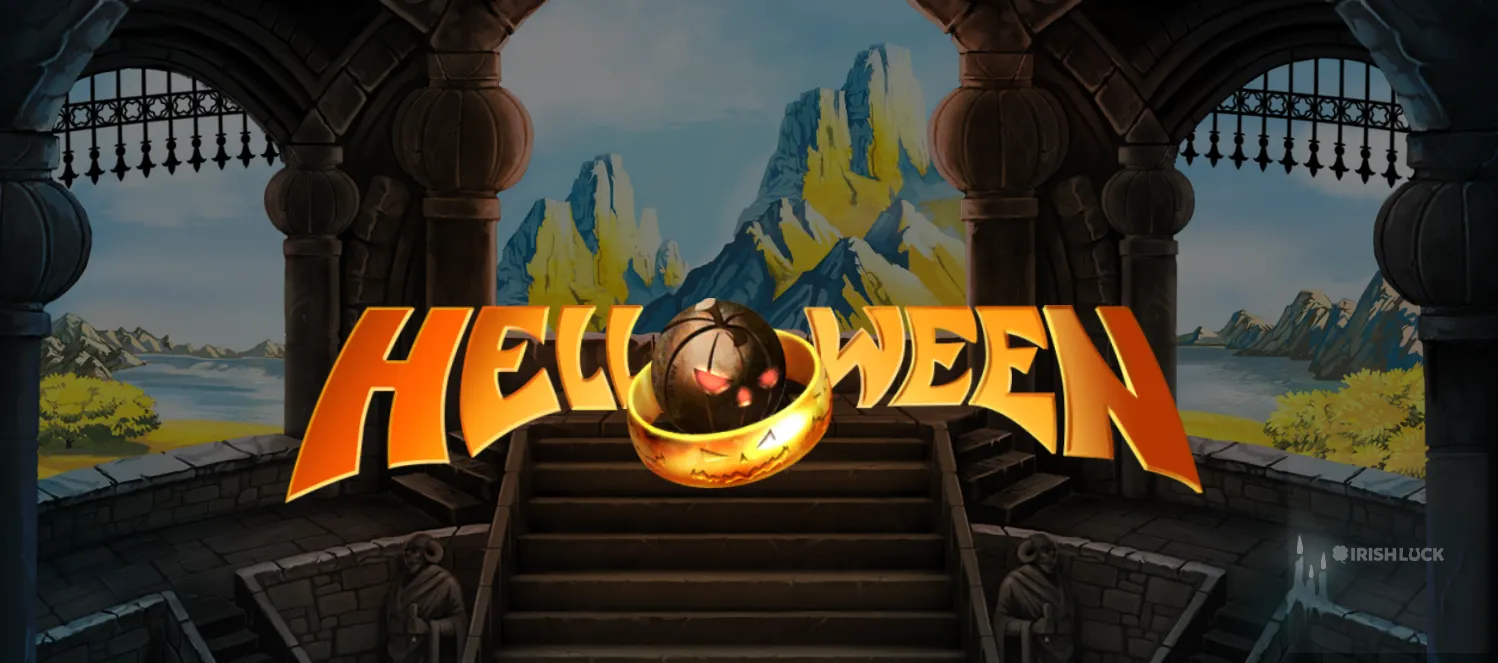 Play Helloween For Real Money
Browse through the selection of hand picked Irish online casinos and play for real money today!
Rank
Casino
Bonus
Pros
Secure Link
Helloween Pros & Cons
Pros
🎁 Bonus rounds with a wide variety of features
☠️ A manageable amount of danger
😈 Intensely thrilling right up until the final frame, thanks to the Helloween Multiplier
Cons
🥱 There is too much waiting around
🙄 Identical alterations within each bonus feature
About Play'n GO
Play'n GO is a software developer who blends rock and roll with traditional slot machine gameplay. The repertoire includes such classics as Twisted Sister, Annihilator, and the terrifying House of Doom. The realm of heavy metal similarly influences their newest episode.
Features 
If the name "Helloween" throws you off, know that the odd-looking 'e' is actually pretty accurate; this is not about the Halloween October holiday, but rather the German power rock band of the same name. However, the band's love of the macabre means that the horror motif is very much alive and well, and the symbols reflect this with severed hands and other gore.
The game has a medium volatility, a 0.10c minimum bet, and a 94.2 percent return to player (RTP), despite its edgy visual style and brash soundtrack. This stipulation makes it accessible to all players and ensures a fair distribution of both wins and losses along with consistent payouts. There are 10 fixed paylines and 5 reels in Helloween, making it a fairly standard slot machine. 
One of the best reasons to choose Play'n GO slots like the Helloween online slot is that they give you a vast variety of bets to select. With a minimum bet of 0.10 credits and a maximum of 100, it should be easy for you to find the right bet for you.
Theme
Playn GO's Helloween is a slot machine based on a rock music and horror theme. It features music from the German heavy metal band and depicts ghosts, ghouls, mystical pumpkins, and guitar-playing jack-o'-lanterns. There are seven bonus games, multipliers, expanding symbols, and a jackpot worth five thousand times the player's wager.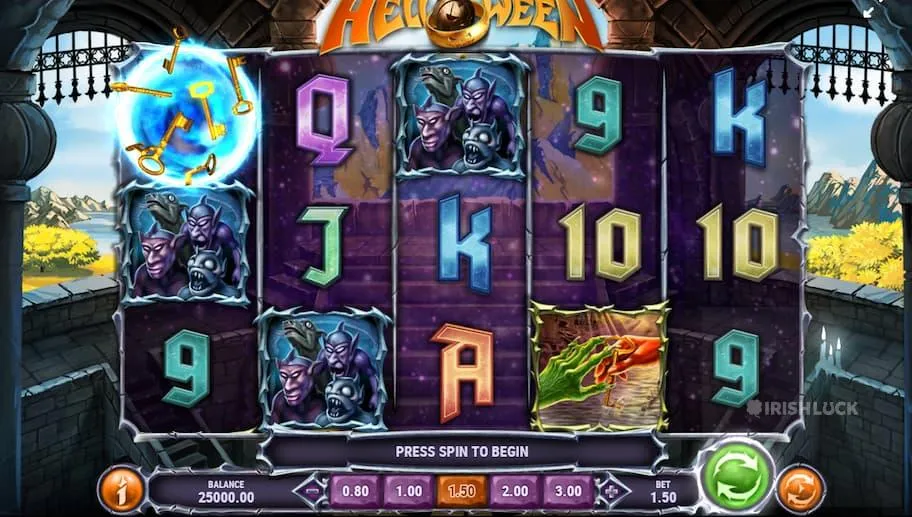 Gameplay 
The slot machine has a 53 grid and 10 predetermined paylines. All four of the highest paying icons are associated with Halloween: four Creeps, a Sorcerer holding a glass sphere, a set of hands, and a Golden Ring depicting a Pumpkin face. The 9, 10, J, Q, K, and A are the low-paying symbols. The Pumpkin signs act as both a Wild and a Scatter.
How To Play
While the standard version of the Helloween Fever video slot features 10 paylines, the free spins bonus game adds an additional win mechanism that may be activated at any time. In the following sections, we'll delve into that topic. There are five reels and three rows to choose from. This game's mechanics are child's play. After deciding how much to wager, you can begin playing.
The slot's total betting range of €0.20–€50 is suitable for gamers with little funds. That's not necessarily appealing to high rollers. The total wager is equal to the sum of all line bets multiplied by the amount wagered on each line, while line bet winners are multiplied by the line bet.
Three or more identical symbols in any position on the reels and a corresponding payline result in a payout. Symbols can only appear on neighboring reels, and they must begin on the leftmost reel and move to the right.
Symbols and Payouts
It's only fitting that the Helloween Fever slot machine features a variety of frightening and sinister icons, as suggested by the game's title. The game's wild symbol is represented by the tombstone and pays out at 9,000x, 2,500x, 250x, and 10x your line bet, while the carved pumpkin scatter symbol pays out at 750x and 75x your wager. If you get five symbols, you win five times your wager; get four symbols, and you win two times your wager.
Payouts for five of a kind, four of a kind, three of a kind, and two of a kind of the dead queen or werewolf are 750 times, 125 times, 25 times, and 5 times your wager per line, respectively. If you get five ghost symbols on a payline, you'll win 400x your wager, and if you get four or three, you'll win 100x or 20x your bet, respectively.
The rose and the skull are the next symbols on the reels, and they both pay out at the same rates of 250, 75, and 15 times your bet per line for 5, 4, and 3 matching symbols, respectively. The payouts for the A and K are 125x, 50x, and 10x the line wager, respectively.
When you get five Q or J symbols in a row, you will win 100 times your line wager, 25 times with four, and 5 times with three, respectively. Lastly, a combination of 10 and 9 pays out 2x your stake per line, just like Q and J do for a pair.
Helloween Slot Bonuses
The Helloween slot game includes a whopping eight different online casino bonus features for players to take advantage of. One of them is an irregular multiplier feature, and the other seven can increase your chances of winning through various wilds and free spins in varying combinations.

Wilds
The wild card in this Halloween-themed slot machine is represented by none other than Jack O'Lantern himself. It acts as a substitute for any symbol that can result in a payout, as is customary, but during the bonus rounds, you'll see more of him in a variety of guises.

Scatters
In Helloween, scatter symbols play a very important role in the activation of the game's primary bonus round. They take the form of a swirly sphere and contain seven keys that can be used to activate the Keeper of the Seven Keys feature wheel. During the Keeper of the Seven Keys feature wheel, you will have the opportunity to initiate one of the seven extra rounds.

Seven Bonus Features
You will receive 5 free spins from each feature, with the exception of the Helloween Free Spins.
The features are:


I'm Alive - Sticky expanding wilds that can cover an entire reel in their upward or downward expansion during a bonus round. Once the reels are filled, they vanish.
Future World - In the Future World, the Wilds grow to the size of guitar-playing pumpkins and cover the entire reel.
Eagle Fly Free - Every time you use a free spin, a wild flies in on eagle's wings to land on the reels. All through the feature, it will be visible, however its location will shift between rotations.
Dr. Stein - A crazy doctor, personified here as a pumpkin, named Dr. Stein, will pick any royal symbols and make them wild.
In March of Time - Walking wilds appear and advance to the left by one position after each spin, disappearing entirely when they reach reel 1.
I Want Out - In this case, the wildcards cover a larger area of 2 by 2 symbols.
Helloween Free Spins - This unlocks the Keeper of the Seven Keys extra wheel and grants 7 free spins, during which scatter symbols can unlock it again.

Helloween Multiplier
Put the most important things at the end. That is most definitely the case with Halloween. At the conclusion of the round, you will find out if the multiplier applied to your free spin win is 2, 3, 5, or 10. For instance, a win of 50 times can become a win of 500 times!

Watch for Pumpkins Galore
A crucial component of the Helloween slot machine is the pumpkin wild. Upgrades to this symbol during free spins can make it do more than just act as a substitute. Free games are triggered by getting three of the scatter symbols anywhere in the base game. For this, not only will free spins become available, but also a spin of the wild selector. For every pumpkin feature that goes off, you'll get 5 more spins.
All of these wacky extras provide some variety to the reels. Wilds that remain in position, move from reel to reel, grow to fill an entire reel, or morph into colossal symbols are all examples of this. The Helloween slot machine has every possible feature involving wilds that you can imagine.
Even if that weren't enough, this slot has one more trick up its sleeve. Following the conclusion of the bonus round, the multiplier function may be triggered at random. Therefore, a win multiplier of 2x, 5x, or 10x could further raise all of your free spins bonus winnings.

A Set of Spooky Reels
The lower-value symbols that have been chosen for this slot machine are ones that more experienced slot players are likely to be familiar with. These symbols include the 9, 10, J, Q, K, and A. Higher-worth symbols are exclusive to this game and contribute to the overall fantastic experience that it provides. They consist of a clairvoyant, a golden ring, a pair of hands, and a group of gargoyles. The wild symbol is a pumpkin that is smiling, while the scatter is a set of keys that are lit up.
RTP & Volatility
The Return to Player (RTP) for Helloween is 96.2%, which is approximately the average. It's not terrible, but it's not anywhere close to being in our top 25 most lucrative slot machines. Regrettably, even the most reputable online casinos offer this game at percentages that are substantially lower than those advertised. It is in your best interest to familiarize yourself with the game regulations before you begin.
Paylines
Paylines: 10
Highest Payout
On Helloween, the highest possible win is equal to 5,000 times the total bet.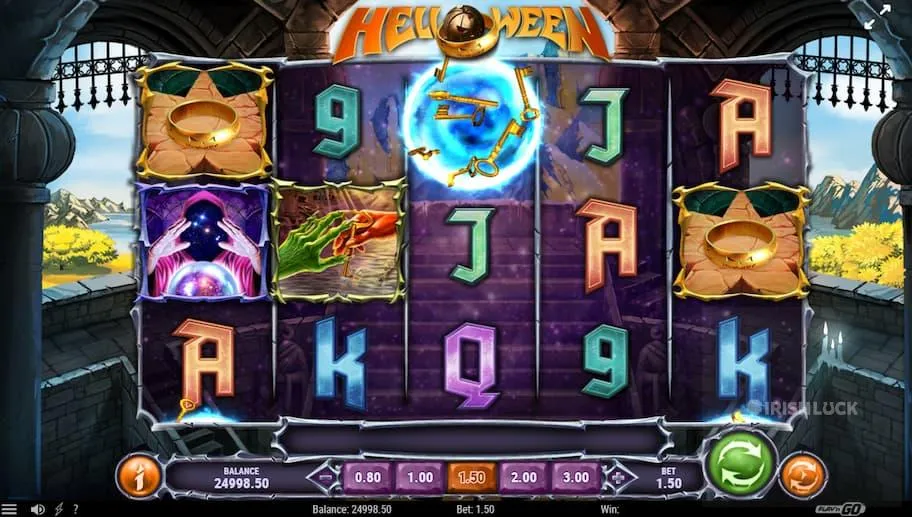 Maximum Bet
You can choose to be rolling in it and have a ton of cash at your disposal for various activities. If you have a sizable bankroll, you should feel confident placing bets of more than €5 every spin.
Minimum Bet
The best minimum bet for you to make are those that range anywhere from €0.20 to €5 in value. You may still have fun playing slots this way without having to worry about losing everything in a matter of minutes.
Our Verdict
The heavy metal fans who enjoy Play'n GO's other thrashing slot machines, such as Saxon and Twisted Sister, will love Helloween. As there is a lot of spooky stuff going on, it will also be fun for players who enjoy Halloween and horror themes in general. The slot's medium volatility and ten paylines may seem mild in comparison to the rowdy theme, but this more approachable side makes up for the fact that the intense atmosphere may put off aficionados of mellower beats.
The Helloween Free Spins bonus is the best way to increase your chances of winning the 5,000x stake jackpot; it awards seven free spins and an additional spin on the Feature Wheel. The amazing pumpkins who play the guitar are reason enough to give Helloween a shot.

FAQs
Can I play the Helloween slot machine for free online?
Yes, The Helloween slot machine game is available to try without spending a dime on our website. Simply scroll up!
Where can I play the Helloween online slot safely?
Before signing up with any online casino, safety should be your number one priority. Use a reputable online gambling establishments like wild casino where you may play Helloween and other games without worrying about your personal information being compromised.
Will the Helloween slot work on my mobile?
Yes. You should be able to use your smartphone to access some of the greatest mobile casinos and play the Helloween slot machine at such sites. This game has been tweaked and improved to work perfectly with mobile phones.
Who made the Helloween slots game?
Play'n GO is responsible for developing the slot machine known as "Helloween". They are a top software provider that is responsible for the creation of many other incredible games such as Ankh of Anubis and Cash Vandal.
More Slots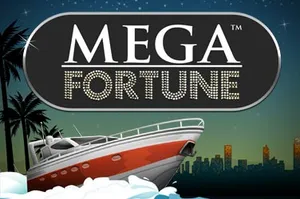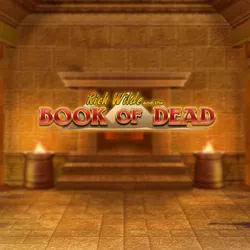 Have You Found What You're Looking for?
Your feedback is paramount!