Fruit Shop Slot
Arguably, one of the most sought-after online casino games online today is classic fruit slots. Classic fruit machines, which have been in the iGaming industry as far back as one-armed bandit machines, and still remain popular today. There is a reason for this, and Fruit Shop is a great example of why classics are one of the best games. Fruit Shop has been a favourite choice at most online casinos since it was released in 2011, and it has even spawned Christmas, and Megaways spins offs.
So, let's have a look at what this game is all about.
Repayment percentage
96.7%
Play Fruit Slot for Real Money
Rank
Casino
Bonus
Pros
Secure Link
Fruit Shop Basics 
Fruit Shop is an online slot game by NetENt with a classic fruit theme. The game comes with the standard reel setup, which features 5 reels and 3 rows and 15 fixed pay lines. Fruit Shop captures the essence of classic fruit slot machines and mixes it with modern design and style, creating a superb game perfect for all sorts of players.
As such, the game comes with eye-catching designs and graphics that put players in an upbeat and summery mode. When it comes down to gameplay, Fruit Shop keeps to its classic vibe and features simple gameplay without complicated or complex features.
However, it does have a few exciting features that include wild substitution and a unique free spins feature, both of which add a 2x multiplier to winnings.
RTP & Volatility
One of the many things that most gambling enthusiasts note before playing on a slot machine is the return to player (RTP) percentage and the volatility that comes with the game. This is because these two features are often an indicator of how players would fare when they play a slot online.
That said, Fruit Shop has a 96.71% RTP, which is quite high. This means that for every €100 you wager on the game's reels, you can expect a return of about €96.71. 
However, you should note that the RTP is always theoretical, and is calculated over millions of spins. So, while you may not necessarily see the effect of this RTP immediately, it shows over a longer playing session.
When it comes to volatility, Fruit Shop comes with a low to medium variance, which means that the possibility of getting frequent payouts from the game is quite high, although the payouts will often be in smaller amounts.
Minimum and Maximum Bets
One of the best attributes of the Fruit Shop slot is that the game is perfect for casual players who are just looking to have fun and for high rollers interested in high stakes. 
This is, of course, due to the flexibility in the available bet sizes, which accommodate both types of players. And when it comes to placing bets on the reels of the Fruit Shop slot machine, there are two things you need to take note of, namely, the bet level and coin value.
As the game's pay lines are fixed and non-adjustable, these two features determine the overall bet size per spin during any round. The bet level runs from 1 to 10 while the coin value runs from 0.01 to 1, bringing the minimum and maximum bet sizes per spin to €0.15 to €150.
Fruit Shop Symbols and Paytable 
Unlike card and table games, the set of symbols that appear on the game's reels determines whether a player wins or loses when they play slot online. The Fruit Shop slot machine has a total of 11 symbols, including regular and special ones.
Regular Symbols
It is all about fruits on the reels of the Fruit Shop slot machine, which is not surprising as the slot title has the word "fruit" in it already. So, naturally, the high-paying symbols in the game are represented by plump, juicy fruits. Cherries are the highest paying symbol, followed by Plum, Lemon, Orange, and Watermelon.
On the other hand, the low-paying symbols are standard playing card symbols that start from the "10" card to the "Ace" card. Naturally, winning combinations are formed in the usual manner. To trigger a win on the reels of this machine, you need to land three or more matching symbols on consecutive reels across an active pay line, from the leftmost reel to the right.
And since all the paylines on the reels of this machine are fixed, landing matching symbols on any of the pay lines will trigger a win.
Wild Symbol
Out of the 11 symbols in the Fruit Shop online slot, 10 are regular symbols that payout winnings when a player lands a winning combination, and the last symbol is the wild symbol. The wild symbol is the game's logo, and it acts as the wild in the game.
The Paytable
The paytable below shows the Fruit Shop online slot's payouts for 3, 4, or 5 of a kind for each of the symbols across a pay line.
| Symbols | 2 | 3 | 4 | 5 |
| --- | --- | --- | --- | --- |
| 🍒 Cherries | 5 | 25 | 300 | 2000 |
| 💜 Plum | ❌ | 25 | 150 | 1000 |
| 🍋 Lemon | ❌ | 20 | 125 | 750 |
| 🍊 Orange | ❌ | 20 | 100 | 500 |
| 🍉 Watermelon | ❌ | 15 | 75 | 200 |
| ✨ A | ❌ | 15 | 50 | 150 |
| ✨ K | ❌ | 10 | 25 | 100 |
| ✨ Q | ❌ | 5 | 20 | 75 |
| ✨ J | ❌ | 5 | 15 | 60 |
| ✨ 10 | ❌ | 5 | 10 | 50 |
* You should note that the values on this paytable are fixed, and payout values are based on the bet level.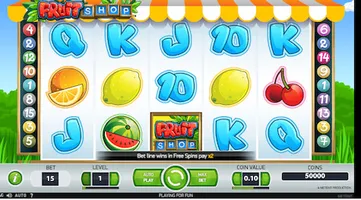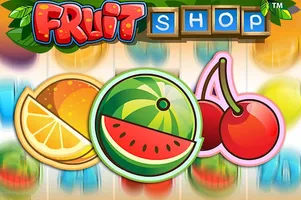 Fruit Shop Features 
Keeping to its classic style, the Fruit Shop slot, like most classic games, does not feature complex or complicated gameplay or features.
 As such, the game keeps special features to a bare minimum. However, the special features that the game offers, namely wilds and free spins, are quite exciting and are enough to give players a pleasant gaming experience when they play.
Wilds
As we have mentioned earlier, the game's logo is the wild symbol in this game. As usual, the wild symbol can substitute for all other symbols in the game to form winning combinations. 
Unlike some slot games, the wild symbol in Fruit Shop is not restricted to any position, and wilds can show up anywhere on the game's reels. The best part is that any bet line win due to a wild substitution will pay out double the winning. So, if Lady Luck is on your side and you manage to land a matching set of four high-paying symbols along with a wild symbol substituting for the 5th symbol, you will earn some impressive payouts.
Free Spins Feature
Arguably, the most sought-after feature in online slot games is the free spins feature. So, free spins are nothing new in online slots, and they are usually triggered by landing scatter symbols anywhere on the reels of a slot game. However, the way the free spins are triggered on the reels of this game is rather unusual. In this game, any bet line wins, as matching fruit symbols trigger the free spins feature and award several free spins. The amount of free spins awarded at any point depends on the number of matching symbols that trigger the win. 
Lining up 3, 4, or 5 matching symbols of any fruit symbols will award 1, 2, or 5 free spins, respectively. Unlike the other fruit symbols, Cherries, which happens to be the highest paying symbol in the game, will award 1 free spin when you trigger a two-of-a-kind win. Another unique feature is that any bet line win during the free spins will pay x2, significantly improving a player's chances of walking away with a sizable win.
The best part about the free spins feature in this game is that you can trigger even more free spins during the free spins. Win, win!
Where Can I Play Fruit Shop?
NetENt, the provider of this game, is a household name in the iGaming industry today. As such, many of the casino's games are made available to players on hundreds of online casinos across the globe. That said, a player is free to play this game at any of the hundreds of online casinos that offer it, but it is always a good choice to play at the best possible option.
Fruit Shop Slot on Mobile 
The advent of mobile gaming has become prevalent in the iGaming industry of Ireland and that of the rest of the world in recent years. No longer do gambling enthusiasts need to sit in front of a desktop or laptop before playing their favourite casino games.
With a few clicks on their portable mobile devices, players can literally play their favourite slot games on the go, anytime and anywhere. This is why you will be hard-pressed to find an online slot machine today that is not optimized for mobile devices, and the Fruit Shop slot is not an exception. That said, you can play the Fruit Shop slot machine on a Android and iPhone mobile device. And the best part, whether you are playing the desktop version or playing via your mobile device, the game works perfectly.

Fruit Shop Pros & Cons
One simple fact about slot machines is that no matter how impressive a game is when it comes to its features, payouts, and overall outlook, there will be a few things that leave much to be desired. And like all slot machines online today, Fruit shop comes with a few hits and misses. So, in keeping our review unbiased, we will highlight both the hits and misses we found with the game.
Pros
😊 Frequent Free Spins
🤑 2x Wild Multiplier
😻 High RTP
Expert Verdict
To conclude our Fruit Shop slot machine, we have to say that this game certainly has a lot going on for it. Despite being a game that has been around for almost ten years now, Fruit Shop remains a popular option among slot enthusiasts today.
It is not every day that you find an online slot game that perfectly mixes the features of classic games with that of modern video slots. However, not only did Fruit Shop do this, it certainly did it in style. This makes the game a great option for fans of classic games as well as fans of modern video slots. Furthermore, the game's high RTP, wild feature, and free spin feature significantly improve players' odds.
To sum up, if you love a fruit machine with classic gameplay, brightly coloured designs, and exciting bonuses, Fruit Shop is just for you. So, don't hesitate to give the game a try at any of our recommended casinos.

Fruit Shop Slot FAQs
What is the Fruit Shop RTP?
The theoretical return to player (RTP) percentage of the Fruit Shop slot machine is set at 96.71%, which is quite higher than most slots.
How to win the Fruit Shop slot?
To land a win on the reels of the Fruit Shop online slot, you need to land three or more matching symbols across one of the fifteen pay lines in the game, from the leftmost reel to the right. Cherries, the highest paying symbol in the game, will trigger a winning combination with just two matching symbols.
Does Fruit Shop have Free Spins?
Yes, the Fruit Shop slot machine has a free spins feature, which is also re-triggerable. Interestingly, you can't trigger this feature with the usual scatter symbol. Instead, landing a win with the 5 fruit symbols will trigger the feature and award free spins.
What are the Minimum and Maximum Bet?
Betting on the reels of the Fruit Shop online slot ranges between €0.15 and €150 per spin.
Is Fruit Shop Available on Mobile?
Yes. Like most online slot games today, you can play Fruit Shop on your mobile device.
More Slots
Have You Found What You're Looking for?
Your feedback is paramount!