Beast Mode Slot
When we say that the Beast Mode, an irish casino slot is a genuine monster, we are not exaggerating in any way. In any event, the slot graphics are top-notch, and its colors and animations are top-notch as well. Overall, the game's presentation is fantastic. This very volatile game boasts a 96.32% return to player percentage, and the gameplay has some incredibly enticing aspects. If you just let all caution go out the window and play at random, you can get a great rush of adrenaline from playing this game. In addition, the maximum win can reach an incredible x25,000 times the initial wager, which is, as you may agree, an outstanding amount.
Play For Free
Play Beast Mode slot for free in demo mode today!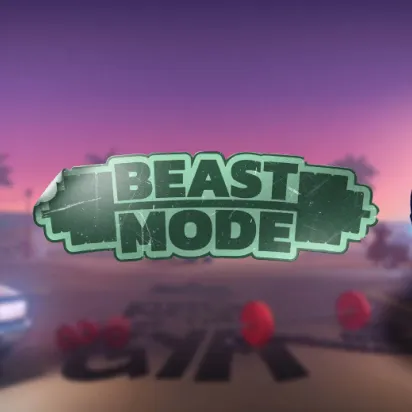 Play Beast Mode for Real Money
Our team picked out the best Irish online casinos for you to play this slot for real money. Pick your favourite one today and start playing.
Rank
Casino
Bonus
Pros
Secure Link
Pros & Cons
Pros
🤑 A maximum payout of €25,000
🤗 Users can activate 3 rounds of free play
✨ Distinct style or motif
Cons
🤔 Large range of possible outcomes
Features
Beginning with Beast Mode, you can play with 6 reels, 4 rows, and 4,096 ways to win. Three or more identical symbols anywhere on the reels, from left to right and beginning with reel 1, will result in a payout. You can adjust your wager between 0.10 and €40 using the plus and minus buttons in the Bet box located directly below the reels. To adjust your wager, just click one of these buttons. To the left and right of the primary Spin button are the Autoplay and Turbo Mode buttons, respectively used for automatic and accelerated spins. If you're a UK player, you won't have access to either of these features.
Theme
The Beast Mode slot machine transports you to Muscle Beach in Santa Monica, California, and features a weightlifting and animal-related theme. It has a throwback vibe to it, with an atmosphere reminiscent of the 1980s. Graphically, it is reminiscent of the East Coast versus the West Coast battle in Nolimit City.
The backdrop features pastel colors and a lot of detail, such as a lion gym, a police car, a lion bench pressing, a crocodile sipping beer, a shark boxing, and swaying palm palms. Everything about it is pretty strange, but kudos should go to Relax Gaming for coming up with something original. The music is laid down and relaxing to listen to. The Beast Mode slot machine is a continuation of the Iron Bank slot, which has several animals as the main characters.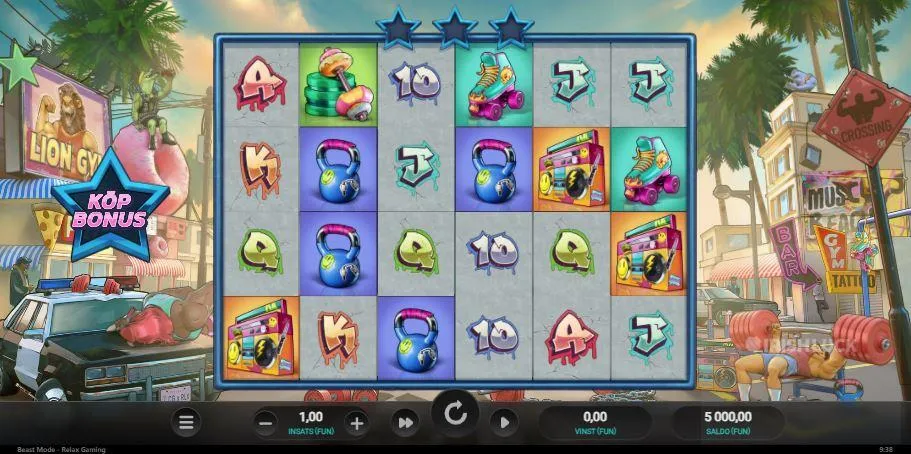 Game Symbols
Symbols on the reels include the usual A, K, Q, J, and 10 in graffiti style, as well as a lion, a ghetto blaster, a pair of roller skates, a pair of doughnut dumbbells, and a kettlebell. If you get 3, 4, 5, or 6 lions in a row, you'll win 1, 4, 10, or 25 times your bet, respectively. I'll be honest and admit that the lion's bicep is huge. Wild is represented by the gold pendant and chain. It appears on all reels except for reel 1, and it stands in for any of the aforementioned symbols there. Both hidden symbols and bonus scatters in the form of stars will appear on the reels.
Gameplay & Graphics
The Beast Mode slot machine has great graphics and is a real treat to look at. The main characters are animals, which is a departure from the majority of video games, and the whole aesthetic is reminiscent of the 1980s. Graphically, you can see how it continues on from where Iron Bank left off. In terms of the actual gameplay, there is a great deal of variety as well.
RTP & Volatility
With a return to player percentage of 96.32%, Beast Mode outperforms the industry standard of 96% for slot machines. The average number of winning spins per 100 spins is 32.39, meaning that over one-third of your spins will result in a payout. In this high-risk game, you can win up to 25,000 times your bet on a single spin. This can be accomplished through the numerous free spins features, some of which provide multipliers of up to 500x or 38,416 opportunities to win.
Beast Mode Slot on Mobile
Although Beast Mode may give off an impression of the 1980s, it was actually developed by Relax Gaming with HTML5 technology. Because of this, you will be able to play the game on personal computers, laptops, mobile devices, and/or tablets. Playable on devices running the iOS, Android, and Windows operating systems. The game naturally provides the finest experience when played on a larger screen.

How To Play
Brief instructions on how to get started with the Beast Mode demo slot.
Start the reels spinning by pressing the spin button.
You can adjust your wager by clicking the "+" or "-" buttons.
To learn more about how to play, how much you can win, and what all the other kinds of bonuses are, simply click the menu button.
Play in a flash option
Activate the autoplay function
Auto-spin options range from 10 to 1000 times.
With a 6x4 slot layout and 4,096 ways to win, Beast Mode is fast-paced and exciting thanks to the cascading symbol feature. For people who don't know whatcascading symbol feature means, it means that Relax Gaming has figured out how to give out multiple prizes in a single spin.
About Relax Gaming
Among the several top-tier online casino software providers is Relax Gaming. Malta is the birthplace of the company, where it was established in 2010. To date, Relax Gaming has established itself with offices in Alderney, Estonia, Sweden, Spain, Finland, and the United Kingdom.
The company has quickly expanded to include over 100 online games and more than 50 direct integrations to major European operators as part of its distribution network. Relax Gaming may not have the largest game library, but their variety makes up for it. The company's main goal is to provide players with high-quality slot machines that look great and have interesting extras.
Poker, bingo, and casino games are all part of Relax Gaming's current lineup. A few of their most popular slot machines are Moby Dick, East of the Sun, West of the Moon, and Antique Riches. Relax Gaming has obtained crucial licenses in multiple European jurisdictions, including the United Kingdom (UK), Alderney (Alderney), Malta (Malta), and Romania (Romania), allowing the company to serve a sizable portion of the European market.
Beast Mode Bonuses
There are a total of six enticing online casino bonuses in the Beast Mode slot.Some of the free spins features include expanding wilds, growing multipliers, and multipliers of up to 500x, cascading symbols, and mystery symbols. This slot machine provide users with a total of 38,416 ways to win.

Cascading Wins Feature
The Cascading Wins function is activated when a winning combination is made. The winning symbols are annihilated, while the remaining symbols fill in the gaps left behind. To fill the newly created spaces, new symbols will fall, giving you another chance to win. As long as there is a fresh victory, the cascades will continue.

Random Mystery Spin Feature
During a normal spin of the base game, there is a chance that the Random Mystery Spin feature will be triggered. At the very least, this will ensure the appearance of one blue question mark mystery symbol. The hidden symbol will be revealed to be the same across all mystery symbols. These remain in place for the subsequent spin but have a chance to transform into a different symbol. As long as you continue to be successful, the process will continue to repeat itself.

Free Spins Features
The Free Spins bonus round can be activated by accumulating either three or four star bonus scatter symbols while playing through a series of cascades. If you activate it with three scatters, then you have a fifty-fifty chance of winning the upgraded free spins that require four scatters if you wager for them. After that, you can select one of three different free spins features:


Mystery Symbol Free Spins feature
If you get three or four scatters, you'll be awarded six free spins. On the reels, there will be mystery symbols that stay in place. After each cascade, each of these symbols will show a symbol that was chosen at random. There is a bomb symbol that increases reel height by one row and varies with each cascade as well as each new free spin. This symbol appears on the four middle reels. The maximum number of spins that can be provided on any given occasion is three more free rounds, bringing the total number of reels up to seven. If you do this, you will have 38,416 different ways to win when you play. When the feature is set off by four scatters, four more mystery symbols will be added before the free spins start.


Multiplier Ladder Free Spins feature
If you have three or four scatters, you will receive eight or nine free spins and a multiplier of one. After each win and in the intervals between free spins, the multiplier moves up one rung on the ladder located above the reels to the next available value. When you reach certain points in the game's progression, you will get more free spins. The largest possible multiplier is a whopping 500x.


Expanding Wild Free Spins feature
As you reach 7 free spins, any wilds that appear on the reels will begin to expand in a downward direction when they do. When the feature is activated with four scatter symbols, a starting multiplier of ten times is applied. This is because there are multipliers for each wild symbol. Landing +1, +2 or +3 spins symbols will add 1, 2, or 3 additional free spins to your total, depending on which of the three free spins options you have selected. There is no cap placed on the number of free spins that can be used during gameplay.
Paylines
In the beast mode slot, there are around 4,096 different ways to win. It is important to note that the Mystery Symbol free spins feature can be enhanced by the Expand bomb symbol, which has the potential to open up 38,416 new winning combinations. The Expanding Wild free spins feature has the potential to award you with a large number of wild reels and growing multipliers.
Highest Payout
Users have the chance to earn up to 25,000 times the amount of their initial wager. Users can get up to €40 per spin.
Our Verdict
It is clear that a lot of care and attention to detail went into the development of this slot machine, since each individual aspect gives the impression of having been given significant consideration. Its theme, which might be described as lighthearted, works really well with the numerous features that pop up while the reels are spinning. The possibility of winning up to 25,000 times your bet adds an additional layer of excitement to the spins, and it demonstrates the true power of the various bonus games. The return to player percentage (RTP) is acceptable and can even reach 97.00% when players take advantage of the bonus buy function. They take the idea of giving players a choice of additional modes when the game is activated, and thanks to the game's enormous number of exciting elements, it is rarely the kind of game that would ever cause one to become bored in the first place. It is expected, much like their game Iron Bank, to be a slot that will be played for a significant amount of time in the future.
The name of the game, Beast Mode, sums up exactly what this slot is all about: providing players with a great combination of features that are both lucrative and full with excitement, which makes for an exceptionally fun time spent in front of the screen.

FAQs
What is the Beast Mode RTP?
The return to player rate in Beast Mode is 96.32%, which places it somewhat above the norm. Wins are likely to occur regularly, with a win occurring on more than a quarter of all spins. The return to player rate (RTP) can reach a maximum of 97% if you make use of the "Buy Free Spins" option.
What is the Beast Mode max win?
On each spin, the most you can win is 25,000 times your total bet if you're lucky. The free spins features are where you'll find the biggest wins, as they allow you to play with up to 38,416 different chances to win with multipliers that go up to 500 times.
Are there any Beast Mode free spins?
Yes, there are three different types of free spins features. These features include expanding wilds with growing multipliers, a multiplier ladder that goes up to 500x, and mystery symbols that increase the number of possibilities to win.
How volatile is Beast Mode?
Because this is a highly volatile release, you should anticipate seeing shifts in the value of your bankroll.
What is the biggest win possible?
You have the potential to win up to 25,000 times your initial wager, which is approximately half of everything that is up for grabs in Iron Bank.
How does the Random Mystery Spin feature work?
It can occur at any time throughout the base game, and when it does, it awards at least one mysterious symbol. Cascades do not have the effect of removing mystery symbols, and the feature will remain active for as long as you continue to win with symbols that are not part of the mystery.
Is there a free spins mode in Beast Mode?
Yes, you do have a choice between three different bonus rounds. These bonus rounds either involve Mystery Symbols, a progressive Multiplier Ladder, or downward Expanding Wilds, all of which raise the global win multiplier.
More Slots
Have You Found What You're Looking for?
Your feedback is paramount!