10. Once (2007)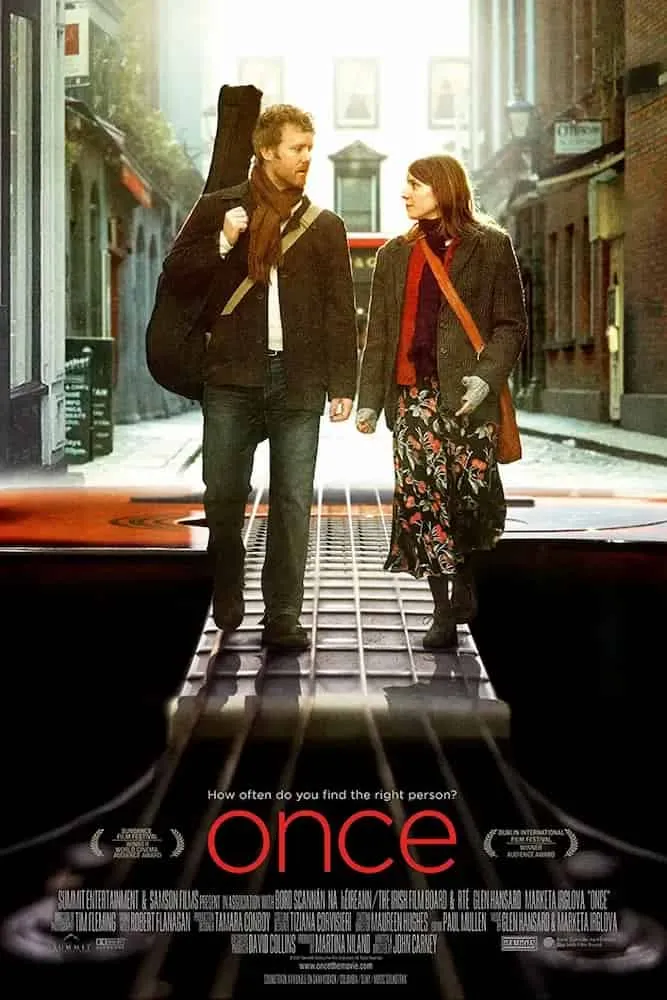 The movie 'Once' is a romantic Irish movie set in Dublin. With a major theme of love anchored on music, it stands out as one of the most beautiful Irish love centred movies of all time. Imagine a scenario where a street musician meets a fellow musician and falls in love at first sight; the rest they say is history.  The lead actor and actress roles played by Glen Hansard and Marketa Irglova received so much applause and commendation from critics, and they both got awarded the Oscar for best original song in 2007 with 'Falling Slowly'.
This was far-fetched because Hansard and Irglova were not actual actors. John Carney, who directed the movie, was bent on making a bold move in the movie when based on his words, he chose to cast "singers who could half-act as opposed to actors who could half-sing. That clearly showed that the musical aspect of the movie was the soul to John. For a first-time director, he ensured that it was brilliantly portrayed. A movie that later made its way to the Broadway stage tells the tale of the dual realities of life in joy and hardship.
Critics particularly praised the technicality and visuals of 'Once', describing it as a personal movie the average viewer can relate to. The movie is rated 'R' but not entirely so as it is suitable for mostly all age categories except kids. The 'f word' occurs a couple of times, which is known to not be far-fetched from 'rock artists'. However, if you are one to overlook the language, then you sure are in for an amazing ride. Records say it's not a big-budgeted movie. Rather, it is a movie you would call honest, true, and highly related to the hurdles of the young ordinary across life, career, family, and love.
9. In the Name of the Father (1993)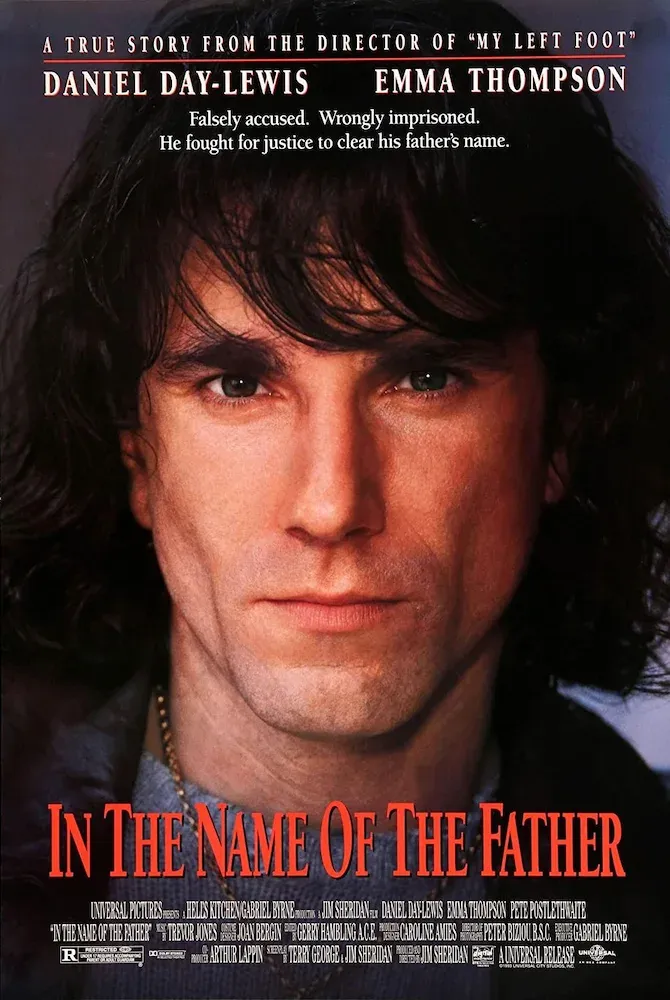 In the name of every good and evergreen movie out there, this one deserves all seven Oscar nominations it bagged and more. Set in a time of chaos and tensions from war, it would keep you on your seat as you get to watch a young man's struggle to prove himself and his father's innocence. While conflict was in the air about if Northern Ireland should disaffiliate from the UK, a young man, Gerry Conlon (played by Daniel Dy-Lewis) and his father were wrongfully suspected and jailed for the Guildford Pub bombings in London in 1974. 
It would interest you to know that this was based on a true story and hinged on the real Mr Conlon's autobiography he titled 'Proved Innocent'. The beginning part of the movie shows young Conlon and his friends arriving from Belfast to England, trying to get a job and earn an average living, struggling at it and daily relieving the consequences of their immigration choice with drinking and drugs. The police, hell-bent on solving the IRA bombings that claimed five people apprehend Conlon, one of his friends and two other people for the crime. Extremely tortured and brutalised, they are forced to make a false confession.
It apparently doesn't end there because his father and aunt are also to be later jailed as co-conspirators. Eventually, voices and public concerns become louder about their innocence, which leads to a re-investigation. Evidence is provided; their convictions were overturned after 14 years. In an interview after the movie came out, director Jim Sheridan gave the heart behind the adaptation. 
Despite having to modify characters, dates, and facts for the purpose of creativity, Jim, in this 1993 heart-wrenching film, clearly knew what he was determined to show. A damaged law-enforcement system of the then England that would rather rely on hearsays and torture to force a false confession in order to solve a case out of pressure and the level of injustice nature of the 'Justice' system.
8. My Left Foot (1989)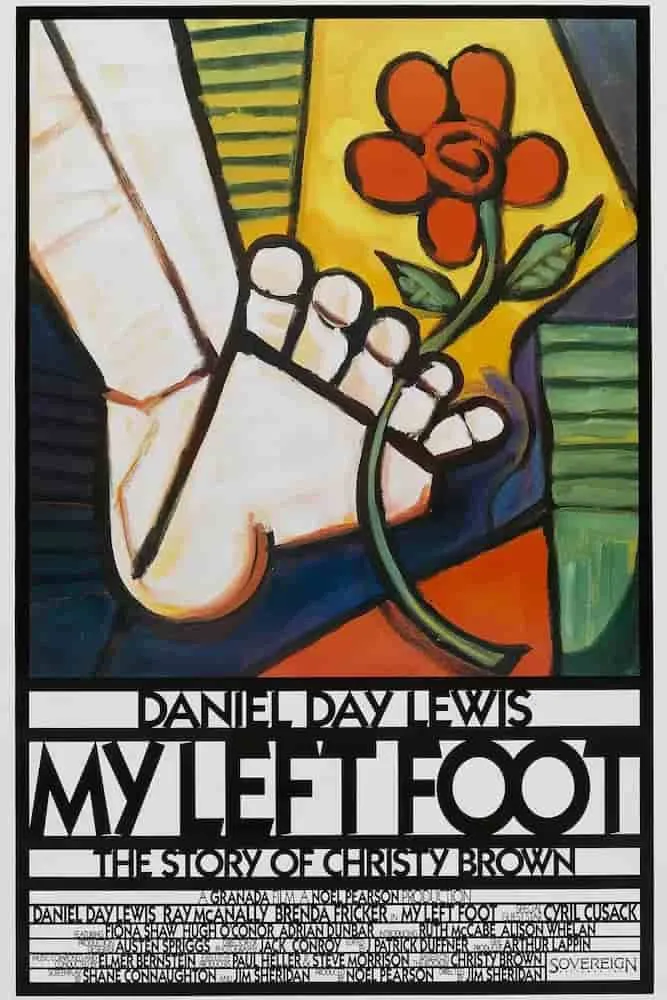 If you are one to let loose your tear glands during an emotional movie session, then this is one to send you into some wailings. Released in 1989, it is the story of a man born with complete cerebral palsy but can only use his left foot, given the title. Born with one of the worst medical conditions globally, Christy Brown's family are extremely poor and cannot even afford him a bit of comfort like a wheelchair. 
The role of Christy Brown earned Daniel one of his numerous Academy nominations and a win for this one as the best actor in a leading role. Teaming up again with the incredible director, Jim Sheridan, it is a movie that is not necessarily sympathetic but is sure to draw sympathy and hope from you. Critics of the movie claimed it was one to make the audience feel many things at once, from anger to pity, pain, hope and helplessness amidst awe, pride, determination, and drive.
Poor but large and loving, Christy's father, with a pint in hand and sorrow yet determination in his heart, in a bar, decides that Christy would not be sent to a home because of his condition. This later proved to be the best decision anyone could have made for Christy, who, through the love and support of his family, became a seasoned artist and writer just with his left foot. Behold the story of a mentally disabled man whose life was practically saved, not by medicine or therapy, but by his father's determination, family's love and gifts channelled through tenacity.
7. The Secret of Kells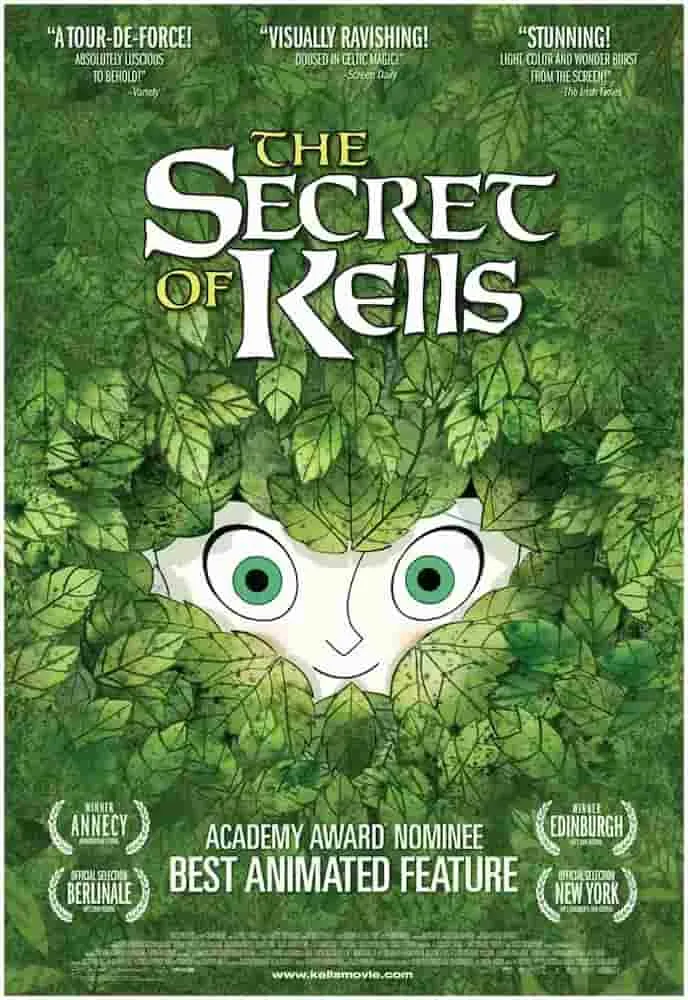 Call it a Harry Potter or Twilight wannabe; this movie stands out as one of Ireland's best fantasy movies. Despite being animated, this movie was set in Ireland with a story surrounding a young male protagonist saddled with a chosen destiny to defeat the powers of darkness, mythical creatures and even humans to save the powerful Book of Kells with the help of a fairy. This movie didn't receive the best of reactions from the audience when it was first released, but later became the Irish Harry Potter for Kids and even adults when people found out that the Book of Kells is a real book in Ireland's folklore and mythology. 
Today, this actual book, told to have been handwritten by monks, sits in the Trinity College Dublin Library as a historical artefact. Who wouldn't want to find out how it came to be? In the 19th century, a young Brendan (Evan McGuire) lives with his uncle in Abbey, who dedicates his life to building a wall to prevent Viking attacks. Brave, nosy and always curious, he finds himself an apprentice to a monk who arrived at Kells after his monastery had been destroyed. 
Working together to complete the unfinished Book of Kells, Brendan, Aidan (Mick Lally), his white cat, and fairy Aisling (Christen Mooney) embarked on an adventure far from being smooth. The book eventually gets completed, not without several battles with the forces of darkness, the dreaded Viking invasion, near destruction of the book itself and death. The Secret of Kells is the first movie in the Irish folklore trilogy, directed by Tomm Moore, released in 2009 and followed subsequently by the final duo 'Song of the sea in 2014 and Wolfwalkers, released in 2020.
6. Belfast (2021)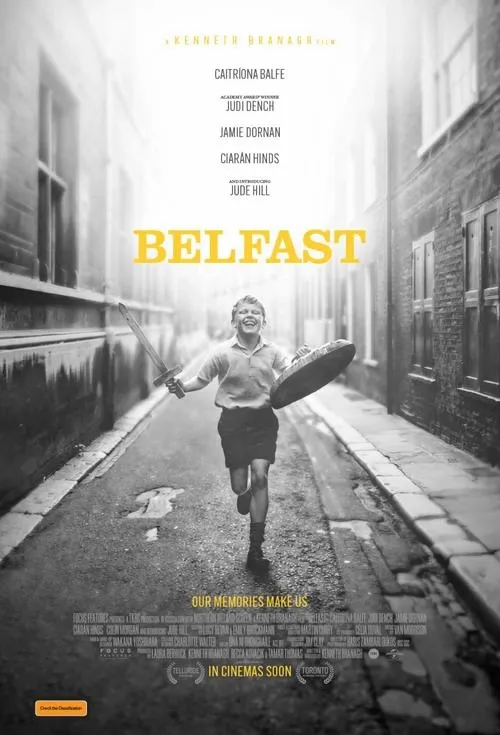 Time to tell some tales of the incredible Jamie Dorman in one of the top Irish movies of 2021. This movie is particularly revered for telling the tale of the struggles of a working-class family in Belfast, Northern Ireland, through the eyes of young Buddy (Jude Hill). Set in a time when the Troubles are a thorn in the flesh of those living in that part of Ireland, Buddy constantly has to deal with and live in confusion on why there is so much victimisation of Catholics and how the raging conflict was greatly affecting his parents.
The movie received equal appraisal from critics and the audience earning it seven Oscar nominations. Jamie Dorman is particularly celebrated for perfectly portraying a symbol of peace in such a time of chaos and for moving the audience's hearts by telling the story of a father who would rather be apart from his kids and protect them from the consequences of a war they know nothing of. The twist in the story is that Buddy and his family are not Catholics. They are protestants. However, his parents, especially his father, soon become ostracised and greatly antagonised for not standing with fellow local protestants in the victimisation of Catholics. 
Despite not being the focus of prejudice and persecution, the family has their fair share of the heat with so much pressure placed on them and a threat to their life from a notorious protestant rioter who loathes them for joining his course. Amidst all that, the family has to deal with a family member's illness and serious debt. The movie, however, received certain negative reviews for not particularly focusing on the perils of the then Catholics who were abused. Opinions were that it could have made a difference compared to other movies like it that also did not particularly pay attention to the level of oppression, abuse, and persecution the Catholics of then faced because of their faith.
5. The Siege of Jadotville (2016)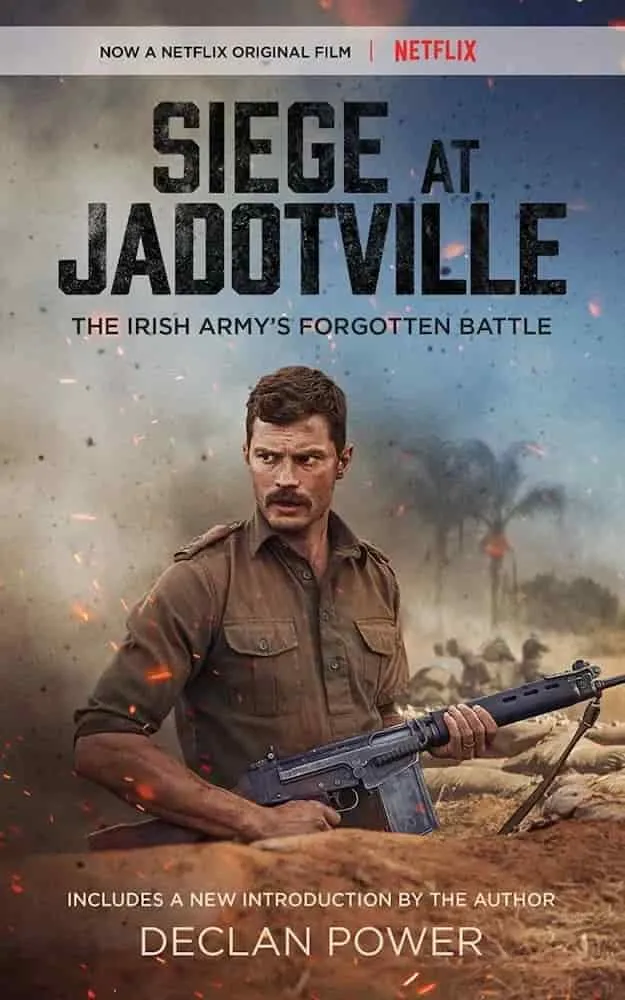 Jamie stars in this movie set in 1962 as Commandant Pat Quinlan, an Irish soldier saddled who strangely found himself saddled with the responsibility of leading a UN peacekeeping mission in DR. Congo. Like several other movies, this one is an adaptation of 2005 The siege at the Jadotville: The Irish Forgotten Battle book. Not exactly world I or II, but the film emphatically sheds light on the significance of this war in the world and specifically to Ireland.
Having been thrown into battle with little or no experience at all, Commandant Pat and his troops fall prey to the ambush of the Kantagese, Belgian and French troops. The responsibility falls on Pat's shoulders to succeed in the mission and save as many men as possible. This movie was well-received, particularly because the Irish love their history, and this one did not only re-enact the history aesthetically but also creatively.
There was a deeper focus and insight thrown into the political developments, rationale, and mechanisms that led to the war, as this was well entertaining and historically educating. It celebrates the hope and struggles of Ireland as a nation trying to stand strong in the front of world politics via the United Nations despite being militarily crippled in the past years. A well-executed 'war-drama', Kevin Brodbin and his team did not disappoint in telling history in the theme of war and its locale and worldwide consequences in modern-day 2016 when the film was released.
4. Sing Street (2016)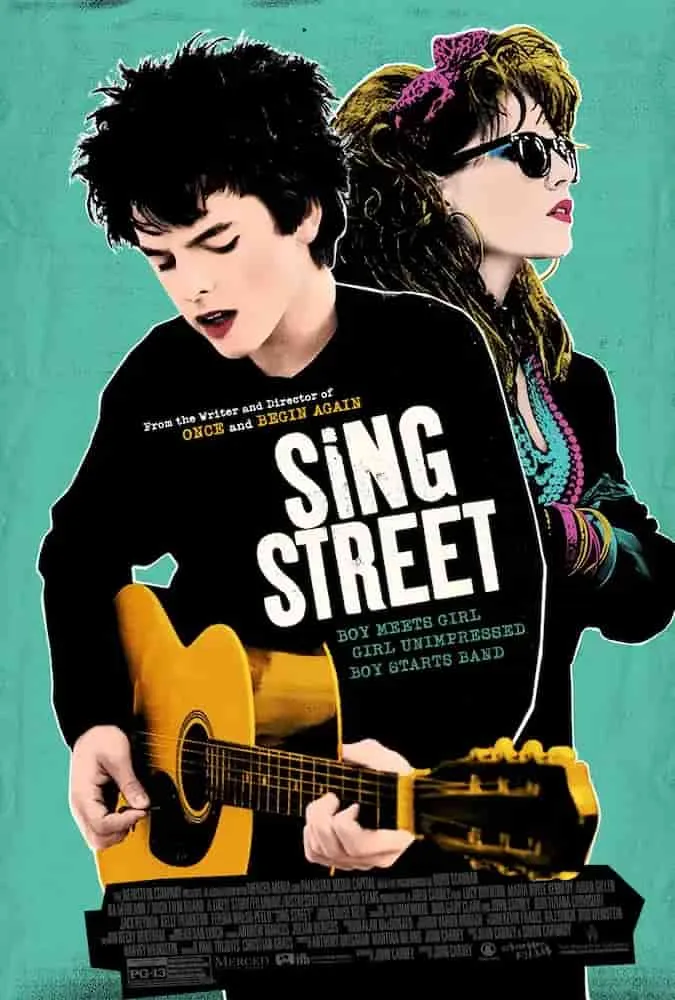 Away from the stories of war and its impact is this beautiful, charming, and musical movie also released in 2016. Re-made like the 21st century 'The Commitments' movie, it is set in Dublin, in the 1980s, where a young man found the secrets to charming a woman. Gifted in music and a sonorous voice, this young man stands for the truth that the way to get through to a woman is to sing her a song. 
We love our history, but people needed to use some serenity and a romantic debate in a year when movies about war and recession were the order of the day. This 8th feature film by John Carney is one to stir up memories of childhood innocence and what this exuberance and purity would do for love without ulterior motives. Mostly referred to as a 'coming of age' movie, it depicts a young boy who is hopelessly in love and determined to win her heart, thus deciding to start a band. 
The lead character, Conor, was highly related and charismatic, and his good looks were to die for alongside his bandmates, who were very instrumental in his love pursuit. Despite being an Irish film, the movie was highly received in several countries, especially in Great Britain. It stood out as a movie for its message of purity and for taking viewers back to a time when friendship and music mattered more than anything. 
The songs and musical strength of the movie were also undoubtedly one of the factors that contributed to the movie's success, with 'Drive it Like You Stole It' standing out. Employing the then trending pop-rock of the 1980s, Sing Street employed songs that were not just accessible but very enjoyable and stood the test of time for a while.
3. Waking Ned Devine (1998)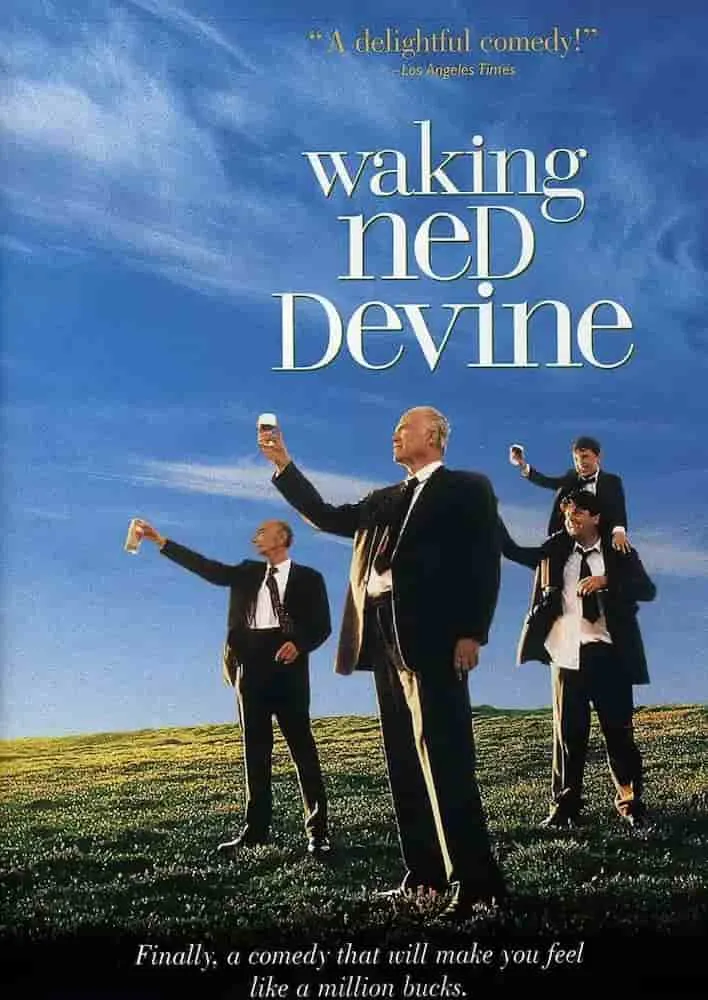 All work and no play, they say…… Time to crack some ribs and not tell war or romantic stories. Not your regular Irish movie, but the comedy element in this movie is worth your time and makes you forget your troubles for a while. This time, in a more pastoral setting, we see the inhabitants of a tiny Irish village crack us up to our bones. The entire village collectively agrees to pretend one of them won a lottery after the actual winner Ned Devine dies of shock just before he could receive his prize.
 Aware of the truth that none of his family is alive to claim the lottery reward, they all conclude he would have wanted them to partake of it because of their communal life. To do this, they needed to make the lottery inspector believe the fake lottery winner. Fortunately, as opposed to what you might easily predict, communal living is not a front everyone is putting on to cover several layers of greed, but it portrays the beauty of a rural community where everyone is not simply generous to one another.
Employing several funny yet captivating and important characters like an interim priest, a singing postmistress, and a pig farmer whose love interest is constantly disgusted by his body odour and her young son, Waking Ned Devine embodies fun and liveliness that would keep you glued to your seat. If scenery also does it for you when it comes to making a movie choice, the historical village on the Isle of man is a beauty to behold. It adds colour and life to the movie, and with the warm and genuine performances from the characters, it is pure entertainment in what rural life is all about.
2. The Foreigner (2017)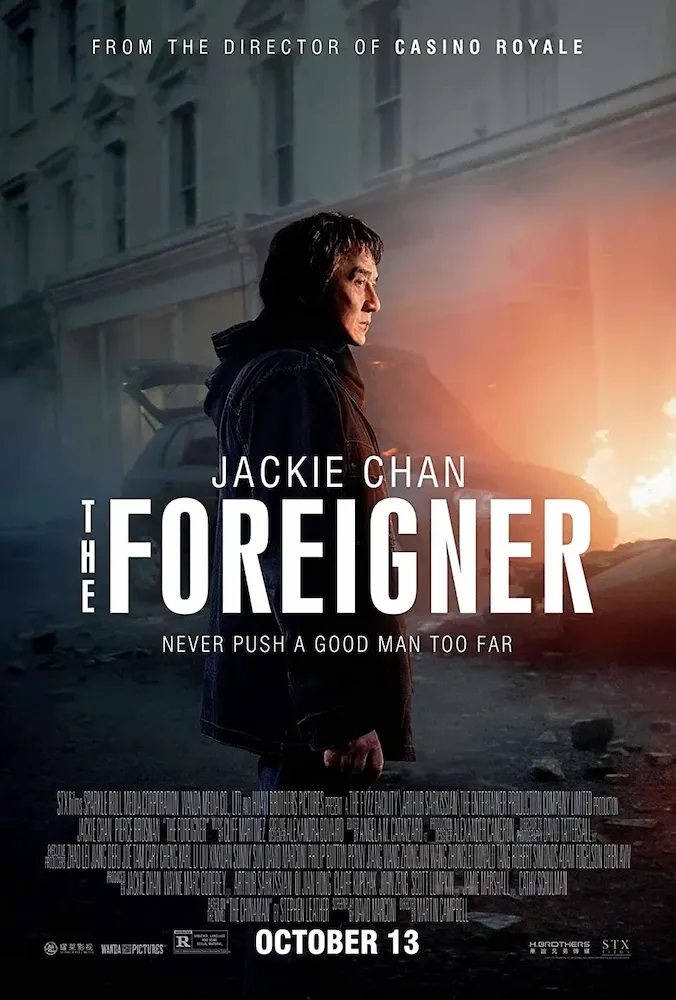 Time for a little bit of action. After hitting the Cinemas on October 13th, 2017, this is another Irish movie that sure lived up to people's expectations. An adaptation of one of Stephen Leather's 1992 novels, titled The Chinaman, it stars Jackie Chan, who goes toe-to-toe with the Irish republican army. He sets out to avenge a terrorist attack, and he teams up with whatever help he can get. 
You can be sure you are in for some good action for someone whose reputation precedes him and royalty in the world of action movies. However, tables might turn during a movie sold out to the audience as a Chan centred movie but eventually focuses on the struggles of Pierce Brosnan, Chan's co-star in the movie. Pierce is a terrorist turned politician who struggles to live with the nemesis and harsh realities of his former life and benefits attached to being a high-ranking government official in Northern Ireland of the 90s. 
Chan soon realises no one is to be trusted on his quest for vengeance but will not be defeated easily. The foreigner chronicles the tale of a retired assassin who would stop at nothing to avenge the death of his precious daughter by taking the lives of her killer(s). Kindly note that the relation of the title of the movie to the plotline might be somewhat confusing at some point or maybe throughout the movie. 
But if you can get past that, you would not be missing out on some Keanu Reeves 'John Wick' vibes, except that an actual human is the bone of contention here and not a dog. With an intensive action spice from secret service agents, police and politicians, Brosnan did shine with his acting skills with Chan, on the other hand, although deserving more spotlight in the movie serving some incredible entertaining action time in the 2hour movie.
1. Life Begins Now (2017)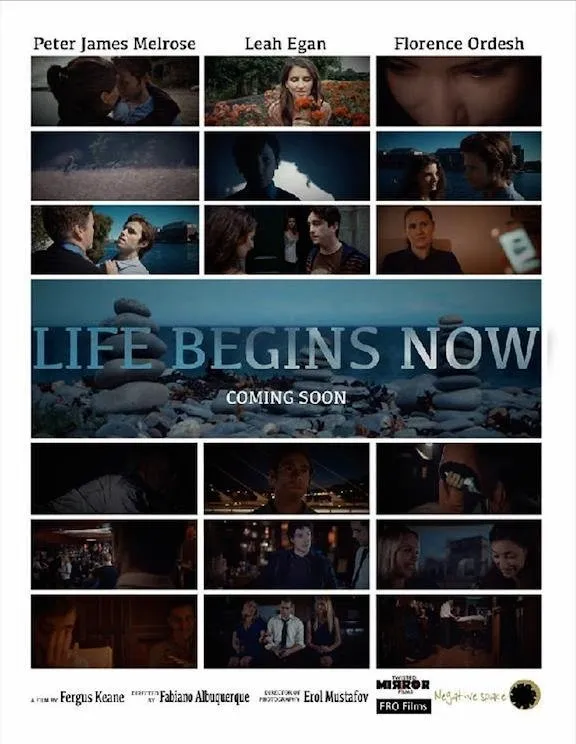 It has been an amazing ride so far, but not one to end without this impactful movie. Please make no mistake, although it is not one of the most popular or amongst the Irish favourites, the beauty and soul of this movie shouldn't be ignored. Life Begins now is a must-watch for hopeless romantics like you and me, who long to experience the unexplainable spiritual connection between two people in love, at least, via the screens. The lead actors and actresses, Ria and Cohen, respectively, deliver excellently on the uncertainty of love when you have fallen into it, but still, you choose to damn the consequences whether there is a past or a future because life is all about the present.
Conclusion
Today, certain Irish movies constantly re-occur on top ratings across a wide range of categorisations from characterisation to screenplay, historical and political portrayal, and entertainment worth. We're hoping that more of these continue to spring forth. While these movies have been reviewed in no particular order, it is worth noting that these masterpieces deserve even more applause and recognition for placing the Irish movie industry on the highest of stages in the world today.
More Articles from Irishluck Team
Have You Found What You're Looking for?
Your feedback is paramount!