Top 10 boxing fights of 2023
Boxing in 2023 has already provided plenty of excitement, and there are plenty more big matches to come. Let's put our gloves on and see what the best of boxing has served up in 2023.
1. Jake Paul vs Tommy Fury - February 26th, Diriyah, Saudi Arabia
Whether boxing fans like it or not, Jake Paul and his exhibition matches are here to stay. February's fight between Jake Paul and Tommy Fury is arguably the biggest fight to involve a Youtuber yet, with Paul testing his credentials against professional boxer Tommy Fury. The fight between the two men had been delayed on several occasions, but they finally managed to settle their differences in Saudi Arabia. Jake Paul took home the victory by split decision, but it was far from the dominant display that had been promised. Jake Paul has confirmed that he would like a rematch against Fury, but both men seemingly have other opponents in their sights first.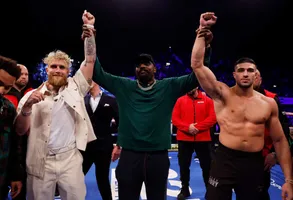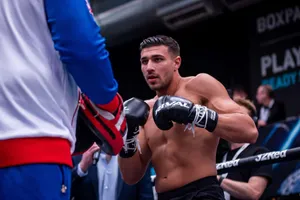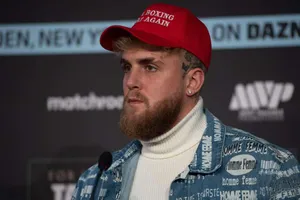 2. Gervonta Davis vs Ryan Garcia, April 22nd, Las Vegas, USA
It's a rarity in modern boxing that you get two of the best boxers in a weight class coming face-to-face in their prime, but that's what happened when Gervonta Davis and Ryan Garcia squared up in Las Vegas in April. The fight delivered on its pre-match promise, with Davis cementing his status at the top of the division with a seventh-round knockout victory. 
3. Canelo Alvarez vs John Ryder, May 6th, Guadalajara, Mexico
Billed as 'The King is Coming Home', Alvarez vs Ryder will see the former defend his WBA(Super), WBC, IBF and WBO super middleweight titles in his home country of Mexico. Alvarez is heavily favoured to deliver the knockout blow in front of his home fans and affirm his place at the top of the super middleweight division. Still, British-born Ryder will be hoping he can beat the odds and send the Mexican fans home with their heads in their hands. 
4. KSI vs Joe Fournier, May 13th, London, England
Like Jake Paul before him, KSI will put his boxing skills to the test against a pro boxer when he steps into the ring with Joe Fournier on May 13th. The two men will meet at the OVO Arena Wembley in what promises to be an exciting encounter. KSI has impressed in his boxing career so far, but Fournier will provide a much tougher test. Fournier has won nine of his ten boxing matches by KO and went the distance with David Haye in an exhibition match in 2021. 
5. Katie Taylor vs Chantelle Cameron, May 20th, Dublin
Katie Taylor is the biggest female boxer in the world right now, and she will surely receive a rapturous reception when she headlines Dublin's 3Arena in her home country in May. Taylor made history in 2022 when her match with Amanda Serrano became the first-ever female boxing match to headline Maddison Square Garden. She will want to continue to spotlight women's boxing with a dominant performance in Ireland. The Olympic gold medalist insists Cameron will be the toughest test of her career so far, and it promises to be one of the most exciting boxing bouts of 2023.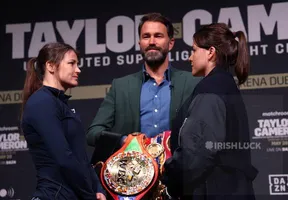 Katie Taylor (left) with Chantelle Cameron as Promoter, Eddie Hearn looks on during a press conference at The Mansion House, Dublin. Picture date: Monday March 20, 2023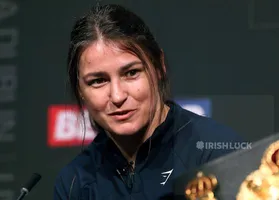 Katie Taylor during a press conference at The Mansion House, Dublin. Picture date: Monday March 20, 2023.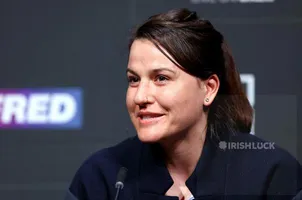 Chantelle Cameron during a press conference at The Mansion House, Dublin. Picture date: Monday March 20, 2023
6. Chris Eubank Jr v Liam Smith II, June 17th, Manchester, England
Chris Eubank Jr and Liam Smith square off for the second time in 2023 when they meet in Manchester on June 17th. The first fight between the two men occurred in January, with Smith picking up the victory with a fourth-round TKO. The rivalry between the two men had become increasingly bitter before their first fight, and Eubank will be looking to avenge his defeat when they clash in Manchester this summer. 
7. Tyson Fury vs Anthony Ruiz Jr., July 22nd, Wembley Stadium
After months of failed attempts to get Tyson Fury in the ring with Oleksandr Usyk, it looks as though The Gypsy King will be squaring off with Anthony Ruiz Jr. this summer. It looks as though the two will meet on July 22nd at Wembley Stadium. While it might not be the fight that fans wanted, given Ruiz's famous upset victory over Joshua a few years back and Fury's status as a draw, especially in the UK, this will still put plenty of bums in seats.
8. Terence Crawford vs Errol Spence Jr., July 29th, Las Vegas
One of the most anticipated fights in the boxing world looks like it could finally be set to happen in 2023. Reports have suggested that Crawford and Errol Spence Jr. will finally come face to face in Las Vegas this July at the T-Mobile Arena on Saturday 29th. Both men will bring unbeaten records into the fight, and Crawford will put his IBF, WBA, and WBC titles on the line in what could be 2023's hottest encounter.
9. Jake Paul v Nate Diaz, August 5th, Dallas, USA
Jake Paul makes his second appearance on this list, with his fight against Nate Diaz in Dallas this August building up plenty of hype. Diaz has been one of the UFC's biggest draws over the last decade, and his final match in the Octagon saw him submit fellow veteran Tony Ferguson in the performance of the night last September. His match with Paul will be his first foray into the world of boxing, and while many are backing Paul's expertise to carry him over the line, Diaz's former dominance in the UFC suggests he has the potential to take the Youtuber off his feet. 
10. Anthony Joshua vs Deontay Wilder, Unconfirmed Date & Venue
Another man that has been unable to finalise a fight with Tyson Fury is Anthony Joshua. The former world heavyweight champion is looking to rebuild himself as a major title contender in 2023, and a showdown with Deontay Wilder has all the makings of a classic. Joshua returned to the ring with a win over Jermaine Franklin in April, and his fight with Wilder is all but confirmed to take place in December, with the Middle East being the most likely location. 
Final Thoughts on Biggest Boxing Events
This year will be monumental for the boxing world, showcasing a series of thrilling match-ups that will excite fans worldwide. From seasoned champions who want to defend their titles to eager rising stars looking to make their mark, these top 10 boxing events reflect the sport's persistent appeal and the unwavering determination of its athletes. As the excitement builds, enthusiasts and casual fans of the sport will keenly be on the lookout for these showdowns. Let the battles commence, and may the best fighters win!
Boxing Fights FAQs
Can I bet on the biggest boxing fights?
Yes. Most top UK bookmakers, including all the ones we have listed, will offer a big selection of boxing markets to bet on. The big fights will always get plenty of coverage, with most top UK bookies offering bonuses and price boosts for them.
Can I bet on fights other than the main event?
Of course! The big boxing cards are stacked with top-quality bouts, and most of the top UK boxing bookies will offer a selection of markets for each event. As a general rule, the bigger the fight is, and the higher up the card, the more markets it will have available. There is often some good value to be found in the undercards if you know what you're looking for.
Where to watch the biggest boxing events?
You can watch boxing in a number of ways in Ireland. Most of the big fights will be on pay-per-view. However, streaming services are becoming increasingly popular, and we could see changes to the classic PPV model in the coming years. The following channels and services are the best to use to watch boxing in Ireland: Sky Sports (Main Event, Arena, Mix), DAZN, BT Sport, Sky Box Office, BT Sport Box Office.
Have You Found What You're Looking for?
Your feedback is paramount!