Katie Taylor is poised to step into the 3Arena in Dublin on 20th May for a fight that she describes as one of the biggest in her life. Her opponent, Chantelle Cameron, is an unbeaten female boxing superstar who most recently claimed a major win against Jessica McCaskill.
Both women are heralded as ambassadors for the world of female boxing, and this fight is poised to bring the sport back to the world stage, with ticket sales and public anticipation already setting records.
In this article, we provide background information on both fighters in anticipation of the boxing event later this month.
Background of Katie Taylor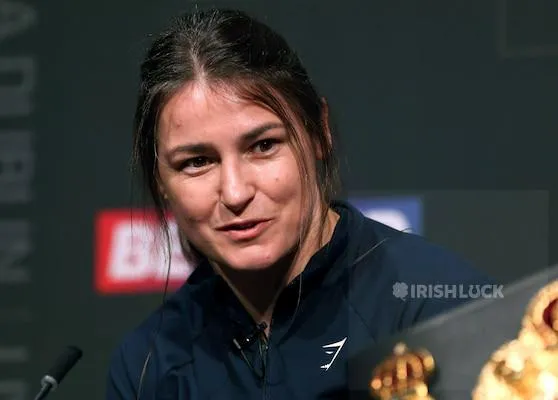 Katie Taylor during a press conference at The Mansion House, Dublin. Picture date: Monday March 20, 2023.
Though Katie Taylor is technically the world's undisputed female lightweight champion, she's a heavyweight when it comes to her record. This daughter of Ireland became one of only a handful of female boxers to ever hold all four major titles at the same time in 2019-- WBA, WBC, IBF, and WBO.
Consistently ranked among sporting experts as one of the best female athletes of all time, she has been the pride of Ireland's fighting scene for years, bearing the Olympic Torch for the Emerald Isle before going on to win a gold medal. 
Based on credentials alone, Taylor is one of the most formidable athletes on the planet, a reputation she renews each time she steps in the ring.
Background of Chantelle Cameron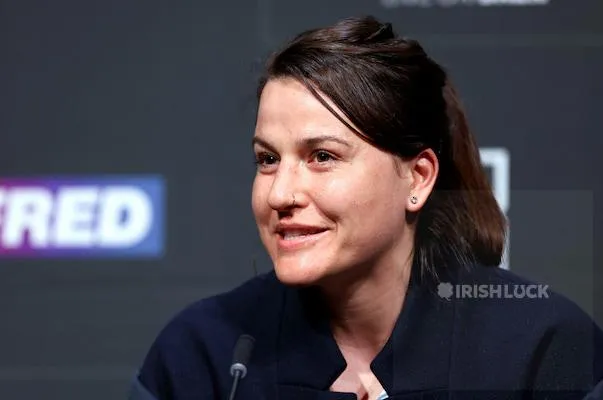 Chantelle Cameron during a press conference at The Mansion House, Dublin. Picture date: Monday March 20, 2023  
The slightly younger Chantelle Cameron is a 31-year-old fighter out of England. Also an undisputed champion in the lightweight class, she has amassed an impressive record in her decade-plus career. 
Cameron is a distinguished boxer, but her record falls considerably short of Taylor's accomplishments. A product of their age difference? While negligible in many contexts, five years can matter quite a bit in the ring.
Either way, Cameron may fall short of Taylor's history, but she's bringing her own pedigree into the ring with her. Coming in with a string of wins, there are several lightweight titles that now hang in the balance with this fight. 
Comparison of Katie Taylor and Chantelle Cameron
We briefly touched on the finer parts of each woman's career in the sections above. Both fighters are impressive in terms of their achievements, but for sports bettors, it's important to go in with as much knowledge as possible.
Careers of Katie Taylor and Chantelle Cameron
Below, we do an in-depth analysis of both fighters' career achievements leading up to this point. 
Katie Taylor's Career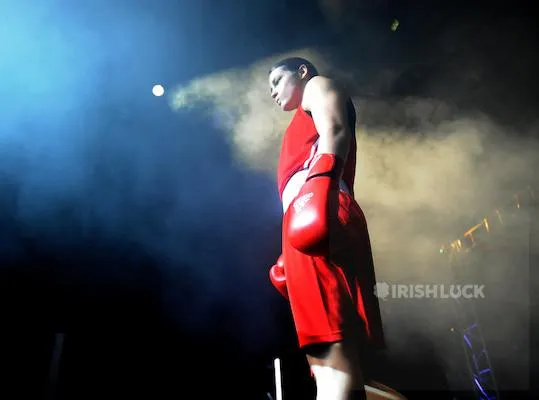 Dublin, Ireland. 24th Feb, 2013. Road to Rio Boxing Tournament. Katie Taylor, Ireland, enters the ring before her Road to Rio bout against Maike Kluners of Germany held at the Bord Gais Energy Theatre.
Katie Taylor began boxing as an amateur at age 12, learning alongside her brothers under the tutelage of their father. She would fight in her first sanctioned match three years later. She won—something that would quickly become a habit for her, and has since become known as a winner. 
Between 2005 and 2008, she won a string of high-profile amateur titles before coming into the public eye in 2009 after defeating American fighter Caroline Barry. Since then, she has been a force to be reckoned with, racking up 22 wins and standing as the current Lightweight and Super-lightweight champion. 
Chantelle Cameron's Career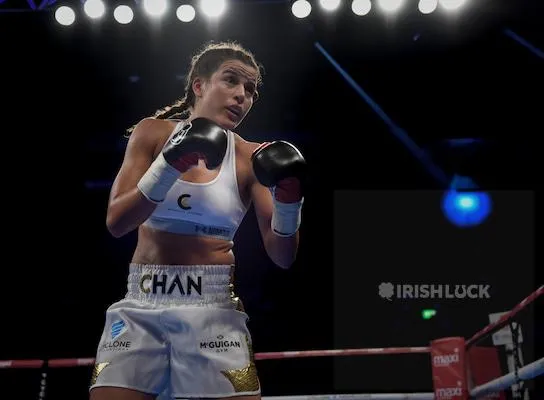 Saturday 8th of July 2017: Boxing, Braehead Arena, Glasgow, Scotland. 6 x 2 Mins Lightweight contest Chantelle Cameron V Bojan Libiszweska.
Chantelle Cameron developed a love for fighting at a young age, watching action films and television shows with a keen eye on the fight scenes. At age ten, she began what would be a long string of relationships with various schools of fighting before coming to boxing at the relatively late age of 18. 
Although she came to the game a little late, she hit the ground running, quickly making a name for herself in a number of different amateur events, many of which she won, and one loss to Katie Taylor. After beating Edith Ramos in Edinburgh, she became the super-lightweight Champion in 2017. 
Notable Achievements of Katie Taylor and Chantelle Cameron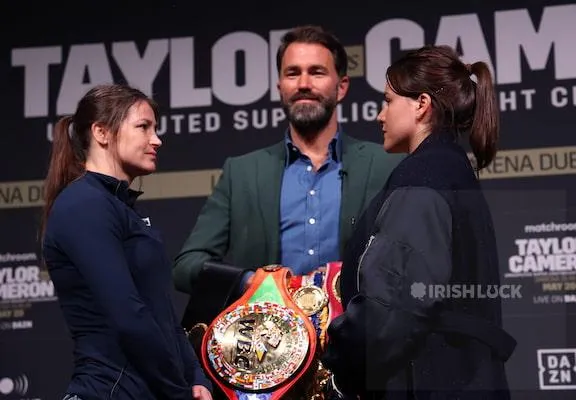 Katie Taylor (left) with Chantelle Cameron as Promoter, Eddie Hearn looks on during a press conference at The Mansion House, Dublin. Picture date: Monday March 20, 2023
While Katie Taylor steps into the ring with a bit more pedigree on her side it could easily be said that her heightened stature owes mostly to experience. The five years she has on Cameron have given her more time to cultivate her name, but it may not feel like an advantage as she steps up against a woman who (from a boxing perspective) is much younger. 
Both women are titleholders. Both are undisputed in professional matches (with the occasional losses here and there dotting their amateur records). 
In terms of sheer pedigree, the match is nearly evenly opposed. Taylor does step into the ring with a bit more in terms of history and reputation, but those previous wins may rest heavily on her shoulders as she attempts to outmanoeuvre a much younger opponent. 
On the other hand, Chantelle Cameron will be fighting Taylor on her turf, stepping into the ring at the 3Arena in Dublin. While boxing isn't necessarily known for its 'home ring advantage,' it is fair to say that this is one of several factors contributing to what could account for a 'background advantage' that favours Taylor. 
Regardless, both women are distinguished in the sport. While the match later this May will elevate one of them to even greater heights, it cannot detract from the loser's already significant contributions to the sport of female boxing. 
Fight Prediction
While boxing fight predictions are notoriously inaccurate–boxing history is littered with enormous upsets that extend far beyond the dramatic sequences of your favourite Rocky film–it is worth noting that experts feel the odds on this one are nearly evenly matched. 
The breakdown splits 51-49, favouring Cameron by an ever so slight two percent margin. This prediction likely owes primarily to the women's ages. Those five years could make a difference when split between two fighters with almost identical pedigrees. It's also worth noting that Cameron may be a bit of a harder hitter. Though she's won fewer times than Taylor, she wins more often by knockout. Her history of bringing fighters down before the match was slated could be particularly advantageous against an older fighter like Taylor. 
However, bettors should note that a two percent advantage is hardly significant in predicting outcomes or even setting odds. Anything could happen when these two women step into the ring, making it an exciting opportunity for sports fans everywhere to watch a rare bout between two of the world's best fighters. A decision by the judges could end up determining the winner and loser of this fight. 
News Surrounding the Fight
We mentioned in the last section that experts suggest this could be a tough bout for Taylor. But why? Is the issue primarily one of age? While that does factor, sources also cite the way Cameron tends to fight. Cameron is a hard hitter—a tactic that doesn't always suit Taylor's style, which has seen her win most of her matches on points.
Taylor struggled against Amanda Serrano—a fighter who also favours heavy blows over a long, drawn-out match. Taylor won that match, but it was a close call, and analysts suggest that Cameron is an even harder hitter than Serrano, which could cause problems for the ageing fighter.
It's worth noting that not all coverage favours Cameron. Some analysts believe that Taylor's experience will favour her in the ring. Regardless, both women are preparing for what Taylor herself describes as one of the toughest fights of her life.
Outside of the ring itself, there has been some controversy around the availability and prices of tickets, given the build-up for this upcoming fight. Fans have been finding it incredibly difficult to get their hands on tickets, while the limited few that have been made available are priced at points that have attracted criticism.
FAQs
Want to know more about the fighters heading into this month's bout? Below we look at a few common questions surrounding these women and their careers to this point.  
How many times did Katie Taylor lose?
Katie Taylor is undefeated throughout 22 professional events. This is not to say that she has never lost—for example, she experienced defeat in several amateur championship events. However, she has maintained an unblemished record since going pro.
How many belts does Chantelle Cameron have?
Cameron is currently the undisputed super-lightweight champion—the title for which both women will fight later this month. She has won five world titles fighting in this weight category, including one against Adriana Araújo in 2020 that earned her the super lightweight title she will be defending.
How many fights has Katie Taylor had?
Katie Taylor has fought in 22 fights as a professional. She won all of them, including six by KO. She also accumulated sixteen amateur medals before going professional.
Have You Found What You're Looking for?
Your feedback is paramount!