Who Wants To Be A Millionaire Megaways Slot
Here we are with another Irish online casino slot review! Who Wants to Be a Millionaire is a British game show franchise that, unless you've been living under a rock, you've probably heard of. It's now owned by Sony and has become a worldwide sensation, so much so that you can find it is an online slot version too.
The idea is straightforward in its simplicity. Each candidate goes up against the host, who has prepared a set of questions. The contestant earns money for each question they get right, and as they go through the levels, the questions and the associated payouts become more challenging. The player has access to a number of "lifelines" that can be used at any time to get them out of a jam, such as dialing a friend for advice. The incentive structure has multiple failsafes. When a player reaches a "locked" value, even if they get a question wrong, they are still assured to win the lifeline cash award. If a player is unwilling to risk moving down the prize ladder if their answer is incorrect, they have the option to cash out and walk away with the money at any time.
Who Wants To Be A Millionaire Megaways Slot Free Play 
Try the game for free today! Experience what this popular slot has to offer before we dive into the nitty gritty of this Megaways slot.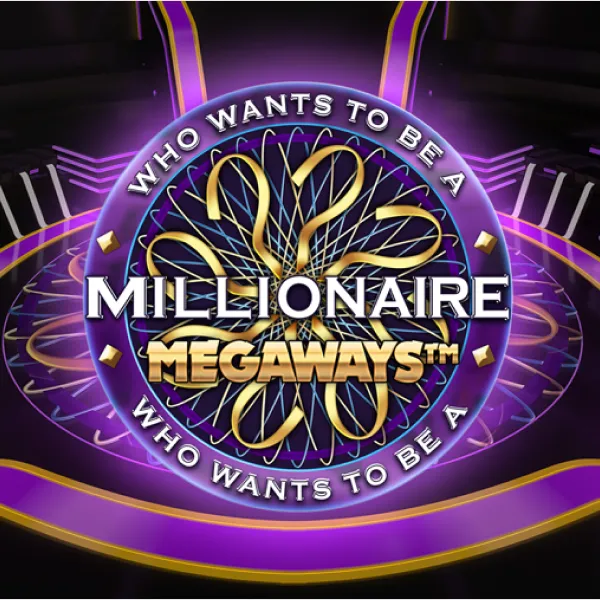 Play Who Wants To Be A Millionaire Megaways For Real Money
Ready to play for real money? Check the best online casinos rated by the experts at IrishLuck, where you can play the Who Wants To Be A Millionaire Megaways slot game for real money.
Rank
Casino
Bonus
Pros
Secure Link
Who Wants To Be A Millionaire Megaways Pros & Cons
Pros
📺 First branded slot game from Big Time Gaming
😊 Excellent user interface and sound
🤑 The maximum payout is 70,000 times the wager
Cons
😶 Normal casino slot symbols
👎 Payouts are low in the main game
Features
The Who Wants to Be a Millionaire Megaways slot machine features six spinning reels and 243 possible winning combinations. In each spin, a different number of symbols will land on each reel. There are more possible combinations when there are more symbols on the screen. With all the possible settings in place, the total number of possible outcomes is 117,649. To win, you need to line up at least three identical symbols or wilds across neighboring reels, beginning on the leftmost reel.
Players can wager anywhere from 0.20c (or €1) per spin up to €10 per spin. Some online slot casinos allow bets of up to €20 per spin. To change your stake size, click the Stake buttons. In some cases, you may be able to set a loss limit and a maximum payout for a single spin using the autoplay feature.
Theme
Who Wants to Be a Millionaire Megaways Slot has the same high-gloss, high-definition aesthetic as the original game show. The iconic TV studio serves as the setting for the reels in Big Time Gaming's first branded release. The music is the show's signature theme song. Also, you'll hear the show's background noises, which are both memorable and exciting. The only thing missing at this point is Jeremy Clarkson's presence as the quiz show host.
Some of the symbols on the reels are royals, which pay out less, and others are diamonds, which pay out more. If you get six of the purple jewels on adjacent reels, you'll be rewarded with fifty times your wager. A wild symbol can stand in for any regular icon to complete a winning combination. Free games are triggered by the Millionaire logo, which acts as a scatter.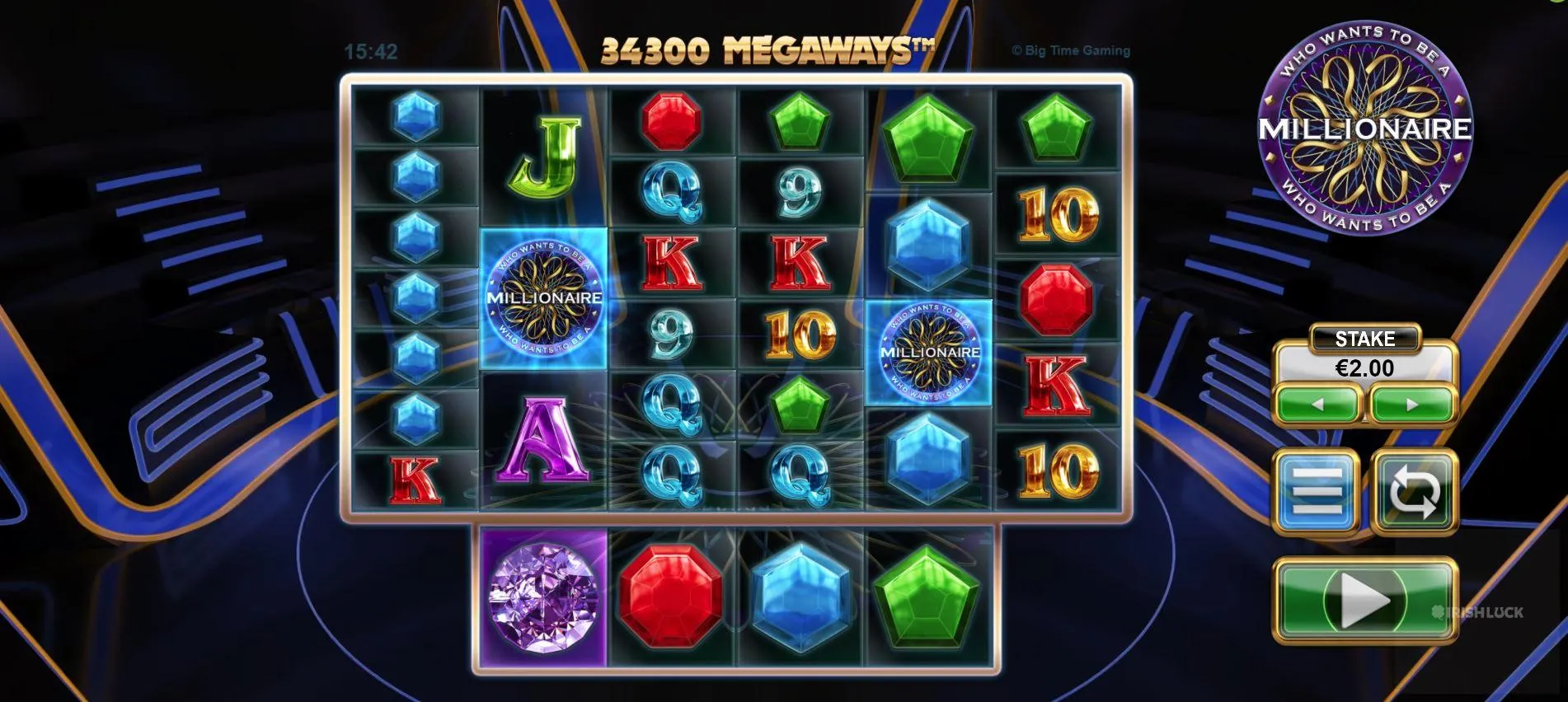 Game Symbols & Payouts
The icons of Millionaire Super Wins slot machine represent many forms of wealth and luxury. Lucky Wheel bonus, Golden Coins scatter, and Golden Lamp wild are some of the slot machine's distinctive symbols. Only the scatter symbol pays out, but the rest will get you into bonus rounds.
When five, four, or three Golden Coins appear on a payline, you will receive 80x, 16x, or 4x your original wager, respectively. The jewelry bag awarding 500x, 25x, 5x, and 1x your line wager for landing 5, 4, 3, and 2 symbols on any active payline. The dagger and emerald ring are the next highest paying symbols, awarding 70x, 12x, and 4x your stake per line for 5, 4, and 3 respectively.
The A symbol pays 20 times, 4 times, and 2 times your line bet respectively for 5, 4, and 3 appearances respectively. Lastly, the K, Q, J, and 10 have identical payouts for five, four, and three matching symbols: 15x, 3x, and 1x your line bet, respectively.
RTP & Volatility
The extreme volatility of the Who Wants to Be a Millionaire Megaways slot means that you'll need to work for those high-value purple gems. The return-to-player rate (RTP) of Who Wants to Be a Millionaire is 96.27 percent, which is above-average. There is moderate to high variation in this area. I'd rate the level of uncertainty as a 4. The new maximum prize per free spin is a whopping 72,310 times your initial wager. The maximum reward in the main game is 20,000 times your initial wager.
Who Wants To Be A Millionaire Megaways Slot on Mobile
Who Wants to Be a Millionaire Megaways is compatible with any mobile device, be it a desktop computer, laptop, tablet, or smartphone. All of them have the same polished visual style and very variable gameplay. We tested the game on iOS and Android and we didn't experience any hiccups.

How To Play
While there may appear to be only a few basic steps required to begin playing a slot game, some players may be unfamiliar with them. The five steps outlined here will make learning to play Who Wants to be a Millionaire as painless as possible.
Make an online casino account.
Make a cash deposit into your gaming account.
Check out our Who Wants to Be a Millionaire slot review before you play.
It's up to you to decide which wager you want to make.
Bet your money, and spin for fun.
Before you start gambling, you should know how much money you have available. Setting a budget will help you avoid gambling above your means and taking unnecessary risks.
With five reels and three rows, the Millionaire Super Wins slot machine features 10 fixed paylines. The slot machine's controls are intuitive, making the game fun for players of all skill levels. The minimum stake in this game is €1 and the maximum is €20. Many players will likely be turned off by the relatively low price range. Once you've decided on a betting range, it's time to spin the reels. This slot game's action can be initiated in two ways: by hitting the spin button or by activating autoplay. Even while you can manually spin the reels with the spin button, you can also set the game to spin automatically so you can focus on other things while it keeps going.
A winning combination is achieved when three or more identical symbols appear on an active payline. To win money, symbols on neighboring reels must move in a predetermined pattern, starting on the far leftmost reel and ending on the far rightmost reel, according to the paytable. The amount of your victory will be proportional to the amount wagered each line.
Who Wants To Be A Millionaire Megaways Slot Bonuses
The Free Spins and four bonus online casino bonuses are the highlights of Who Wants to be a Millionaire Megaways. To begin with, you'll receive 50 free spins, but as you go up the Free Spins Ladder, you'll have more chances to earn more. Larger payouts will originate from the subsequent, uncapped win multipliers.

Cascading Reels
Who Wants to Be a Millionaire slot has cascading reels. This means that after a successful spin, the corresponding symbols are withdrawn and new ones are substituted in their place. If a new winning line is formed, the previously eliminated symbols are once again taken out of play. This will keep happening until there are no more winning lines. In the bonus round, too, a multiplier is applied to each win, increasing by one for each consecutive winning spin

Reactions Feature
The Reaction feature is activated when a winning combination is made, and an action is taken as a result. Whenever a player has a winning combination, the winning symbols are taken out of the game grid and new symbols are placed in their place. The compensation is re-estimated after that. If a victor emerges, the cycle continues, triggering yet another chain of events. Until a reaction occurs in which no new victor is determined, these will continue.

Megatrail
To the left of the grid is a Megatrail with 12 rungs and some unpredictable bonuses. On the base game, the top rung always awards a random cash prize, the seventh rung grants +3 free spins, and at least three more rungs have modifiers. When a series of Reactions takes place, the player advances along the Megatrail and triggers various amplification effects.

Bonus rounds with Free Spins
If you get three scatters on the reels in one spin, you'll win free games. Apparently, you'll only get 8 free spins for your trouble. Participating in the Hot Seat Free Spins Gamble feature can raise that total. In order to advance up the Free Spins Ladder, you can use your lifelines to gamble on the outcome of a certain spin. Lifelines, modeled after those used in the show, are available to help you make the right decisions. For each risk, users can pick one of these options:
Ask The Audience: all answer odds are revealed
Phone a Friend: Call a pal and find answer to a question.
50/50: 2 incorrect answers will be removed from your choices
This isn't like the TV show in any way, and there won't be any trivia questions. All of the options (A, B, C, and D) are picked at random. It's important to remember that every venture has an upside and a downside. To get extra spins at no cost, you'll need some good fortune. If you make a mistake in the wager, you may also forfeit your free spins.
If you reach certain points on the Free Spins Ladder and then lose a bet, you will still receive the minimum guaranteed amount of free spins for reaching those points. When you reach Level 2, you will receive 10 free games automatically. Once you've reached Level 7, you'll receive at least 20 spins for free. If you can get all the way to the top, you'll be rewarded with 50 more spins. The collection period is always open. By selecting the Walk Away button, you will automatically begin the specified amount of free games.
A win multiplier will then be applied to the free spins. This feature, dubbed the Unlimited Win Multiplier, begins at a multiplier of 1x and increases by 1 with each subsequent win. Further, the feature's multipliers do not reset and instead rise as the effect progresses. Lastly, you can add three or four scatters to the top reel window to receive an additional four or eight free games. You can earn as many additional spins for free as you like.
Paylines
The typical slot machine has paylines, but in Who Wants to Be a Millionaire, there are none at all. This is one way in which the game varies from its more traditional counterpart. Instead, the objective is to line up as many identical symbols over all six reels as you possibly can. The minimum requirement for winning is to get six identical symbols on consecutive reels, but the more identical symbols you can get, the better.
Highest Payout
This game has a maximum payoff of about €1 million.
Maximum bet
The possible maximum win on each free spin is equal to 72,310 times your total investment. This is as a result of the win multiplier continuing to rise. Each spin of the base game gives you the chance to earn up to 20,000 times your original wager.
Minimum bet
As long as they place the side bet, players who only wager the minimum amount per line are just as eligible for the jackpots as those who wager the maximum amount per line. Depending on the game and the manufacturer, the side bet could be as much as 15 coins or even more than that.
Our Verdict 
There is no need for a board when you play the Millionaire slot machine online because it includes everything you need. The producers have done an excellent job adapting this famous game into a slot machine by using the same symbols and cards as in the original game. In the main game, you can use a total of three different modifiers, and you can spin the Big Wheel to win one of five different extra features. In addition to this, a lost spin in the main game has the potential to activate the Super Jackpot, which is worth one million coins.

FAQs
What is the Who Wants to be a Millionaire Megaways RTP?
Over all, the RTP for Who Wants to Be a Millionaire Megaways is 96.27 percent, putting it slightly above the industry standard of 96 percent. There is moderate to high variation, with the majority of your money being made back in the special features.
Are there any Who Wants to be a Millionaire Megaways free spins?
Yes. In the Hot Seat Bonus round, you can win up to 50 free spins by placing a wager (if you want). Once inside, the reaction rate increases the win multiplier up to an infinite maximum.
More Slots
Have You Found What You're Looking for?
Your feedback is paramount!