King Kong Cash Slot Machine
The online casino game, King Kong Cash slot machine was created by Blueprint Gaming and is themed after the story of the giant monkey Kong. There are plenty of extras in this machine with 20 paylines. To be exact, there are at least nine of them. Spin the five reels for as little as €0.20 and watch your balance grow thanks to 1 of 5 monkey multipliers; plus, trigger the bonus big money feature and win as much as 1,000 times your wager.
Keep on reading our review to learn more about this epic game!
Play For Free
How about giving King Kong Cash slot a whirl? Try it out on our site in demo mode!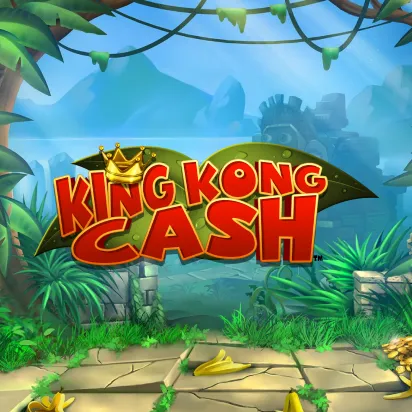 Play King Kong Cash for Real Money
Want to try playing King Kong Cash with a chance to win real money? Browse through our real money online casinos and take your pick.
Rank
Casino
Bonus
Pros
Secure Link
King Kong Cash Pros & Cons
Pros
🎯 High & low bets
🤑 20 paylines
💪 Nine great bonuses
💰 Max 1000x payout
Cons
🙄 Medium variance
🙈 Feature heavy
Features
The King Kong Cash slot machine is great fun if you're a player who enjoys bonus games with multiple ways to win. Blueprint Gaming's fantastic virtual machine has five reels and 20 paylines and can be played for as little as 20 pence. The slot machine's nine bonus features significantly improve players' odds of winning. In addition, high rollers can always find something to do because the King Kong Cash slot machine allows bets of up to €500 per spin. Payouts of up to a thousand times your initial wage are possible.
Theme
The King Kong Cash Jackpot King slot machine has a cartoony, high-definition aesthetic. The game takes place in Kong's jungle camp, and Nintendo's iconic Donkey Kong character influences its protagonist.
Scatter symbols include crocodiles, parrots, tigers, and rhinos and the standard A through 10 royals. If you get a full screen of the logo symbol, you will receive 500 times your wager. The wild barrel symbol will replace any other symbol except the bonus scatter. It can also award up to 500 times the initial wager. A lively and rhythmic soundtrack will play in the background as you go around in circles. That was a lot of work, but it turned out beautifully. That holds regardless of the device you're using to play (computer, tablet, phone).
Symbols and Payouts
With Blueprint Gaming's King Kong Cash slot machine, you can pretend you're in a real-life king's castle. In this animal-themed puzzle, the king is fast asleep on the left side of the 5x3 grid. His wealth will be strewn about the floor for all to see.
You can win up to 500 times your line bet with the wild barrel or the King Kong Cash symbol. From left to right, the rest of Kong's crew are a rhino, tiger, parrot, and alligator. Traditional playing card images, from Ace through Jack, make up the lower-paying symbols in the King Kong Cash slot machine.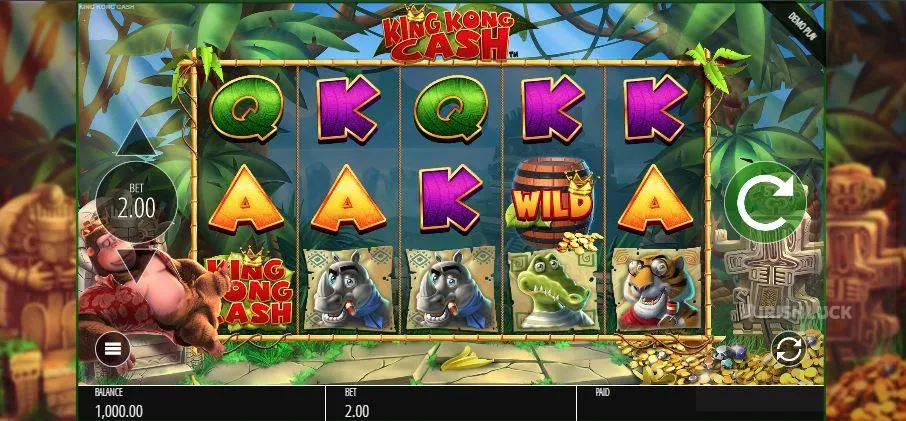 RTP & Volatility
Although many factors contribute to a game's overall appeal, the Return to Player percentage (RTP) is among the most important considerations. The Return to Player (RTP) for King Kong Cash is close to 96%, which is excellent for a slot machine with medium volatility but is still among the best in the industry. This is a higher RTP than is typical for slots, especially those with high volatility.
About Blue Print Gaming 
Blueprint Gaming is one of the industry's most esteemed software providers. The company has created hundreds of incredible slot games that can be found in online casinos all over the world. They are part of the German Gauselmann Group, the same company that owns the Merkur brand, and are licensed by the United Kingdom Gambling Commission and the Malta Gaming Authority.
King Kong Cash Bonuses
It's not for nothing that this slot machine is called King Kong Cash; it's loaded with casino bonuses that increase your chances of winning big. The first of these is the barrel wild, which can be used in place of any other symbol (except the scatter) to help you form winning paylines.
Then, you must rouse Kong from his slumber to activate one of four different King Kong Cash slot machine bonus modifiers:
In the King Kong Streak bonus round, Kong smashes the grid, freezing any matching symbols in place and triggering additional free spins if more of the same symbols appear on the reels. After a successful spin, this may occur. After a win, the symbols are frozen, and the wheel is spun again to continue the winning streak. As long as a new matching symbol appears, these will occur. There is then some payout calculation done.
The Banana Cannon Free For All happens when the Monkey King unleashes a barrage of bananas from his bazooka. The appearance of these causes the reels to become wild. With the wilds in place, the payout is determined.
Kong launches a barrage of exploding barrels onto the reels in this game's Golden Barrel Super Spin feature. A payout is determined as they morph into the same symbol.
Bonus Boost: Adding more bonus symbols to the reels increases the odds of triggering the bonus games.

Other Bonus Features
If you get three or more King Kong bonus symbols in a single spin, you'll be awarded a spin on the Bonus Wheel. One of the following King Kong Extras will be activated depending on where the pointer lands. There is an optional gambling feature where you can try to win a larger bonus. When you lose the bet, you get some cash prize instead. But anyway, here's more detail about the capabilities:
The Barrel Blast bonus round is a pick-em game in which you must select a barrel from a set of possibilities. If you find three that are the same, you win that amount. You'll immediately unlock the Big Money Bonus round if you see three Golden Monkeys.
Like in Donkey Kong, the further you go along the King Kong Trail bonus feature, the more money you'll win. Proceed until you successfully drop a bomb. Activate the Big Money Bonus by locating a Golden Monkey.
During the first of the two free spins rounds, players will be transported to the top of the Empire State Building. You'll get ten free spins, and the roaming wilds will move to a new location on each spin after it has already been played. It would be best if you collected golden crowns to get more free spins with more modifier extras.
During your ten free spins in the Golden Kong free spins bonus, you'll play on a brand new five reel, 40 payline slot machine and have the chance to collect wilds. When the bonus rounds are over, you'll get one final "super spin" to use all of the accumulated wilds on. You'll be given a choice of four barrels at the end of the round. Pick One. If a bomb is discovered, the game is over. If you find a golden monkey, you'll trigger additional bonus spins.
First, you'll spin a series of barrels to determine which ones contain a multiplier prize in the Big Monkey Bonus round. Select a banana at random. The game will restart and award another barrel if you get a golden monkey. The longer you spin, the greater the chance of finding a bomb. This game's maximum payout is one thousand times the initial Wager.
Jackpot King Feature
Now that you know that the King Kong Cash Jackpot King slot machine is a part of the Jackpot King network, you can play it for a shot at the network's massive progressive jackpots. There are three progressive jackpots, each of which can be won randomly.
Paylines
Start the King Kong Cash slot machine by making your first bet. You can set your Wager anywhere from 0.10 to 200.00, which will be distributed across the game's 20 paylines. Except for the scatter symbol, which can pay in any position, all other winning paylines run left to the right.
Highest payout
You can win up to 500 times your wager on any given spin. The maximum win is 500 times your wager, but in the Golden Kong Free Spins feature, you play with 40 paylines. It's possible to win a thousand times your Wager in the Big Monkey Bonus round. However, the progressive jackpots offer much larger payouts.
Maximum bet
Max. wager: €200
Minimum bet
Min. Wager: €0.20
Our Verdict
The design is top-notch, as is expected from a slot machine developed by Blueprint Gaming. The cartoony visuals have a fantastic sheen to them. The new Jackpot King feature is the most notable improvement, as it raises the possibility of winning substantial progressive jackpots. Considering its combination of features, aesthetics, and jackpots, King Kong Cash merits an audience. Blueprint Gaming has a few games, including the slot based on the classic 80s movie The Goonies, loaded with extras. Overall, we recommend this game to Irish players.

King Kong Cash FAQs
Of course, many players will still have questions, but we've answered as many as possible to get you started with risk-free betting on King Kong Cash. That's why we've included this FAQ about King Kong Cash below, with answers to players' most common concerns.
Who are the top King Kong Cash casino sites?
We've featured a handful of the best online casinos, each with its advantages and features. To learn more, scroll up and visit one of the recommended online slot sites where you can play King Kong Cash.
Is King Kong Cash scam-free?
Betting at any of the recommended casinos is a sure bet if you want to play King Kong Cash without worrying about being a scam victim. The casinos we've highlighted all use safe connections and provide genuine services, so you can rest assured that playing at King Kong Cash is a risk-free and fair experience.
What is the King Kong Cash RTP?
King Kong Cash has an RTP of 95.80% as of this writing. This slot machine has a moderately high return to player percentage and favourable odds, making it a good choice for casual players. This is a fantastic slot alternative, especially compared to other top games. You can find information about the King Kong Cash return to players and other statistics here.
How do I know that the King Kong Cash online slot is safe to spin?
Experts from our team checked out the King Kong Cash slot machine and found it to be completely risk-free for players to enjoy. Do not forget to join a trustworthy online gambling establishment that offers a generous sign-up bonus.
Can I play the King Kong Cash online slot with free spins?
Definitely! If a casino offers free spins as part of a welcome bonus or ongoing promotion, you can use them on the King Kong Cash slot machine.
More Slots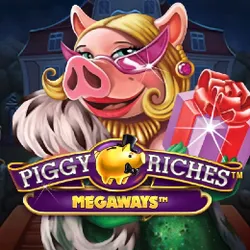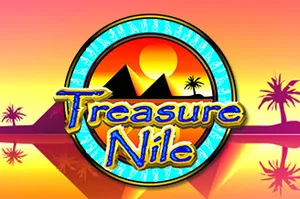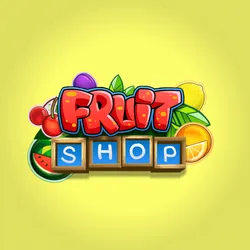 Have You Found What You're Looking for?
Your feedback is paramount!