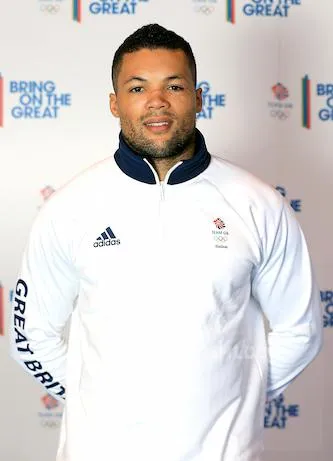 Joe "Juggernaut" Joyce has enjoyed a spectacular professional boxing career so far. The Londoner joined the sport relatively late but wasted no time establishing his credentials as an extremely dangerous heavyweight fighter. Joyce holds a 15-fight unbeaten record since he first stepped in the ring against Ian Lewison in September 2017. And as a clear indication of why he is nicknamed the "Juggernaut", 14 of these bouts were decided by knockout stoppage. 
The WBO interim heavyweight champion has had a remarkable rise over the last five years. He emerged as a promising amateur, notably winning the silver medal at the 2016 Olympics. After turning professional in 2017, he has beaten several highly-regarded fighters, including the hotshot Kiwi Joseph Parker. Despite his success, Joe Joyce is still a lesser-known name than the top dogs of modern boxing, such as Deontay Wilder, Andy Ruiz Jr, Tyson Fury, Anthony Joshua, and Oleksandr Usyk. 
At 37 years old, Joyce hasn't got much time to lose. He defends his WBO interim title against Zhang Zhilei on April 15th and will surely be looking for a deserved shot at a top-level opponent next. Stay with us as we explore the rise of Joe "Juggernaut" Joyce. Pictured: Boxer Joe Joyce during the kitting out session at the NEC, Birmingham. 
Who Is Joe "Juggernaut" Joyce? 
Casual boxing fans could be forgiven for wondering who the imposing Englishman was throwing his hat into the mix to fight Tyson Fury after the Gypsy King's stoppage of Derek Chisora. Usyk was ringside, scoping out his potential opponent for a historic undisputed heavyweight world title fight. Fury went straight for the Ukrainian afterwards. However, a new contender laid claim during their faceoff: Joe Joyce.  
"I'll jump in the mix Tyson," were his exact words, demonstrating how far the "Juggernaut" had come in five years of professional boxing. Joyce was genuinely mixing it up with the big guns, and Fury later tipped him to beat Anthony Joshua or Deontay Wilder if the opportunity arose. 
Make no mistake about it. The 2014 Commonwealth Games gold medallist isn't an undercard anymore. He can do serious damage in the ring, with incredible speed and power alongside an iron chin. Joyce is part of the new breed of highly technical heavyweights that mix deft footwork with brutal punching combinations and endurance. 
A shot at multiple heavyweight title belts is inevitable as he grows in experience. The rise of Joe "Juggernaut" Joyce has only just begun.
Joe Joyce: Early Beginnings & Rise In Professional Boxing 
Born to an Irish father and a Nigerian mother, Joyce grew up in London and was originally far more interested in athletics than boxing. In the early days, he claimed that "I don't really like boxing, but I enjoy doing it," going some way in explaining his relatively late emergence in the sport. 
Successive injuries put an end to his promising track and field career, but it turned out to be a blessing in disguise. Joyce signed up at Earlsfield ABC at 22, a decision that lit the spark for boxing and quickly saw him rise the ranks. 
The wins came quickly for the Londoner, as his appearance on the amateur boxing scene got off to a flying start. Joyce tasted victory in the super heavyweight class at the ABA Championships and GB Amateur Boxing Championships in 2012, marking himself out as one of the hottest young prospects in British boxing. 
The "Juggernaut" impressed further in his debut Olympics. Despite an exceptional performance in the super heavyweight division final at Rio 2016, he lost a controversial split decision to the Frenchman Tony Yoka. It was Team GB's first medal at the Olympics that summer and solidified Joyce was one of the amateur discipline's most talented boxers.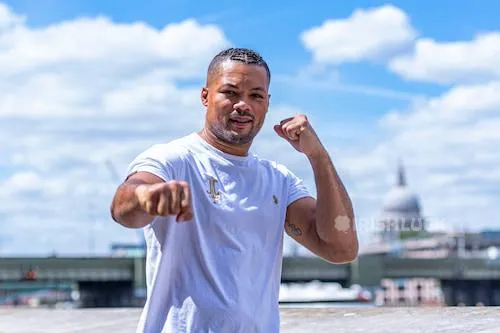 Joe Joyce Media Workout at The Secret Boxing Gym on Tuesday, June 28, 2022 in London. 
It was only a matter of time before he went professional, signing with David Haye's Hayemaker Ringstar promotions company in 2017. Joyce's first professional opponent was the experienced Ian Lewison, a tough matchup. The 32-year-old went eight rounds with the 12-3 fighter before successive punches forced Lewison's corner to throw in the towel. The seasoned pro could hardly see out of his right eye due to head swelling, and Joe Joyce was the deserved winner. 
He had decisively stamped his mark on professional boxing, and the clamour around the new kid on the block was almost enough to set up a clash with Derek Chisora. It never happened due to payment disputes, but Joyce went on to beat the likes of Donnie Palmer, Lenroy Thomas (for the Commonwealth heavyweight title), Bryant Jennings, and more. 
By 2022, the "Juggernaut" was more than just a challenger, with the WBC Silver, WBO International heavyweight and WBO interim heavyweight titles to his name. He has only gone the distance once in his career, stopping his opponents before the final bell on 14 out of 15 occasions. So far, he has taken everything thrown at him, earning a contract under legendary promoter Frank Warren and being a regular face on BT Sport PPV events. Joyce's rise has seen the Londoner establish himself as one of the best boxers in his class. The future is bright for the man. 
What Makes Him A Juggernaut? 
You don't earn the moniker "Juggernaut" without reason. Joe "Juggernaut" Joyce is a high-impact fighter with a frighteningly explosive jab and fantastic all-round technique. The boxer is renowned for sustained body shots, with his outrageous punch power dealing damage even in places fighters are traditionally happy to take the hit. 
Another reason behind the "Juggernaut" nickname is Joyce's methodical movement. Although he can be fast when he needs to be, the boxer benefits from a 1.98 m height and a large frame. 
He's slower around the ring than nimble fighters like Usyk, but his timing and strength mean his boxing style doesn't need agile flourishes.
The 37-year-old also benefits from a famously strong chin. He was KOd once as an amateur versus Sergei Kuzmin but has never been dropped since then. Some claim Joyce has six times the bone density of the average man, which would go some way in explaining his ability to take punches. Either way, the man has yet to lose a professional fight and has knocked his opponents down on 14 occasions. You can see why contenders are wary of the "Juggernaut". 
Most Significant Fights of His Career 
Joyce has made quick progress compared to many professional boxers. He came relatively late to the professional game, so each fight counts. Fortunately, the fighter has come out swinging time and time again to make the opportunities count. Here are the three most significant fights of his career so far: 
Joe "Juggernaut" Joyce vs Joseph Parker: September 24th, 2022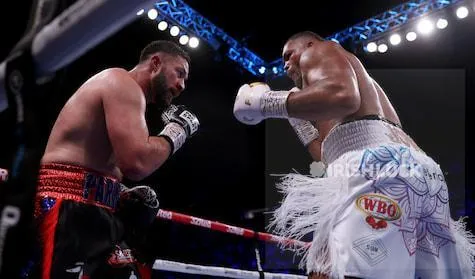 Joe Joyce (right) in action against Joseph Parker during their vacant WBO Interim World Heavyweight Championship contest at the AO Arena, Manchester. Picture date: Saturday September 24, 2022.
Joe Joyce's most recent bout was arguably his most significant. He faced Joseph Parker at the AO Arena in Manchester, producing a stunning display and knocking out the unbeaten New Zealander with a devastating left hook in the 11th round. 
Parker's trainer Andy Lee had dismissed Joyce's chances before the fight, but the "Juggernaut" had other ideas. His 15th win secured the coveted interim WBO heavyweight belt and sent his stock soaring in the boxing world. 
The comprehensive victory over Parker set Joyce up for a potential WBA world heavyweight title match against Oleksandr Usyk, although the Ukrainian will battle it out against Tyson Fury next. In any case, this comprehensive victory over Joseph Parker of New Zealand was a standout in Joyce's career. 
Joe "Juggernaut" Joyce vs Daniel Dubois: November 28th, 2020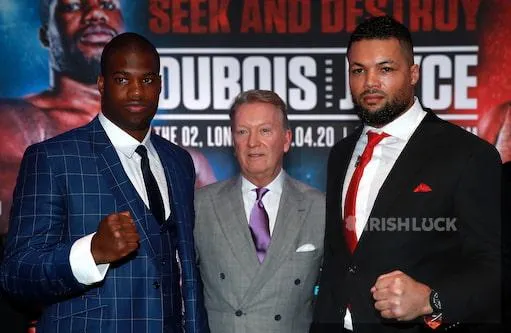 Daniel Dubois (left), Frank Warren (centre) and Joe Joyce during the press conference at BT Tower, London.
Daniel Dubois was the first proper big-name fight for Joe Joyce. Up against a man almost a decade younger and on a hot streak of 15 wins and 14 knockouts. The odds were stacked against him, but Joyce came out on top in a packed Church House. 
The "Juggernaut" had claimed his biggest victory yet, winning the British, Commonwealth, WBC Silver, WBO International, and European heavyweight titles. His against-the-odds triumph pushed him even further up the boxing echelons, continuing a stratospheric rise to the top.
Joe "Juggernaut" Joyce vs Bermane Stiverne: February 23rd, 2019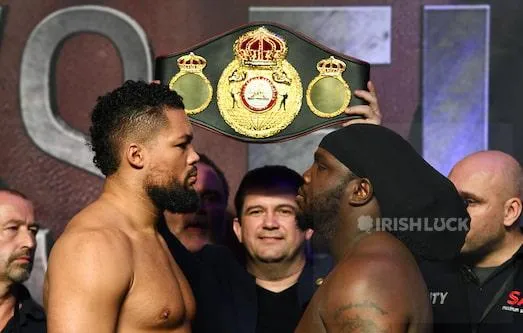 Joe Joyce (left) and Bermane Stiverne during the weigh in at the The O2, London.
Joyce's eighth fight against Bermane Stiverne was his second at the O2 Arena. His sixth-round stoppage secured the greatest victory of his career so far, managing to knock out a man Deontay Wilder famously hadn't. 
After the fight, Joyce retained the Commonwealth Heavyweight title and won the WBA Gold Heavyweight belt, adding a third title to his list of achievements. Bermane Stiverne gave him some of the hardest punches of his career, but ultimately, there was only one winner in this slugfest. 
The "Juggernaut" had Stiverne against the ropes in the sixth round, landing two devastating right hooks and forcing the ref to stop the bout. It rounded off an impressive victory, especially after his challenger's arrogant comments beforehand. 
Joe Joyce: Essential Records & Statistics 
Full Name

 Joseph Obey Joyce 

Weight

 Approx 271 ¼ lbs

Height

 1.98 m 

Reach

 204 cm 

Nationality

 British

Stance

 Orthodox 

Fights

 15

Wins

 15

Wins by KO

 14

Amateur Medals

Bronze at 2013 European Championships 
Gold at 2014 Commonwealth Games 
Gold at 2015 European Games 
Bronze at 2015 World Championships 
Silver at 2016 Olympics

Professional Belts

WBO Interim Heavyweight (Since September 2022) 
British Heavyweight (2020-2022)
Commonwealth Heavyweight (2020-2022)
European Heavyweight (2020-2021)
WBC Silver (2020-2022) 
WBO International Heavyweight (2020-2021)
Professional Fights So Far 
Joe "Juggernaut' Joyce has risen to the top of boxing with countless knockouts. Looking through his fight history so far is impressive, to say the least: 
Ian Lewison, October 20th, 2017 (TKO in Round 8) 
Rudolf Jozic, February 16th 2018 (KO in Round 1) 
Donnie Palmer, March 17th  2018 (KO in Round 1) 
Lenroy Thomas, May 5th 2018 (KO in Round 2) 
Ivica Bacurin, June 15th 2018 (KO in Round 1) 
Iago Kiladze, September 30th 2018 (KO in Round 5) 
Joe Hanks, December 1st 2018 (KO in Round 1) 
Bermane Stiverne, February 23rd 2019 (TKO in Round 6) 
Alexander Ustinov, May 18th 2019 (TKO in Round 3) 
Bryant Jennings, July 13th 2019 (Unanimous Decision) 
Michael Wallisch, July 25th 2020 (TKO in Round 3) 
Daniel Dubois, November 28th 2020 (KO in Round 10) 
Carlos Takam, July 24th 2021 (TKO in Round 6) 
Christian Hammer, July 2nd 2022 (TKO in Round 4) 
Joseph Parker, September 24th 2022 (KO in Round 11)
What's Next For The Juggernaut? 
Joyce's next fight is against Chinese challenger Zhang Zhilei on April 15th. He will be defending the WBO Interim title and, barring any major upsets, will most probably secure yet another victory. 
Yet to experience a loss, anything is possible for the "Juggernaut". He would like a shot at Usyk or Fury, and he might get it after their next fights. The heavy-hitter belongs in venues like Wembley Arena. We're sure he'll make it! 
Have You Found What You're Looking for?
Your feedback is paramount!