Ireland and its green colours have been associated with luck for many years. Whether it is the four-leaf clovers, the cheeky leprechauns, the rainbows or the pots of gold - if it is Irish, it is lucky.
Join the Irish video slot journey
That is probably why it is such a popular theme in the online slot world.
Not only is it connected to luck and fortune, it is also a colorful and fun theme to spin those reels to. And luckily for you, there are plenty of Irish themed slots out there. The hardest thing to do is choose!
That is why we at irishluck.ie have done all the hard work for you. Here we have researched, tested and collected the 7 best Irish themed slots. So all you have to do now is lean back, decide for the best true Irish-inspired slot game entertainment for you and have fun!
Leprechaun goes Egypt
Let's start out with a rather peculiar type of Irish slot: The mix between Ireland and Egypt. Yup, you got it right. In Leprechaun goes Egypt you'll find two of the most popular online slot themes, the Egyptian and the Irish. And it works.

In this 5-reeled video slot with 20 pay lines you follow a leprechaun on his way to Egypt, where he visits the tomb of Cleopatra.

The game offers bonus rounds with free spins, which is super cool, but what really takes the prize is probably the 2,500 coin maximum fixed jackpot.

There is a pyramid bonus feature that will take you through doors in your search for the almighty Cleopatra, and for each door, you will receive a bonus prize until the mummy comes and ends all the fun.

Cleopatra, a leprechaun and a mummy offer you different free spins bonus rounds, and you can play the video slot for everything between 0.01 to 100.00 per spin meaning that every person and every size of bank account can join in on this mysterious game.



Golden Shamrock
Golden Shamrock is a very classic slot. It is old, but definitely still worth a spin or two. Especially since it is the gaming giant, NetEnt, who is the creator of this Irish themed slot.
Golden Shamrock is a traditional 5-reeled slot, but it also contains a 4000 coins maximum fixed jackpot, which makes it a bit more exciting to play.
While you play, your ears will be entertained by lively Irish music in the background. The reels are on a background of a pretty blue sky with calming green fields.
The symbols to dance around on the reels are leprechauns, a golden shamrock, pints of beer, accordions, harps, pipes, horseshoes and a pot of gold - basically all the classic symbols from a true Irish themed slot.
If you get three golden shamrocks on the reels, you will trigger the bonus round. Here you will need to choose one of the shamrocks to reveal the number of free spins and multiplier value you will be awarded.
If you spin two golden shamrocks on any spin, you will be allowed to pick again for extra free spins.
All in all, not a groundbreaking slot, but cosy and classy - and filled with extra free spins which is always nice.
Jack in a Pot
With Jack in a Pot, you will follow the lucky leprechaun who is happy to jump out of his golden pot to help you search for golden rewards.
You will find yourself playing in a 7x7 game grid which is a nice change from the classic slot wheels. As a big plus, this grid contains bonus features that can pay you huge wins up to 1743 times your stake. Not too shabby, we must say.
Jack in a Pot is created by Red Tiger Gaming, who is well known for delivering beautifully designed video slots, and Jack in a Pot is no exception. The 49 reel positions are filled with shining, Irish objects in bright colours. In the green and hilly background, a little sheep is moving around as it eats grass.
All very idyllic and calming, and definitely fun to play on the grid next to the big golden pot with the lucky leprechaun.
Irish Luck



This one we just had to add to the list, and not only because of its name. Irish Luck is a super fun Irish themed slot and it has an impressive 1000x jackpot - that is a lot of gold!

It is Playtech who is behind this 5-reeled slot, and they never disappoint. It is also a pretty cool video slot because the symbols in the game are not all clovers and leprechauns.



Here there is made room for a more nature inspired theme which gives you the feeling of being deep in the woods with fly agarics, rainbows, stonewalls and trees.
Of course, there is the traditional beer and pot of gold as well, but hey, it is Irish, right?
The bonus features consist of leprechauns. If you hit three of these on your reels, you will trigger the Free Spins Games and be kindly rewarded with up to 10 free spins. If you are even more lucky and get a wild symbol in a winning combination, your winnings will be doubled.
Go fish for some Irish Luck with this great slot, you might get truly Irish lucky!
Finn and the Swirly Spin
Don't let the cartoon style scare you away from Finn and the Swirly Spin, it's a quite nice and serious video slot. Again it is NetEnt who has delivered, so you can be sure that you're dealing with a proper video slot here.
One of the first things you will notice is the very innovative way the game is built up. We are so used to seeing the classic wheels where the symbols appear, but here the symbols will line up in a fun spiral when you spin the reel. Everything is in motion. The leprechaun playing the flute, the diamonds shining and the trees and the grass gently moving in the wind.
Finn and the Swirly Spin is packed with features, NetEnt has not hesitated to put some extra action into this game. You will meet free spins bonus features and Sticky Wilds as well as the so called Random Features. These are small, but fun, extra features that will give you extra chances of winning along with a lot of extra fun during the game.
All in all a great video slot that deserves some swirly spins.
Irish Eyes
Irish Eyes is a super old school video slot, so if you are looking for a nice and simple game without too much to think about, this is a true winner.
With Irish Eyes you will find a traditional 5-reeled slot with very simple graphics. Nothing is moving around in the background, there is just a nice rainbow, so you won't get distracted.
Let yourself be entertained by the Free Spins Bonus feature. This will be triggered by the Irish Ladies on the reels, and they award you with 12 free spin games where all wins are tripled. If you are lucky enough to get 3 more Irish Ladies, you can re-trigger even more free spins.
There is also a Pick and Win feature which will be activated when the leprechaun appears on the first and the last reels in a spin. Here you will select a symbol to reveal a prize. If you are playing at the maximum bet, you have the chance to win up to 100x your triggering.
Patrick's Jackpot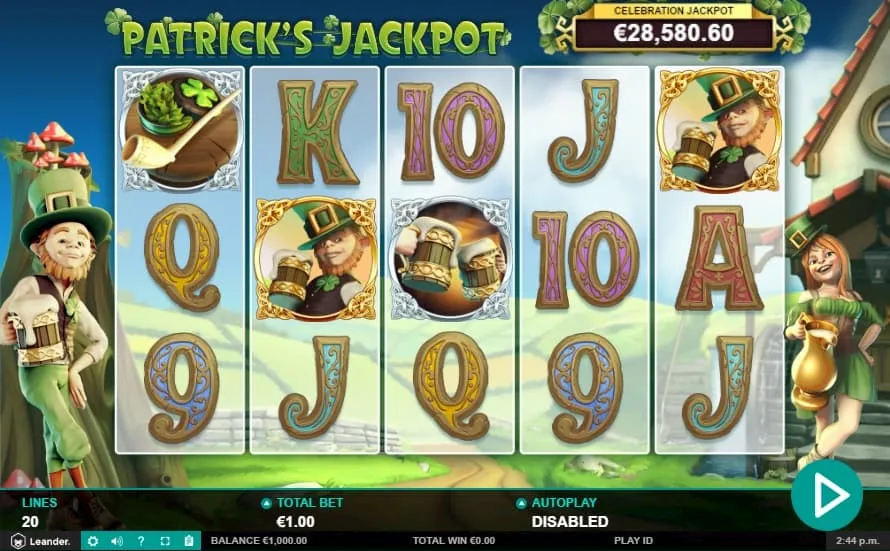 We will end our Irish top 7 with a tribute to St. Patrick: Patrick's Jackpot slot from Leander Games. It is a slot with an excellent graphic design and not one, but two progressive jackpots.
The leprechauns in the game are happy and will dance around with their beers while you play.
The symbols include the traditional card icons which are all decorated in Celtic patterns to maintain the theme. Other than that you will find beers, horseshoes, clovers and Patrick himself.
The clover can grow into a huge plant when Patrick does some leprechaun magic to it, and he will place expanded wild symbols onto random reels in any spin.
If your golden luck is with you, you can land 3 pots of gold and trigger the super special Pick Me feature. Or maybe you will trigger the 7 bonus games by getting a free spins symbol on reels 1, 2 and 3 at once.
And then, of course, there are the two jackpots, which really sets the tone of this video slot, making it exciting to play as well as nice to look at.
May the Irish luck be with you
We hope that you have become inspired by our selected Irish themed slots and feel like testing your luck in the search for gold by the end of the rainbows.
Good luck and have fun with these video slots!
Have You Found What You're Looking for?
Your feedback is paramount!