What are Irish Casinos Like?
The casino industry has played a prevalent role in the history of mankind but has recently made bigger waves, thanks to technological advancements. It is now common to find local casinos operating in Ireland. You must be a private member at these casinos to access the premises and enjoy the perks they offer. However, becoming a member is pretty straightforward. You need to fill out a membership form, and then you can enjoy playing your favourite games. You will also need your ID to sign up and become a member. 

Are They Legal?
Casinos are currently illegal under Irish law. To work around this, operators are offering their services through members-only casino clubs offering gambling activities (which are legal). Currently, there are 12 members-only clubs in Ireland, out of which seven can be found in Dublin, the capital of Ireland. While membership in most of these casinos is compulsory, it is easy to acquire because it is free.

What To Expect When Visiting a Land-Based Casino in Ireland
When you visit a land-based casino, you can become a long-term member or pay a smaller fee for daily membership. This way, you can use their facilities even if you are not a local. This way, all customers count as members.

Irish casinos are smaller and more exclusive compared to European establishments. However, Irish clubs provide all the games you can expect from a full-fledged casino establishment. Such casinos offer classics like slots, roulette, blackjack, baccarat and more. Poker is also prevalent in the country.
The Irish Open Poker tournament is the second-longest-running tournament for No Limit Texas Hold'em worldwide and Europe's greatest. It attracts many poker fans to the country worldwide every year.
Land-Based Casino Tips for Beginners
Place bets you can afford: check out the table or slot minimum so that whether you win or lose money, you have a budget set to make your funds last.
Warm up on slot machines: while they may not keep you entertained for long, slots are a good place to start as they're a game of chance and don't need any skill.
Continue with roulette: the roulette wheel is another game that requires no expertise and to move on to the tables. A good entry bet to place would be on a colour category or even/ odd number for higher winning chances.
Get to know the rules of casino table games: do some research online - there are free lessons offered, you can check out our casino game guides or even see what other punters do during a game. Try choosing a quiet table to get comfortable playing.
Be on the lookout for 'loose slot machines': keep an eye out for slot machines with a higher payout rate than others, often located at the back of the room.
Look up any venues' rules beforehand: quickly search the casino you're visiting. They may have dress codes or make exceptions for certain clothing or when to pick up membership cards.
Practice basic casino etiquette: stay polite with the staff regardless of the result, and be well-mannered with other patrons. Only to take a set if you're ready to play, don't use your phone when playing and always take any winnings once the dealer pushes them towards you. When in doubt, you can always ask staff.

The Best Land-Based Casinos in Ireland
If you are looking for the best Irish casinos, you can start your journey from Dublin and work your way from there. When you begin, it is crucial to do your due diligence in searching and finding the one most suitable for you. Below are some of the best options you will find.
The Fitzwilliam Casino and Card Club
| | |
| --- | --- |
| 📧 Email: | info@fitzwilliamcardclub.com |
| 📞 Phone number: | +353 1 611 4677 |
| ⏰ Opening Hours: | Permanently Closed |
| 📍 Address:  | Clifton Hall, Fitzwilliam Street Lower, Dublin |
The Fitzwilliam Casino and Card Club are located in Dublin at Clifton Hall, Fitzwilliam Street Lower. The establishment is also known as the Home of Live Poker in Dublin, open to members and guests (aged 18 and over). If you are an Irish national looking to gamble or just a visitor exploring Dublin, this option is worth considering.
One fact worth noting is that the casino does not serve alcohol. This is to maintain the aura of the establishment being a professional gaming centre through and through. This may disappoint tourists who enjoy a bit of buzz while playing their favourite games. You will find traditional casino games like roulette, blackjack, punto banco, brag, and various other progressive jackpot games at this casino.
Ned Kelly's Sportsclub and Casino
| | |
| --- | --- |
| 📧 Email: | info@nedkellys.ie |
| 📞 Phone number: | +353 1 873 2344 |
| ⏰ Opening Hours: | 9am - 3am |
| 📍 Address:  | 43 O'Connell Street Upper, Dublin |
The Ned Kelly's Sportsclub and Casino is located in Dublin on Upper O' Connell Street, North City. The establishment is aptly named after the Australian gang leader of the same name. It exudes plenty of glitz and glamour for members to experience genuine luxury and have a great time. The casino offers games like digital slots, roulette, pool, snooker, and more. You can consider it more of an entertainment hub besides being a casino.
The Sporting Emporium Casino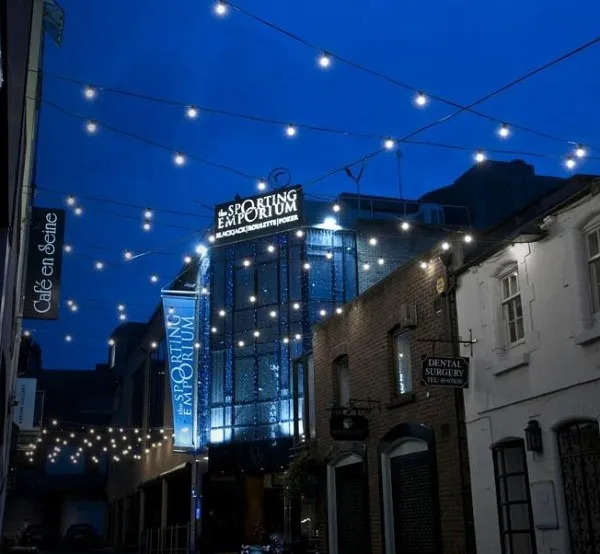 Source: TripAdvisor
| | |
| --- | --- |
| 📧 Email: | info@thesportingemporium.com |
| 📞 Phone number: | +353 1 703 0600 |
| ⏰ Opening Hours: | 8pm - 6am |
| 📍 Address:  | 5 Anne's Ln, Anne St S, Dublin |
The Sporting Emporium Casino, located along South Anne Street in Dublin, was established in 2005. This casino has also earned a reputation as being one of the best in Dublin. It is the perfect place for fans of classic and modern table games. Poker fans can also expect to find cash games and tournament play in the casino.
The Sporting Emporium Casino is the only establishment offering sic bo. It also houses punto banco for those interested. To participate in the casino's gaming events, you need to be at least 18 and have a means of identification available. It can be a government-issued ID card, driver's licence, or passport.
Fitzpatrick's Casino - Slots and Roulette
| | |
| --- | --- |
| 📞 Phone number: | +353 1 404 5942 |
| ⏰ Opening Hours: | Open 24 hours |
| 📍 Address:  | The Plaza Complex, Belgard Square, Tallaght, Dublin |
Fitzpatrick's Casino and Card Club was established in 1980. Based in the Tallaght region of Dublin, the casino is a part making up the Plaza Hotel Complex, which is a four-star establishment. You will come across numerous Fitzpatrick's Casinos scattered around Dublin and Limerick. However, the Dublin branch is one of the most prominent.
Slot machines and roulette tables are must-haves in any casino establishment worldwide. They help draw in hundreds, if not thousands of players to a casino daily. The casino mainly focuses on slots and roulette games. It also hosts daily and monthly prize draws for casino members, making it one of the best land-based Irish casinos for making bold bets. 
Fitzpatrick's Casino has joined forces with licensed and reputed software developers from around the US and Europe. These ensure the best-possible offerings on the market. The casino also holds regular tests and audits to guarantee fair play.
Macau Casino Complex
| | |
| --- | --- |
| 📧 Email: | info@macausportingclub.com |
| 📞 Phone number: | +353 1 453 0477 |
| ⏰ Opening Hours: | 2pm - 6am |
| 📍 Address:  | 16 St Patrick's St, Centre, Cork |
Located in Cork, Ireland's second-biggest city, the Macau Casino Complex offers live sports, gaming, slots, poker, and top-class dining facilities for members. This casino is one of the best for fun night-out experiences, whether you are a fan of gambling or not. The casino designs corporate packages, delivering evenings centred around fine dining, entertainment, and drinks.
The complex caters to all types of players with different experience levels and preferences. It also organises tournaments and cash games for poker enthusiasts. You can play roulette, blackjack, punto banco, Casino Hold'em Poker and Three Card Poker at the venue. The casino premises are air-conditioned and have an overall friendly atmosphere. Macau Casino is open to members seven nights a week, from 2 am to 6 am.
Dr Quirkey's Good Time Emporium
| | |
| --- | --- |
| 📞 Phone number: | +353 1 873 3900 |
| ⏰ Opening Hours: | 8am - 2am |
| 📍 Address:  | 55/56 O'Connell Street Upper, North City, Dublin |
Located on O'Connell Street Upper, North City in Dublin, Dr Quirkey's Good Time Emporium is popular among gamblers of all ages. The establishment offers players numerous casino games, including poker, slots, and more. However, according to the establishment's rules, you must be 21 or over to gamble at the casino. Because of its video game selection, Dr Quirkey's Good Time Emporium draws in younger gamblers. You will find the newest video games from renowned developers such as Sega, Konami, Bandai Namco, and more.
Besides that, younger gamblers also enjoy arcade games such as basketball tosses, ski ball, and numerous others offered at the club. If you want to gamble seriously, it is best not to go to this establishment. This is because its main focus is to provide light-hearted fun and entertainment for young players and families.
D1 Club
| | |
| --- | --- |
| 📧 Email: | info@d1club.ie |
| 📞 Phone number: | +353 1 830 6764 |
| ⏰ Opening Hours: | 10am - 5.30am |
| 📍 Address:  | 63 Dorset Street Lower, Dublin |
Located in downtown Dublin, the D1 Club offers members and guests over 18 an extensive range of slots, poker events, and table games. If you are a slots fan, it would excite you to know that D1 Club is the perfect venue for slot game enthusiasts. Owing to its mix of live tables and electronic games, the establishment is a hybrid between the traditional gaming experience and the modern one. 
In a way, the D1 Club defines the progress the Irish casino gaming experience has navigated throughout the past years. It provides all the amenities you can expect from a casino, such as beverage service and complimentary food. The games offered include the popular Gaelic blackjack selection, punto banco, craps, roulette, video poker, and daily live card tournaments. Electronic games like roulette poker and slot machines offered at the casino can make a good start to your gambling experience. Once you feel confident, you can move on to the live tables for a more intense experience.
Caesar's Palace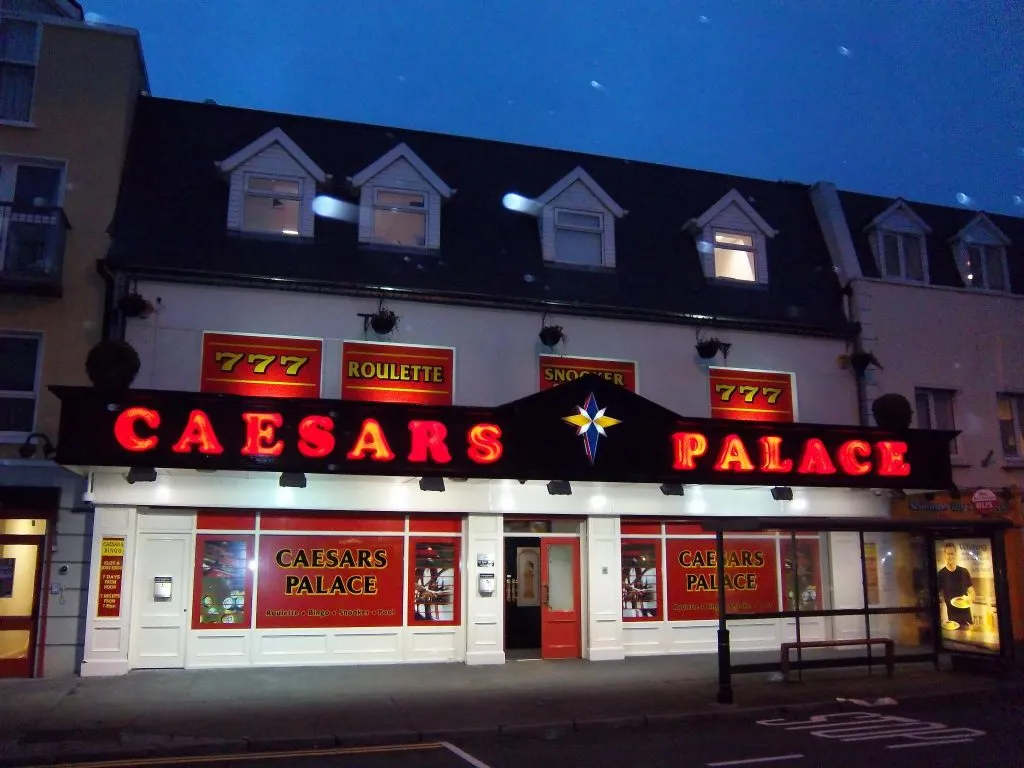 Source: meanwhileinireland.com
| | |
| --- | --- |
| 📧 Email: | info@vantageclub.ie |
| 📞 Phone number: | +353 91 521 471 |
| ⏰ Opening Hours: | 9am - 7am |
| 📍 Address:  | 202 Upper Salthill Rd, Salthill, Co. Galway |
Caesar's Palace is based in Galway, Ireland's cultural capital because it is home to great food, lively bars, and traditional music sessions. You can find the casino on the scenic Salthill Promenade, one of the most iconic locations in the city. Famous for its modern 200-seater bingo hall, open to members seven nights a week, Caesar's Palace is a favourite among bingo lovers. 
Caesar's Palace's Amusement Arcade also houses a broad range of gaming options, such as slots, roulette, video games, etc. Moreover, members can also treat themselves to free coffee, tea, and biscuits while they are there. You can also join the casino's Vantage Club Card for additional bonuses. The offered bonuses include daily draws, spot prizes, and other exciting promotions.
Final Thoughts
Despite the countless benefits that come with the virtualization of casino games, brick-and-mortar casinos still have the charm and thrills that are impossible to beat. Ireland is home to many unique land-based casinos if you value a good old-fashioned casino gaming experience. If you ever find yourself in Ireland, consider visiting these iconic land-based casinos. Play responsibly. 
FAQs About Land-Based Casinos
Are there any age limits when entering Irish land-based casinos?
The minimum age is 18 years old to gamble in a casino.
What type of casino games can I play at land-based casinos?
Casinos in Ireland provide a wide range of casino games such as poker, slots, roulette, and blackjack.
Are land-based casinos in Ireland regulated?
Yes, land-based casinos are regulated in Ireland.
Where's the most popular spot to go to gamble in Ireland?
Apart from the list provided above, there are loads of places to place your bets in Ireland. However, Dublin is a well-known destination and definitely the place to be. Aside from several available casinos, you'll also find other gambling venues and a racetrack.
Who owns Irish land-based casinos?
There's a range of companies that own different land-based casinos in Ireland. Some famous owners include BoyleSports, Paddy Power, Ladbrokes, and William Hill, with many casino chains available in Ireland.
Have You Found What You're Looking for?
Your feedback is paramount!