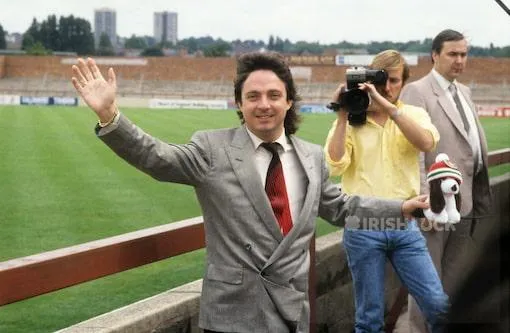 Millionaire entrepreneur and racehorse owner Terry Ramsden takes over Walsall FC 1986
The story of Terry Ramsden is both an exhilarating and cautionary tale of gambling. A self-made businessman who made a fortune on the Japanese stock market, Ramsden became one of the biggest characters in the sport's history during the 1980s. Only three years after setting up Glen International, the company's turnover grew to £3.5 billion, and Ramsden's wealth was immense. And this allowed Ramsden to enjoy himself and speculate vast sums on horse racing, with his gambling antics earning him cult status.

Here are some of Ramsden's most famous gambles:
Katies - 1984 Irish 1,000 Guineas
Boasting an unusual pedigree, with her sire Nonoalco having been exported to stand as a stallion in Japan, Katies' two-year-old campaign was far from spectacular. Finishing unplaced on her racecourse debut, Katies then won a maiden over seven and a half furlongs at Lingfield Park. She would end the season with a disappointing unplaced effort at Newbury. But the filly started to show signs of her immense talent when following a victory at Leicester with a third place finish in the Princess Elizabeth Stakes at Epsom. 
Katies actually looked favourite to win the Epsom race before hanging badly in the closing stages and was later found to have sustained an injury in the contest. It was after this race that Ramsden entered the fray. Katies' Newmarket trainer Mick Ryan reportedly told Ramsden that she would win the 1,000 Guineas at the Curragh on her next start. Ryan's confidence in the filly was enough for entrepreneur Ramsden to part with £500,000 of his cash to buy Katie ahead of her run at the Curragh. 
But Ramsden wasn't content with just winning the race prize money. At 20-1, Katie was a big outsider for the Irish classic, but Ramsden staked £50,000 on his horse. Turning into the home straight, Katie was positioned just behind the leaders by jockey Phillip Robinson before she kicked clear of her rivals. Despite being closed down in the final few hundred yards, Katie held on for a narrow win to land Ramsden a £1 million profit from his bet alone. 
Katies - 1984 Coronation Stakes
Fresh off winning the Irish 1,000 Guineas, Katies was entered into the Coronation Stakes at Royal Ascot. Among the opposition was the winner of English 1,000 Guinea, Pebbles, who was owned by Sheikh Mohammed. Jockey Phillip Robinson had the choice of riding either Katie or Pebbles at Royal Ascot, and, to the surprise of many, he opted for Ramsden's filly. 
The betting certainly thought Robinson had made the wrong choice, as Pebbles, with Lester Piggott taking over in the saddle, attracted lots of support and was sent off the favourite. Katies, meanwhile, was allowed to go off at 11/2. This is more surprising as millionaire Ramsden, in his words, 'bet the hell out of it'. Staking £270,000 cash at the racecourse alone, Ramsden also had credit bets down on his filly, along with a £100,000 reverse forecast with Pebbles. 
The lack of reaction from the bookmaking industry to Ramsden's confidence is said to be explained by Piggott telling Ladbrokes chief Cyril Stein that Katies couldn't win the race. But as they swung round the bend to meet the final straight at Ascot, Robinson was motionless on Katies as he loomed upside Piggott on Pebbles. In the end, Robinson barely had to ask his mount any serious questions to prevail by a length, with the pair clear of the rest. 
Ramsden is said to have picked up £2 million in cash and much more in credit bets around the country. It was an astonishing coup. 
Mr Snugfit - 1986 Grand National
Not all Ramsden's gambles on horses ended in success and there were some near-misses. The Enfield gambler made the investment of £100,000 to purchase all the shares in the runner-up of the 1985 Grand National, Mr Snugfit, with the aim of going one better the following year. This time the bookies did take notice and the horse was backed from 33-1 all the way into 13/2 favouritism for the Aintree race. 
However, Mr Snugit found himself outpaced for much of the contest and had to battle hard to finish in fourth place. Still, Ramsden profited handsomely off the place money on his trade. "It wasn't a successful gamble unless you consider £2.5 million on the place money a successful gamble – and I did." 
Terry Ramsden: Where is He Now?
The tycoon's life in the fast lane was a perilous one, though, and he ended up filing for bankruptcy and spending time in prison in the early 1990s following a stock market crash and running up a huge debt.
Not undeterred, Ramsden then set up a trading system business that became worth hundreds of millions, and he was back buying racehorses and living the life of a high-stakes punter in the 2000s - always trying to beat the odds. 
Have You Found What You're Looking for?
Your feedback is paramount!